If you browse my blog posts this fall, you would think that I have been painting only. But no, I have drawn too! I'm really happy about my recent mini-course that is available as a part of Imagine Monthly! It's called Drawing Factory as it's about drawing efficiently no matter what your current drawing skills are. Plus it's inspired by Japan, the land of high-production factories and fascinating culture.
Drawing ATC Cards
I got the idea for the mini-course in summer when I got the urge to draw a series of ATC cards.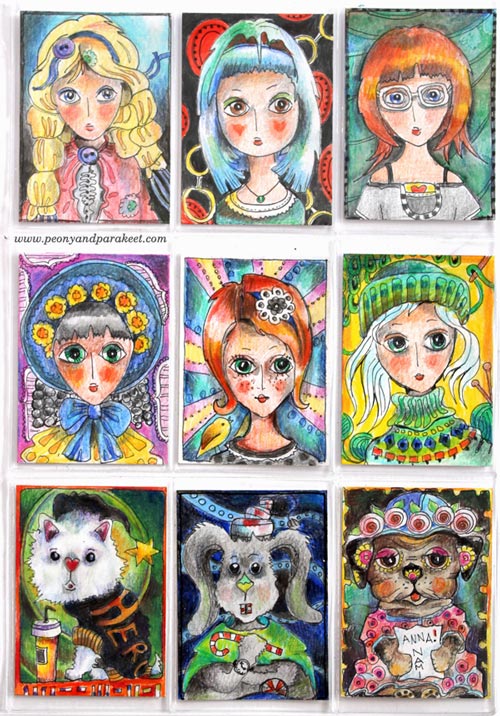 I had so much fun drawing these! While drawing, I thought about how much people use stamping instead of drawing in ATC cards. I felt liberated without them, drawing freely. How could I make hand-drawing more attractive and enjoyable?
Drawing with the Help of Stick Figures
Along drawing this big bunny art journal spread, I developed a series of tips and tricks about how you can create imaginative line drawings without tedious sketching.
My method is based on stiff lines as people often say: " I can only draw a stick figure!" But sticks can be an answer, not a problem!
The panda is the project that I am creating in the class video. The video also includes a drawing lesson where I show how to build drawings, or should I say rich illustrations, based on simple lines.
How to Buy Drawing Factory?
You can get this drawing mini-course immediately by purchasing Imagine Monthly Fall!
The price includes two other art journal classes + two upcoming classes, a total of 5 classes with inspiring art journaling techniques. It's really a bargain with an active community included! >> Buy here!
One more news, especially for Finnish followers:
Local Workshop – Työpaja Suomessa!
If you live in Finland or can travel to Finland, this is your chance to get hands-on guidance on the mini-course! I am running a local workshop "Innostu taiteestasi" with another artist, a ceramic artist Johanna Rytkola on Nov 19 in Finland. My portion of this 1-day workshop is based on the drawing mini-course. Johanna will then help you to create 3-dimensional ceramic art based on the insights from drawing. The class description is in Finnish but if you are interested in coming to the workshop and need help with translation, contact me via email paivi@peonyandparakeet.com.