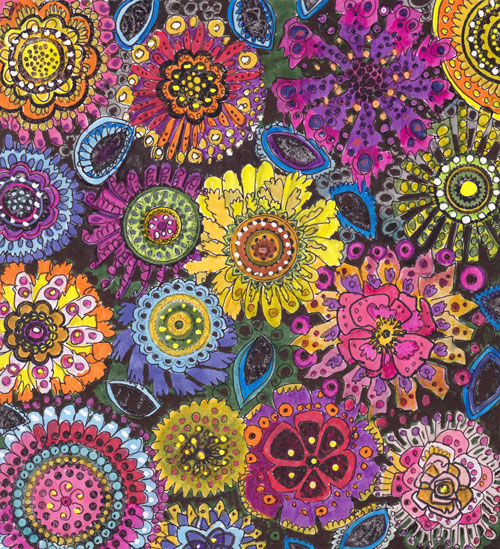 I love to explore the fine line between making art and creating crafts. One morning I woke up questioning myself: "Could rubber stamping be art?"  I posted the question on Twitter and got one answer. It was "I would think so." Yes, I would think so too! The only problem left was: how to stamp so that the result still has my style and does not look too mechanical.
Rubber Stamping without Repeats
I decided to create flowers that have stamped centers but hand drawn pedals.  I used each stamp only once. It is so tempting to stamp one more time with the same stamp! But if you avoid repeats the result looks much more genuine! The only stamp that I used more than once was the leaf stamp. Even the leaf could be different each time, but I ran out of the different shapes.
I used black ink and doodled the pedals with a thick black marker. That way the doodles looked pretty similar to the stamped images.
Then I colored the stamped areas and hand doodles with markers. And finally, of course: added even tinier hand drawn details with black markers and white correction pens!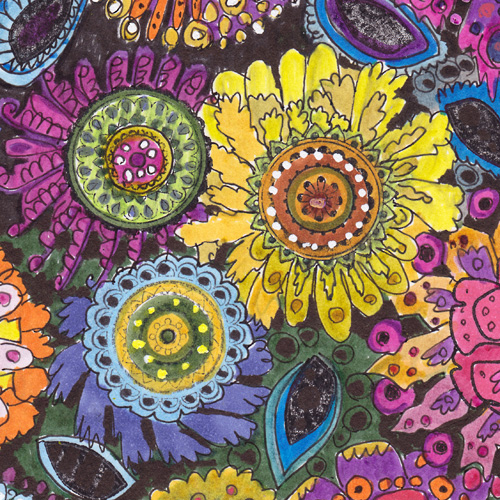 The result is a decorated paper with plenty of flowers but with this concept: using each stamp only once and adding doodles by hand you can create even complex illustrations – something that could be called art!
Here's another example, made in 2013. In this project, I have used corner stamps that I have borrowed from my friend. They are not placed in corners but stamped to all directions. Then I added doodling. Thin black pen goes well with stamped motifs.
Let me be your art teacher: Subscribe to my weekly emails!