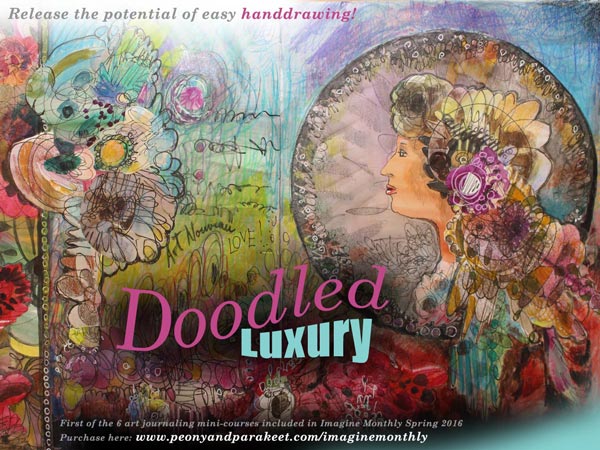 Happy New Year everyone! With the new year, a new class has started. Imagine Monthly is a series of 6 mini-courses, released one by one from January to June. Imagine Monthly is a bit different than my other online workshops. It has a slower pace and you can sign up even if the class is already running. January's mini-course "Doodled Luxury" has just been released. You will get it right away after signing up!
Why This Course?
I wanted to start the series of 6 mini-courses by showing the potential of free hand drawing. For many, drawing is about being able to copy something realistic but there's so much more that you can do with flowing lines. I think drawing should be redefined and enabled for everyone. It's my mission to enable you to enjoy drawing and have a great time with your growing imagination! (Want to ponder more about the ability to draw? Read this blog post: "Can You Draw?") 
Creating with Luxury in Mind
When developing "Doodled Luxury", I spent a lot of time thinking about the concept of luxury. I think it's not just something to buy, it's more about creating something unapologetic and self-sufficient. Something which makes you feel rich in a way that has very little to do with money.
While experimenting with the techniques used in "Doodled Luxury", I created an art journal spread that summarizes the ideas that I had in my head: bringing a clear focal point, getting inspired by the many layers of luxurious clothes, letting quantity increase the quality.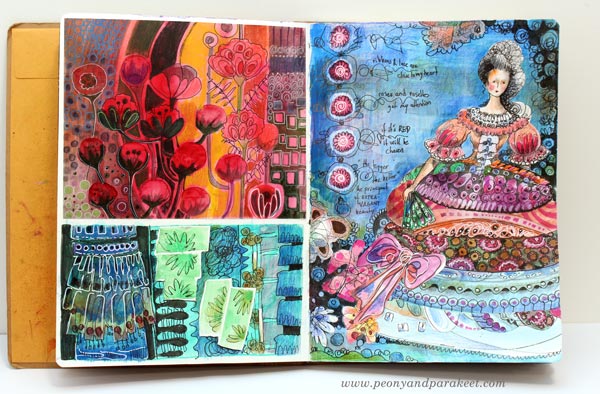 The spread above is just a background study for the course, but I wanted to show it as an example of how your art journal can contain "idea boxes" which in turn can lead to more advanced ideas like this one: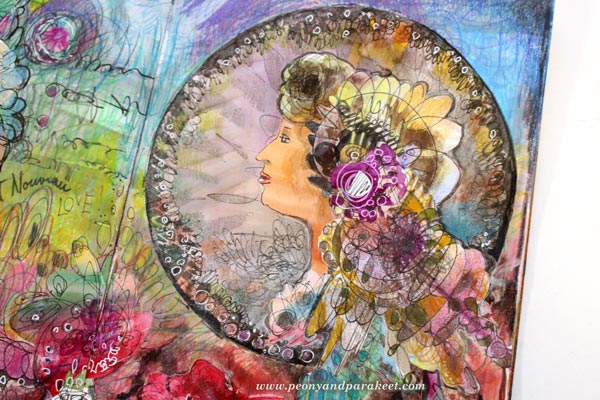 This Alphonse Mucha inspired collage has influences from Marie Antoinette's period. Can there be anything more luxurious than art nouveau combined with rococo, expressed by hand-drawn elements? Doodling truly can produce luxury when there's more than enough of it!
Experience the power of simple handdrawing and other easy techniques
Buy Imagine Monthly!