Here's my newest watercolor painting called "Brave" (for sale in my art store!) I got an idea of using a horse to symbolize bravery that comes with finding your passion(s). Isn't it a romantic thought to see the passion as a horse inside us, rising from the depth and blowing strength!
Past Passion for Horses
Recently, I have found a lot to be passionate about. Many of those things have been inspiring to me as a child. but I have let them go for tens of years. One of these things is horses. I used to play a lot with toy horses, and I was also addicted to taking care of my hobby-horse, an ugly plastic blue thing! Sadly, I rarely saw real horses and I haven't ever had a horse as a companion.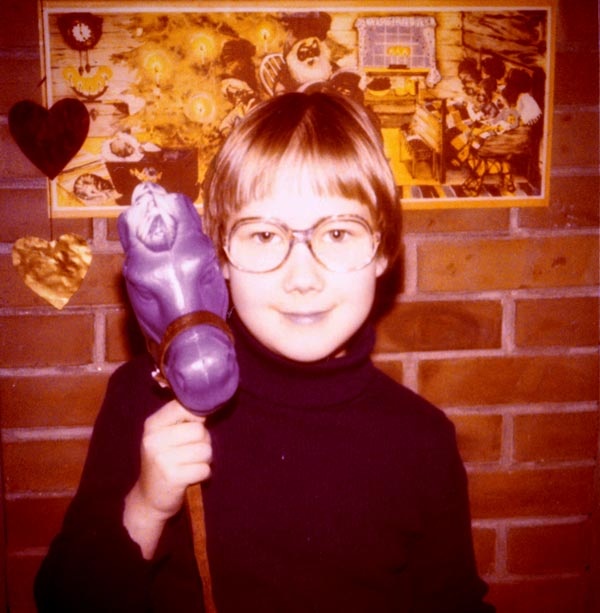 Once my parents took me to a field where a small horse farm offered horse-riding for children. They lifted me on a big Finnish Horse that had no saddle. Someone walked the horse, and I tried to keep myself sitting straight even if the back of the horse was really slippery. I made it to the center of the field and then fell off. The field offered a soft ground, and the horse didn't step on me. They offered me a horse with a saddle, and it was much more comfortable! That's most of the practical experience I have about horses. But of course, my theoretical knowledge was much more vast. As a child, I had borrowed all the possible horse books from the library and stayed busy building stables or crocheting rugs for the toy horses.
Finding the Creative Play with Horses Again
It must be early teenage years when I got alienated from the subject. Since then, I had never had a desire to own a horse, to ride a horse, or to do anything with horses. Until I participated in Inktober, the monthly drawing challenge. While making this drawing, my love for horses was reawakened.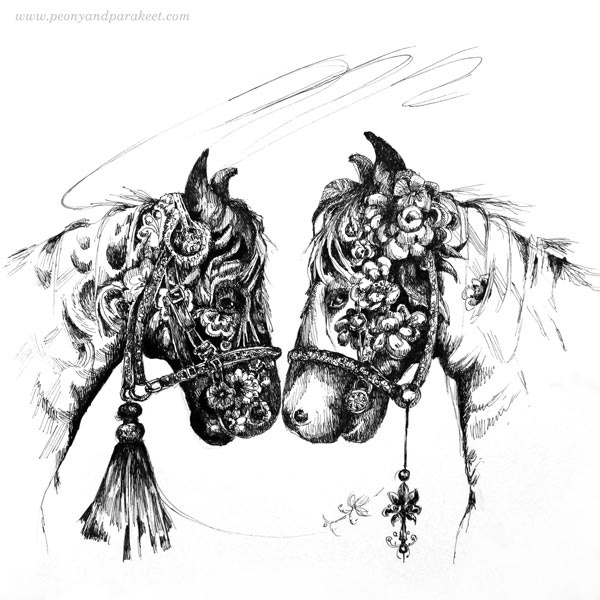 As adults, we easily ignore things that resonate with us but that don't belong to our outer world. Even if we can draw and paint anything, we easily define ourselves with outer standards. If not having experience about real horses didn't bother me as a child, it shouldn't worry now either. I may not be a horsewoman in the outer world, but I can have a stable as big as I want in the inner world.
Creating Horse Art with Watercolors
I started the painting from the flowers and as usual, didn't use any pencil sketch. It's a bit risky way to create, but I love problem-solving and knowing exactly what to put and where is not always a practical solution for me. Here are some quick early stage pics! I used a reference loosely for the head of the horse.
I was painting happily but in the middle of the process, I was in trouble, not knowing how to finish the piece.  When working with watercolors, it's especially tempting to just stop so that the painting doesn't end up too dark.
But here, I loved the idea and didn't want to leave it looking unfinished and busy.
Planning in the Middle of the Project
I took a snapshot of the unfinished painting and made a plan in Photoshop. This is how I help my students all the time, and it's a very handy skill to have!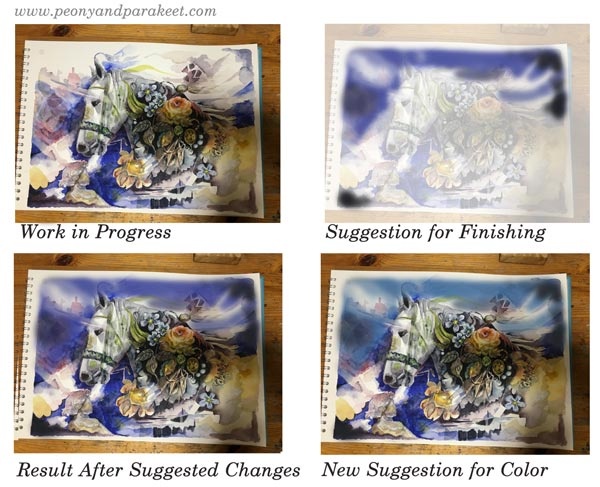 The first image above is the starting point, and the next images are made in Photoshop. They demonstrate what changes should be made next. This time, I also followed the plan. But sometimes it happens, that I end up with a totally different solution but which would have never crossed my mind without the Photoshop play.
Late Night in the Studio
I like to paint so that I watch tv shows or video podcasts on my iPad at the same time. It can happen that I paint a romantic and profound piece and then watch a tv reality show that I can barely stand! Sometimes it feels like the worst the show, the better the painting becomes!
I hope you enjoyed this blog post! What did you love as a child but that doesn't show in your current creative life?
Subscribe to my weekly emails – Get a free mini-course!