I have some close friends and relatives who have their birthday in May. I came with this idea of Mark Rothko inspired greeting cards when I thought: What would I give them if I had all the money in the world. And I immediately knew the answer: Mark Rothko paintings! Not as genious as the originals of course but still I think this is a fun idea.
Make your own Mark Rothko inspired card!
1) Paint the borders of the cardstock with acrylic paint.
2) Fill the center with watercolors. Paint rectangular areas using multiple shades.
3) Strengthen the watercolors and create layers with  color pencils.
4) Attach your artwork to the card base. If you like you can sew zigzag around the edges to add detailing.
You can also use acrylic paints only. In the first row you can see my all-acrylic creations and in the second row are the cards that combine acrylics, watercolors and color pencils.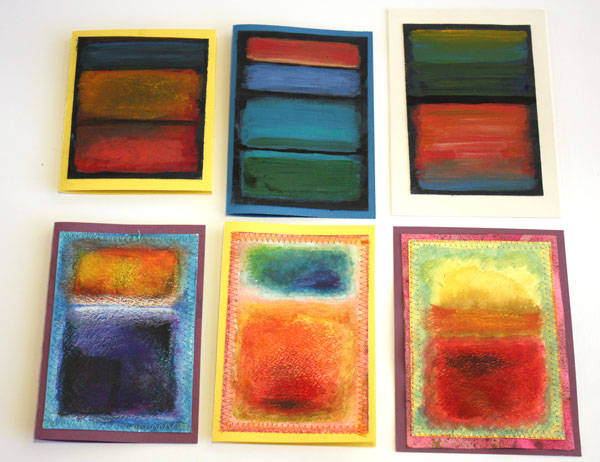 Mark Rothko & abstracts with colored pencils:  Buy the e-book Coloring Freely!