Painter's Ecstasy – an art journaling mini-course
---
Discover the Surreal with Watercolors!
Find an Ecstatic Way to Paint, Inspired by an Artist and Architect Friedensreich Hundertwasser!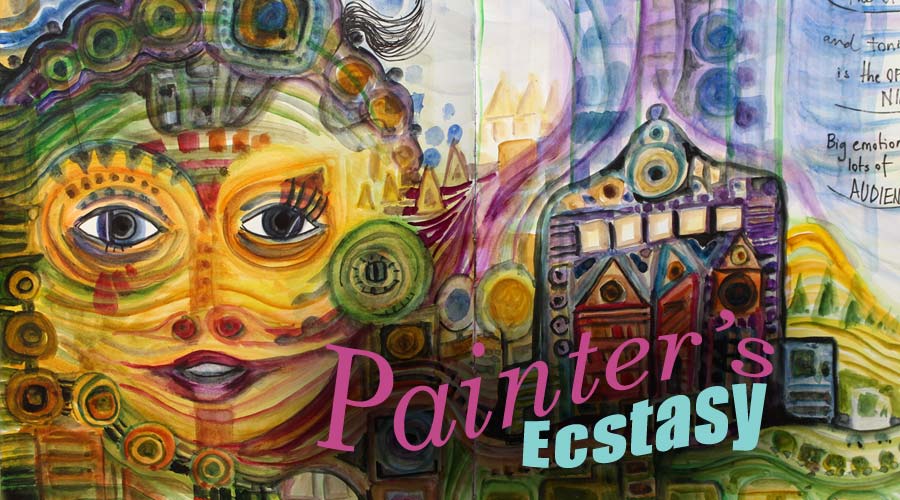 Painter's Ecstasy
is a self-study art journaling class including:
– 35-minute edited video including step-by-step instructions for surreal and rich watercolor painting
– 5-page PDF file with complementary tips
Art Supplies
– Watercolors
– An art journal book of your liking (or a sheet of fairly thick paper). No watercolor paper required. This technique is suitable for almost any paper!
– Optional: Black thin-tipped drawing pen, tip width 0,4-0,8 mm. These can be brands like Micron, Staedler and Pilot Permaball.
– Optional: Colored pencils.
Samples – Student Work
Let your imagination and style show when using the techniques!
Immediate download
You can download the PDF file to your computer immediately after the purchase. The file contains the link and the password to the video. The video is offered as a streaming service. It is available at least 6 months after the purchase. You can access the video as long as you want when you download the video as MP4 file to your computer.
Buy the Class!

Price: 12 EUR (appr. 13 USD)

Pay with Paypal using your Paypal account or a credit card.

Buy the Whole Bundle!

Painter's Ecstasy was published as a part of
Imagine Monthly Spring 2016.

>> Buy the bundle of all 6 classes!