This class has retired! But no worries, there are plenty of classes that are still available. >> Browse Classes
The best cure for blank canvas syndrome …
Release your mind by focusing on color!
Create colorful abstract art from simple shapes and lines!
This self-study class is especially for:
1) beginning artists who want to create colorful art
2) art journalers who want to paint on their journal pages.
This class is for acrylic paints mostly, but it also shows how to apply the methods for watercolors.
4 Inspiring Videos and More Ideas
Planet Color includes:
A) Painting Video
A 20-minute video about painting a 12-by-12-inch canvas artwork. The video shows how to use a flexible 7-step method for focusing on color. You can use the method to create your unique abstract art with your unique color choices. If you don't want to paint on canvas, you can also create your pieces in an art journal or on thick paper. You will need acrylic paints and a few brushes to create the painting.
B) "Just start!"
You will also get a 25-minute coaching video to get into the right mindset before the actual painting and see the possibilities of focusing on color.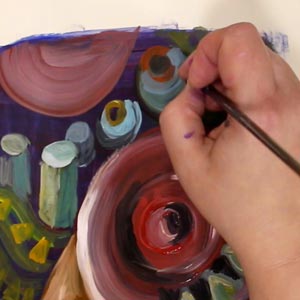 C) Extra Video: 3D
To take even more out of the abstracts, you will get an extra 15-minute video about how to make your graphic-style painting look more 3-dimensional.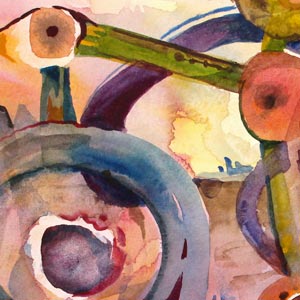 D) Extra Video: 7-Step Formula Applied to Watercolors
You will also get an extra 15-minute video about how to adjust the method for watercolors.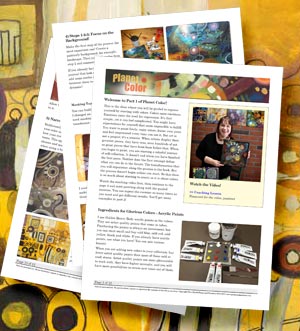 E) Colorful PDF Document
12 pages total. The document summarizes the content and gives more examples and ideas.
This class has retired! But no worries, there are plenty of classes that are still available. >> Browse Classes
From the Students
It gave me the confidence to 'just start,' I'd never used acrylics before and simply didn't know where or how to start. I did three pieces during the ten days and was really interested to see the change in my style/ability. I now find myself looking for opportunities to get my paints out, I'm looking at colours differently. Creativity has always been important to me, but this course has brought it to an entirely new level.

Christina Mitchell, Nicaragua
This workshop has helped me with composition as well as with color. It has also helped me to see what I need to improve upon regarding approach to painting. I want to be more painterly and using the colors the way Paivi has demonstrated is encouraging for me to try.

Elaine Wirthlin, USA
I learned a lot of mixing colors and fell in love with that. I see so many possibilities there … an adventure and a whole new world. I became "hungry" and hope to learn many new things at the time to come.

Pirkko-Liisa Mannoja, Finland
I enjoyed the workshop and the exercises very much. I learned how to be free with color and paints and mixing and will continue on with what I learned.

-Chris Anderson, USA

Bonus: Membership for Art Community Bloom and Fly for 2022!
With the class, you will also get a membership to the Bloom and Fly Facebook group, where you can share your work and have conversations with fellow artists. This membership is for 2022, so you can continue drawing and sharing for the rest of the year.
Immediate Download, No Refunds – All the information and services are provided in electronic format. You will need Internet access and a personal email account. The documents are in PDF format, and the videos are offered as a streaming service. You can access the material as long as you want if you download them to your computer before 6 months from the purchase. If you download videos, you will also need an application to view and download MP4 videos. You have to be over 18 to join the Bloom and Fly community. All sales are final.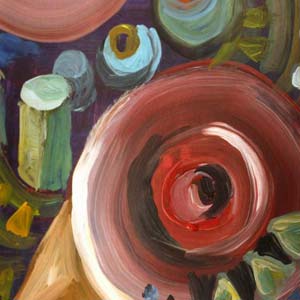 This class has retired! But no worries, there are plenty of classes that are still available. >> Browse Classes