This spring, I have seen gorgeous pieces of art made from the mini-course Flowing Greenery. Like in the previous blog post, I want to share some of them with you.
Various Styles with Style Tips
This time I show pieces that are very different in style. I also include style tips and analysis. This kind of comparison can be positive and beneficial. By creating similar work and then comparing it with other artists' pieces can make you understand more about your own signature style.
1) Warm and Dominant
The first piece is by Terttu Laitinen. Her way to use visually heavy elements feels like a weighted, warm blanket that you want to snuggle into! This piece makes you stop and calm down and still feel inspired! It's so loaded with energy that the fruits could drop down at any moment.
2) Detailed and Holistic
Gina Meadows takes a step away and makes you think about your life as a whole. It feels like every element in her work has a designated mission, connected to the cycle of living. Her strokes are clearly defined, but living and expanding as she uses very few straight lines.
3) Playful and Social
Michelle Rydell combines round strokes with angular ones very playfully. It looks like every little leaf and cloud has a personality of its' own. She is also a master of combining imagination with visual clarity. A clear focus looks always appealing.
4) Intimate and Symbolic
Terry Whyte's work is more intimate. It's like the tree protects the like-minded couple. A lot of care and thought has been put into shapes of each element to make them look both aesthetic and meaningful.
5) Primitive and Mysterious
Ulla M. Holm combined William Morris with Henri Rousseau. Her own unique style goes perfectly with Henri Rousseau's naive masterpieces. This is an insight that's worth pondering: how could you combine your favorite artists so that they enrich your own unique style?
6) Decorative and Sophisticated
Patricia Bush has an eye for details. But she also knows how to make them differ in size and color so that the result doesn't overwhelm you. You might stare the gorgeous pegasus first, but take a look at the trunk of the tree too. It's wonderfully ornamental and has a very wooden feel. Sophistication in every detail, including the castle and the moon, is her magic!
7) Relaxed and Emotional
Meri Andriesse's style goes to other direction. Her relaxed piece is more than all the careless elements together. Her strength is to create an atmosphere that any creative aspires to have. It's loose and sunny, just perfect to get inspired and go creating!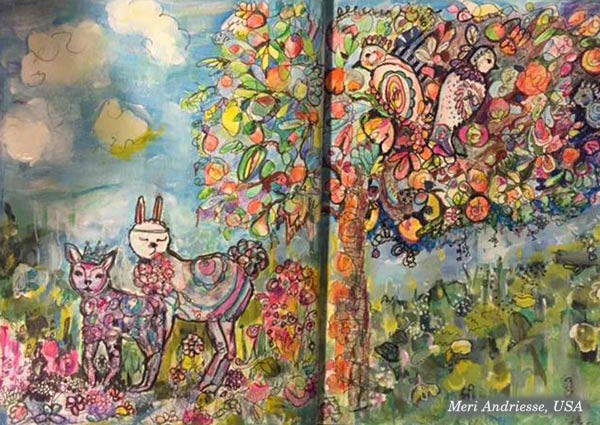 8) Connecting and Thoughtful
Sherry Pollack has whimsical style with lively lines but it's also extremely thoughtful. It's like every little creature has its' own thoughts even if the creatures share the same experience. This makes it so easy to imagine being among them. It feels like I could listen to the same sounds, observe the same things and join the conversation that is more spiritual than outspoken.
Flowing Greenery
When using the same mixed media techniques, how would your scene look like? This mini-course, Flowing Greenery, was published at "Imagine Monthly Spring 2016" art journaling class. It's now available individually as a self-study class – Buy here!
You can also buy all the 6 monthly classes as a bundle. I will also release the classes individually one by one later this summer, and show more ideas on how to apply them.
Create your own fruit trees and whimsical animals, right now!