As a child, I had a collection of scrap reliefs – small pictures printed and cut from glossy paper. A very common one was a simple angel with a head between wings. This week, I created my version of an angel drawing.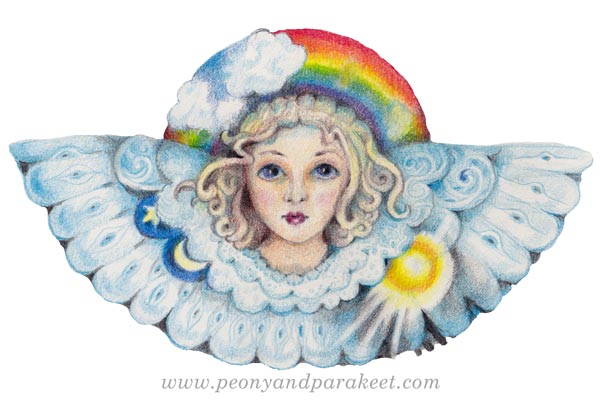 This is only a small piece on smooth watercolor paper, but the child in me likes it a lot!
My Approach to Drawing and Painting
My desire for art can be summed up in two parts. The first part is to go on an adventure by painting freely.
When I paint, I feel that it's the only thing that I want to do and where I am good at.
But then, after washing the brushes, comes the second part. A child in me evokes and says: "Draw to me!" Like I often said to my father or to my sisters when I was only a few years old. The child doesn't require much: "Something pretty!" (Watch a video about my inner child!)
Child's Enthusiasm in Angel Drawing
I used to adore whatever my father or sisters drew. Now, similarly, I feel the acceptance of the child right from the beginning. No matter how I struggle with any detail, the child's enthusiasm keeps me drawing.
And even if I had just thought that I should only paint and do nothing else, drawing a small ornament feels as natural and enjoyable. The same creative stream seems to feed both parts of my artistic expression.
A simple sketch gets more ideas when I start adding details. Coloring a halo with yellow feels boring, so I draw clouds, then a rainbow. An unwritten story begins to flow into the image.
Small Tweaks to a Simple Sketch Make the Angel Drawing
Simple shapes become more interesting when I keep drawing. Quick and simple wings get more decoration, and small adjustments to the face and hair add up.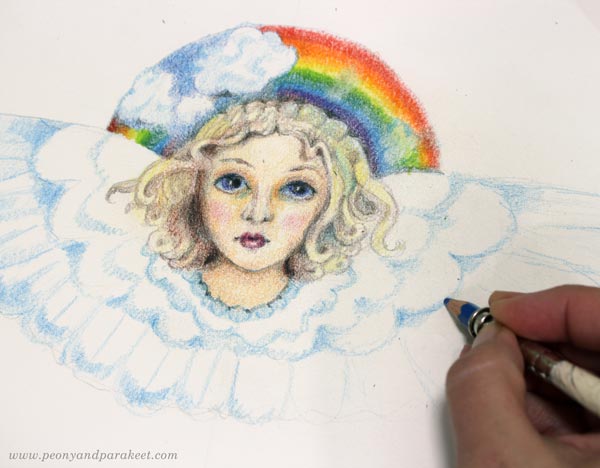 At best, I get the feeling that, like in painting, I can go in any direction and create a world of my own.
This little weather angel became a treasure to my inner child even before it was finished.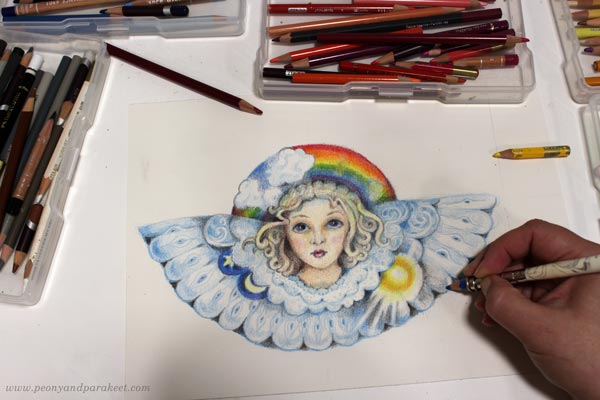 And when I handed the angel to her, she was thrilled to have her in the collection.
It feels that if I don't cut the picture, it's not ready for play!
Going Detailed with Colored Pencils
It has taken time to find colored pencil techniques to achieve similarly detailed touch like in Animal Inkdom and Magical Inkdom.
Making small pieces with colored pencils is more challenging than with ink pens, but maybe it doesn't matter. I remember having a huge paper doll as a child. So, I could go larger without disappointing the inner child!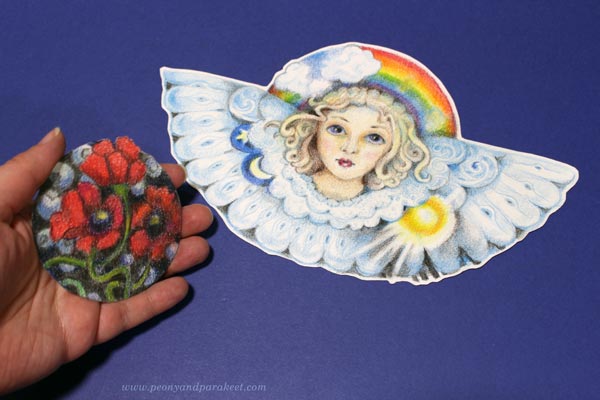 What would you like to create for your inner child?