This week, I talk about art and lemonade and share some news about the rest of the year!
I was going to make a cheerful spread on my colored pencil diary, celebrating a beginning of a period that I have never experienced so far in my life. But I started the drawing intuitively, and here's what came up: a murky image with a bittersweet impression!
"When life gives you lemons, make lemonade," they say.
I have never been fond of that kind of forced optimism, but I guess there's also a seed of truth. In art, you have to make most of what you have.
What Kinds of Lemons Does the Tree Produce?
In 2014, when I became a full-time artist, I thought about growing my skills and how that would naturally lead to something good. But nowadays, my leap has felt more like changing a long CV in technology and service design to a very short, almost non-existent, CV in art.
Art is like a lemon tree. You can nurture it, but you can't change its variety. Over the years, I have learned not only to teach but also to illustrate, make surface designs, and even draw ornaments and logos. But my heart has always been in fine art, and especially in intuitive abstracts.
In my opinion, fine art makes the best lemons. But the weather is harsh, and the harvest becomes too small to be enough for the lemonade. So my passion for teaching has often been the lemonade maker, not the actual paintings.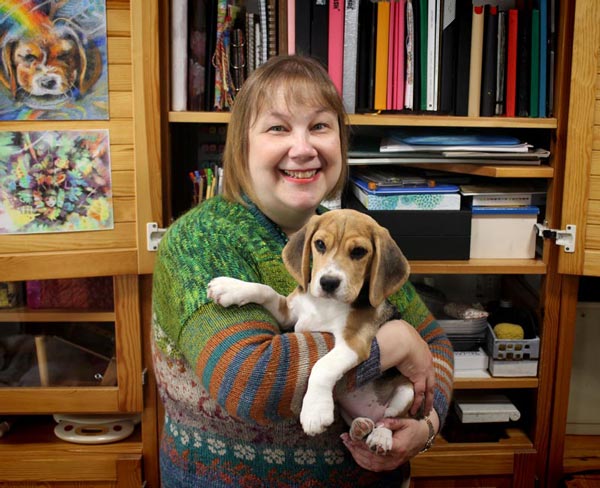 But now, things change for a few months. I have got a grant from The Arts Promotion Centre Finland to create a series of paintings and write about the process. I will publish the art and most of the writings here in my blog, so you will also get to drink this lemonade!
The project has a set theme that also includes a background study. I will also continue the colored pencil diary and document a part of the process in colored pencils. Later posts will reveal more.
I hope that my project will also inspire you to create – grow more lemons and make your kind of lemonade!
P.S. You can still sign up for Intuitive Coloring! You will get the published lessons immediately after signing up, and can start having fun right away. >> Sign Up Now!