There are two special moments in art journaler's life: starting a new art journal and finishing one. As the latter is much rarer, I am happy to announce that I have just finished this journal! I truly feels a small victory!
From Decorative to Expressive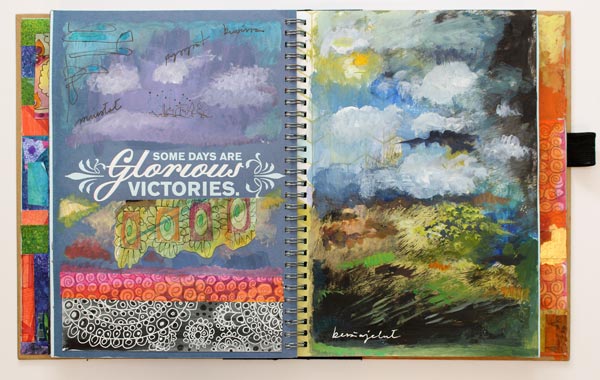 I purchased this Smash book in 2014 and intended to make it fashion and textile oriented. It has a lot of those, but also other stuff like little paintings, a few cards that I have wanted to save, and some collages that include photos. When I started this journal, I was very much into decorative style and the book has a lot of hand-decorated papers in it. Now, when I look back, I no longer see decorations as a self-purpose but a channel to move forward. Once I have got my imagination going, I have been able to move to create more expressive art.
Art Journal Flip Through
Many pages of this art journal are a bit clumsy but I still wanted to celebrate the finished journal. I also think that this kind of "collage book" contains quite a lot of ideas that you can use in your art journal too.  So I created a flip-through video for you to watch. Hopefully it will inspire you to art journal every week, even if it's just one little circle on the corner of a page.
Go deeper into art journaling …
Imagine Monthly – Sign Up Now!
Create stunning art journal pages with techniques that expand your possibilities!
>> Sign up for Imagine Monthly Fall 2016