I haven't ever been brilliant with watercolors but I have grown to like them very much. Recently I have used them more and more in art journaling. On this page I have used just watercolors, color pencils and markers.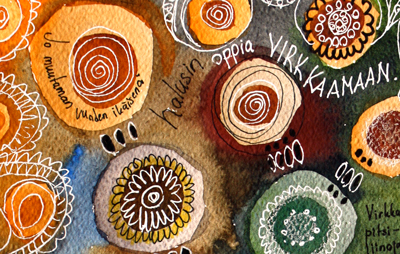 This page tells a story and that's something I want to increase too: add more text and content to my pages. Here I write about how as a small child I wanted to learn how to crochet. I thought it is a part of good parenting to teach the child to crochet as young as possible! As soon as I learned it I was crocheting like crazy: doll clothes, doilies, clothes, valence curtains … I was the crocheting queen until I started dating and my boyfriend took me to see his family's summer cottage.
All the textiles in that log cabin were crocheted! Full-sized curtains, bed covers, cushions, table cloths, you name it! His grandmother had done all that. I was speachless. When I met her she told me that a doctor had told her not to crochet anymore as her hands hurt. But as she wanted to do something she had started to learn printing fabric.
The relationship with the boy did not last and the grandmother must have been passed away already but now I know that you do not need to hold the hook to crochet. You can use your pen!