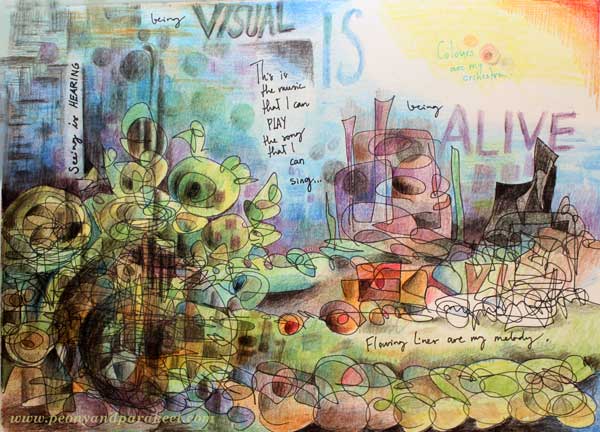 My latest art journal page started with new colored pencils and rambling thoughts of the latest news from Helsinki: the architecture competition of Guggenheim Museum has ended and now there's a big debate whether the city of Helsinki should finance the museum or not. I did not mean to include the winner building on the page, but you know how it goes: once you think something, it will appear! See the black element on the right!
Cretacolor Aqua Monolith Watercolor Pencils
Last Monday I went to the biggest art supply store in Helsinki to buy some paper and see if they had any Cretacolor Aqua Monolith Watercolor Pencils. I had bought one pencil about a year ago just to see how it works. After many months, I noticed the growing use of that pencil. So now I was thinking to buy a couple more. It turned out that they did not sell the pencils individually anymore, so I bought the smallest set of 12.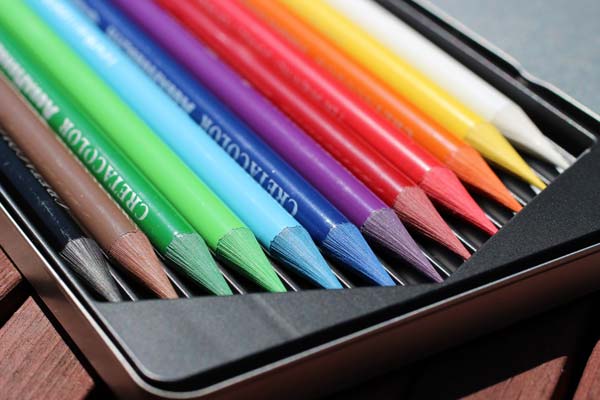 As you can see from the picture, these pencils are nothing like ordinary colored pencils! They are not wooden at all; they only have a thin lacquer coating! For me, it took some time to get used to how they feel when holding them. But once I got over it and started treating them as any pencil, (pressing lightly and creating multiple thin layers), I noticed that they work great. These pencils are soft enough to make the coloring pleasurable but not too soft for detailed work.
It is fascinating that you can also use shavings if you add a little bit water to them!
My art journal page was made without water – these watercolor pencils work well that way too.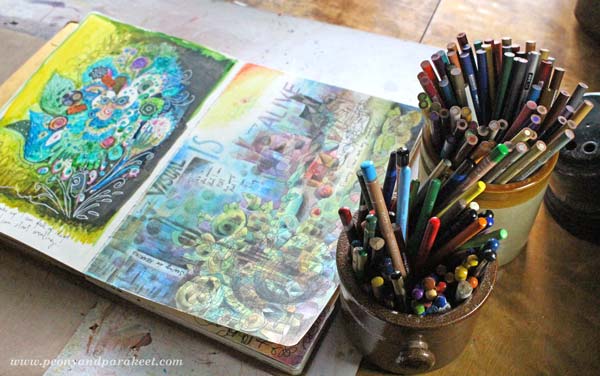 All of my colored pencils fit in two jars as I usually use them all at the same time, no matter what their brand or type is.
Adding Journaling to the Page
I was drawn to green tones even if I was thinking of the city view. There's something magical when the tourists arrive Helsinki in the spring. They make shy and withdrawn Finnish people more friendly and helpful. When the hard winter is over, everybody is willing to make a fresh start.
While continuing the coloring of the page, I thought about cultural institutes and their events. Whether it is a city full of tourists or a concert hall full of audience, it feels alive and uplifting. It gives me energy and inspiration to create once I get back home. I felt drawn to the word "alive" and decided to add some words to the page too. By erasing some areas after coloring, I created areas for writing.
For me, being alive is a visual thing. When I am using my senses, I see images. When I draw the images, I feel alive.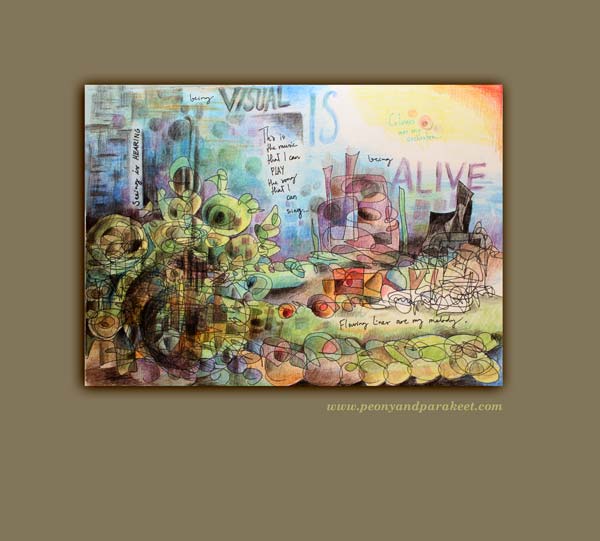 Create an art journal page with colored pencils and words by answering:
What does make you feel alive?
Subscribe to my weekly emails and get a free mini-course!