This week, I want to be direct because I feel really passionate about this: what happens when art is stiff and why it should not be. There's too much talk about balance and composition and too little about the stiffness of the mind.
How to Be Less Stiff and Start Painting More Loosely
I know this is what you think:
"I want my art to be less stiff."
The modern master Paul Klee would answer:
"Art does not reproduce what we see; rather, it makes us see."
Let me elaborate. There's a door between the outer and inner world. As a painter, you choose whether you step outside or inside.
You can walk outside, pick a flower, and try to reproduce what you see. It's often the easiest way – for a teacher too – because the comparison has more absolute rights and wrongs. Yet, many who paint realistically say that their flowers look too heavy, that the details are difficult to get right, and they wish they could be looser.
Then there's the other way. You can step in. You can paint the line, a shape, bring tension and interaction, and slowly begin to see. Flowers of the inner world are not passive nor lonely. They have no restrictions of the real world but can fly, sing, and dream!
When you want to see further in your artistic path, you want to step in.
You don't want to paint what's already been seen, but bring out the invisible – how we feel. Life is full of sceneries that can't be photographed but need to be painted.
Meadows of the soul.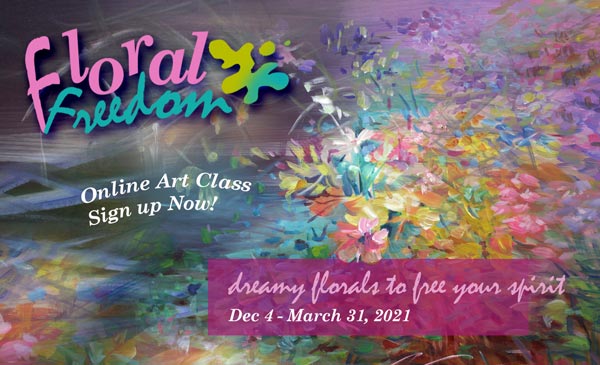 Abstract masters Paul Klee and Wassily Kandinsky spent their lives figuring out how to visualize the inner world. In Floral Freedom, we apply Paul's and Wassily's ingenious techniques to floral art. 
I hope you will join me, pick paints and brushes, and step in. >> Sign up NOW!