This week, we'll talk about changing artistic direction and how the first reaction doesn't always matter as much as the second one.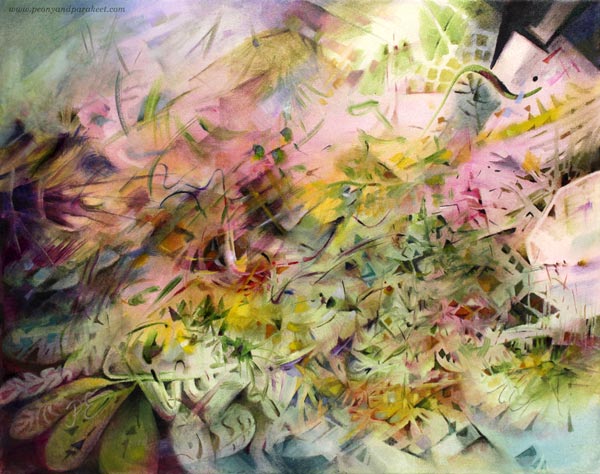 My seed idea for this painting was slightly different from usual, and I wanted to see how it would grow on canvas. It took many sessions and lots of struggles with finishing. "There's still something wrong with this painting, Paivi," I said to myself after correcting a couple of shapes that my husband pointed out. Last night, I had a dream that I walked an ugly dog on a thin leash. The breed was an odd choice, but the dog was still mine.
"Huh" and "Wow" – First and Second Reactions
Isn't it so that we want to change, but as soon as we begin to see the results, we are likely to bounce back? It's so easy to say: "No, this is not for me, I'll try something else. I'll try a different style, a new technique, another art class, or find other artists to follow and admire." And this is not only a bad thing. In the long run, bouncing back is about integrating the new stuff into our natural self. But in the short run, it can prevent the growth we want and need.
I have been reading James Victore's Feck Perfuction as an audiobook. It's a book about creativity and easy listening about things that are really tough in practice. It's more like a two-hour inspirational speech than a down-to-earth guide, but it feels current with this painting. In the book, James Victore refers to an American pop artist Edward Ruscha. He has said: "Good art should elicit a response of 'Huh? Wow!' as opposed to 'Wow! Huh?'"
This week, my favorite video podcast, One Fantastic Week, talked about "Instagram art" – pictures that the Instagram algorithm likes. It's colorful, easy to consume and comprehend, but its exposure doesn't ensure the artistic quality.
Artistic Growth and New Truths
When a painting is not for a class or a specific exhibition, I try not to think about the audience too much. I trust that you will pick what you like, and forgive me those you don't.
But with this painting, I realized that I have played in the "Wow! Huh?" category, and this one tries to be more "Huh? Wow!" And that change makes me uncomfortable. It's like I have been written a revealing story but in a code language, being afraid that anyone who stops to look will see to the core of me. And at the same time, worrying about that anyone who doesn't, only sees a mess.
An Outside View to the Inside World
Teaching art has helped me to grow as an artist a lot. For example, when I get to see a student sharing a wonderful painting saying: "I don't know about this one," my gut reaction is then: "What!? This is beautiful!" But what's "huh" for them is "wow" for me because I see the painting in a context that's still new to them. They haven't got used to seeing themselves like that. They are in the middle of a change, and it's tempting to get back to the same old thing.
But when we do something regularly, it's natural to miss the change. Floating on the surface isn't enough anymore, and we get curious what's deeper – "behind the glass" as we say in Floral Freedom, referring to Wassily Kandinsky's teachings. Then we need to learn, stretch, and redefine. Accept new truths.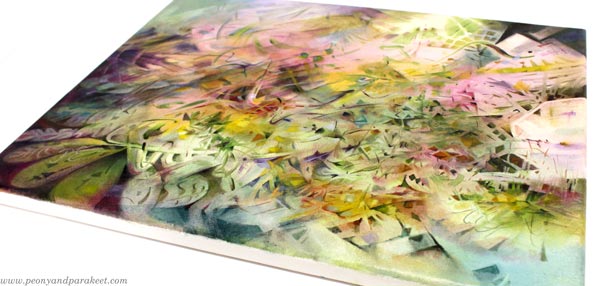 When looking at the mirror, I see more wrinkles than before. What was "huh" some years ago would be "wow" now. But with this wisdom, I hope long life for this painting. That the "huh" that it causes now will be "wow" someday. Maybe after I have fully accepted that my artistic growth is towards more and more abstract art.
It's also good to accept that some paintings are just "huh-huh" and a few manage to be "wow-wow," and what's "huh" for some is "wow" for another. What do you think?