This blog post is about breaking the rules when choosing what to create.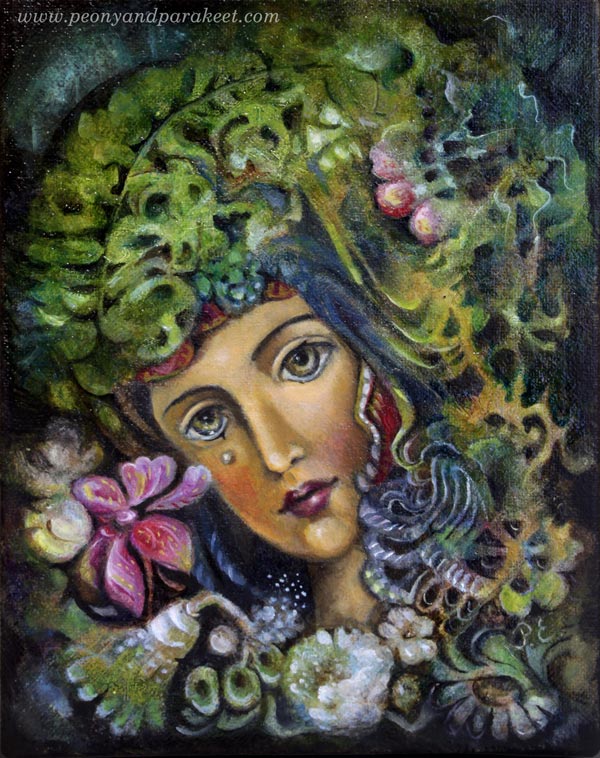 Let's begin with this oil painting. Oil paintings are big projects for me, and I only finished two of them last year. The first was Temptation, and this is the second one, called Madonna of the Heart.
Following the Heart – Breaking the Rules
My Madonna is a small painting, only 18,5 x 23,5 cm, but it's quite detailed. I first planned to make it fully abstract, but then got second thoughts.
As a child, I learned the basics of eastern-orthodox art by attending an icon painting group. I was taught many rules – what colors to choose, how to mix the right tones, how to build layers, etc. It was not just about learning the right techniques, but also obeying the long tradition. The repeating discussion in the group was the difference between right and wrong. There was very little room for creativity, and I loved it! I was about 10 years old and eager to learn new things. Work was challenging, and it was comforting to know that there's one clear direction.
When painting the small canvas, I was tempted to travel back to my childhood, and participate in that small and safe group of icon painters again. But I also knew that it's very wrong not to follow the rules. My supplies were wrong, my background was wrong, the whole idea was wrong. But it felt natural and tempting, so I made it.
Natural to You, Wrong to Some
Recently, I have found many creative blocks like this one. To paint an icon with oils on an abstract background is wrong to some, but it's natural to me. I love painting intuitively, and the idea of an icon is the most beautiful that I know. Don't we all need an image that offers consolation and reminds about kindness? To me, it has nothing to do with any specific religion. Everybody has a right to have a Madonna of the Heart.
While building the class Animal Inkdom, I have also filled my "boxes of joy" with hand-drawn collage pieces. Very soon after starting, I realized that the principle "natural to me, wrong to some" also applies to these small drawings.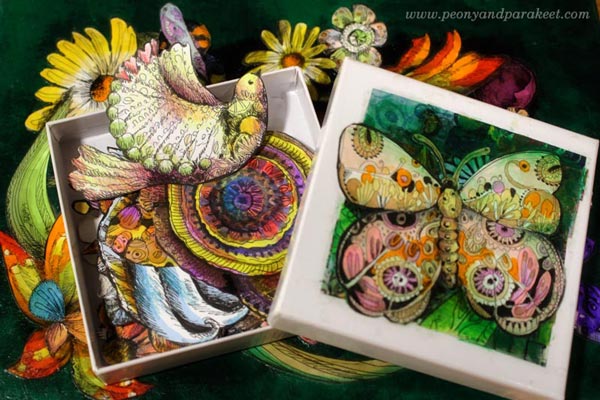 Yes, I love to draw flowers, birds, butterflies, very innocent stuff. But there are also pieces that are quite odd like this one.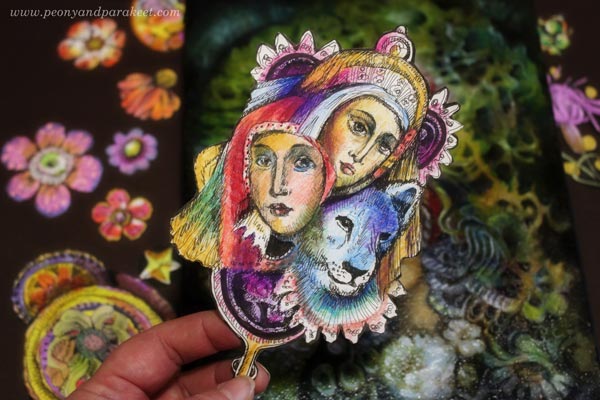 This hand-drawn ornament has two women, both dressed in old Byzantine clothing, and the lion. It has a handle so that it can be held like a sacred image. This small drawing is packed with stories about my childhood. I remember the conversations with my mother, already passed away. I remember my idol, Joy Adamson, and her lion Elsa. I remember my love for blue color. Seeing all that together makes me happy.
I also love to play with the ornament by adding more handdrawn elements around it!
Breaking the Rules Between Serious and Playful
So it happened that a carefully painted oil painting and this little ornament became equal. Of course, not equal in monetary value, but equal in the kind of satisfaction I get from them. And it also feels that this world that I am building is surprisingly inclusive, both humorous and deep. All I need to do is to make what's natural to me, even if it would look wrong to some.
We often miss this natural zone because we are so focused on what makes sense to others. When choosing what to create, we work with pre-defined labels like "portraits" or "art journal pages" or "abstracts." We do what seems to be right for the genre, rather than step into the world where someone might not get it, or in the worst case, might get offended. Still, the freedom in art can't exist without the freedom of imagination.
Come to Play and Draw with Me!
So, I dare to suggest: play with your art! Cross the boundaries between "right" and "wrong"! Follow the general rules of aesthetics but brea the rules of subject matters.
I think that with Animal Inkdom, you can nail it. You will get practical tips and techniques, but there's also humor and play, all flavored with the love for wildlife.
It's still a good time to sign up for Animal Inkdom! The first one of the five modules is published, and you will get it right away after the registration.
Let's keep on drawing, and never forget the playing part either!