I've been going through my art supplies lately and reflecting on my path as an artist so far. In recent blog posts, I've featured drawings, but now we're moving on to watercolors. This post is about painting watercolor fairies and the wilderness around them.
Watercolor Surfaces – Aquabord vs. Paper
I love thick watercolor paper, but I made a special find in my stash: a hard base meant for watercolors. I bought it years ago but had forgotten it. But now I had to try this Ampersand Aquabord!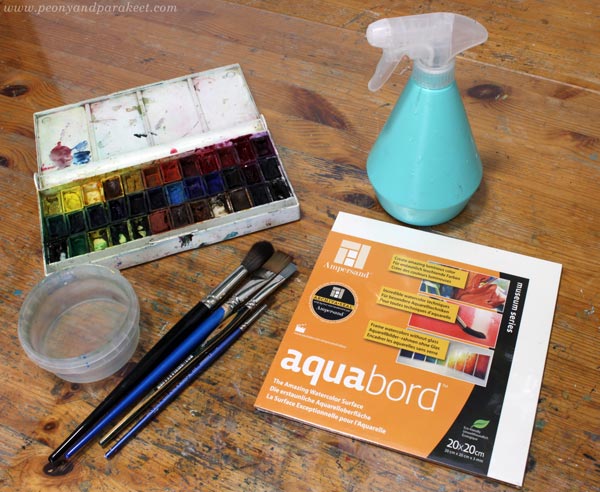 Watercolors have a built-in sense of surprise that keeps me interested in the work. Still, you can also do accurate and illustrative details. I like to use a lot of water at the beginning and less at the end. Even if Aquabord is surprisingly absorbent, I prefer the effects that a good-quality paper creates. But maybe this is the thing that would need more practice. It is said that to get to know a certain paper, tens of experiments are needed.
When the painting progresses I move on to negative painting, so paint the background in such a way that I leave the shapes from the previous layers exposed to maintain the brightness.
Aquabord turned out to be more convenient than paper in keeping the painting light. It is easy to wipe off color with either a rag or a dry brush. But even if lifting color is harder on paper, I still would prefer watercolor paper, especially 100% cotton, because it feels so wonderful! However, for beginner watercolorists, Aquabord is great because you can erase and start over!
Watercolor Fairies
About four years ago, my watercolor set was a close friend, and I thought I was at my best in watercolor painting. One of my favorite subjects in watercolor was fairy-tale characters – spirits of nature that rise from the surrounding greenery and have the sensitivity of a butterfly. It was also fun to come up with names for them!
When painting a watercolor, a character can appear by accident. It's fascinating to see who comes up as the round shapes of the plants encourage the spirit to emerge.
Even though nowadays I mostly paint with oil, I still want to step into wild nature with a brush and listen to my intuition. Watercolors have taught me a way to first splash freely and then finish with intention.
Magical Forest with Watercolor Fairies
I have also made a watercolor course about this kind of intuitive nature painting: Magical Forest.
Magical Forest combines light with hope, trees with spirituality, water with flow, and wilderness with curiosity.
Flower or Fairy?
In this work on Aquabord, I first thought that the weird purple flower could be enough of a character. But after looking at the flower for a while, I felt that someone was squatting under it.
And it wasn't a shy spirit either, but quite lively.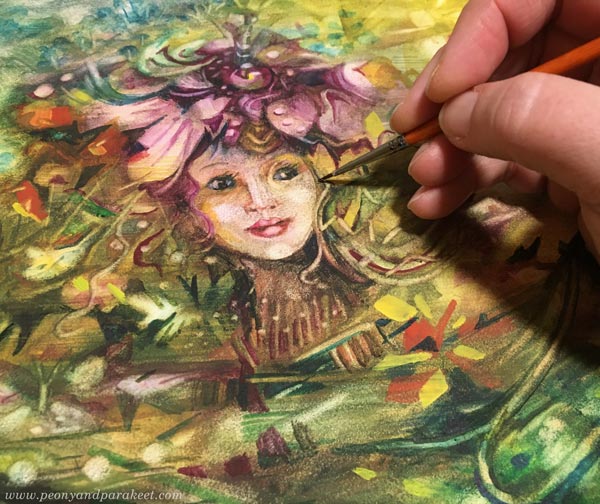 I even painted hands for her.
The butterfly flew there too as if by accident!
What Makes a Fairytale?
In my opinion, a watercolor painting with a fairy tale character can leave a lot of guesswork. The mystery is allowed! There may be abstract shapes that only describe the atmosphere rather than anything else.
When the shy watercolor fairies started appearing in my art in 2019, they represented the part of me that is needed for making art. Now my artist fairy is more confident and cooperative and is not afraid to appear when called.
Easter Sale – Magical Forest Over 40% OFF!
To celebrate Easter and watercolors, Magical Forest is now over 40% OFF!
The sale ends on Monday, April 10, at midnight PDT. >> Buy Now!