This week, I have photos from the group exhibition I am currently participating. It's called Taiteilijat Edelfeltin tunnelmissa – artists in the mood of Edelfelt. And here are four of us from left to right: photographer Niclas Warius, painters Kristina Elo and me, and another photographer Maarit Lehto. The sculptor Kaj Lindgård is also in the exhibition, but missing in the photo.
The red wooden cottage in the background is a summer studio of the famous Finnish painter Albert Edelfelt (1854-1905). It is in the possession of a private foundation Albert Edelfeltin säätiö that cherishes the memory of Edelfelt. Even if it's just a small cottage, the location in Southern Finland is beautiful – near the sea and very near Porvoo, which is a small town popular with tourists.
Albert Edelfelt painted here in summer and then went to France for winters.
When you look at the studio from the sea, you can see the gallery Villa Albert behind it. The foundation built it in 2019.
The gallery is a nice space with a small shop as well. All visitors who come to see Edelfelt's studio, come first to the gallery to buy the tickets.
The head person of the gallery Hanna Kaarina Syrjäläinen is very skilled at hanging the exhibitions. I was so satisfied with how my paintings were displayed. Here an editor of a local magazine interviews me before the opening.
The foundation organizes concerts and other cultural events in the gallery. I think my paintings look great behind the grand piano!
I had 12 paintings in this space and four minis in a separate showcase.
The gallery was full in the opening. The gallerist made a lovely speech about the exhibition.
Unfortunately, I don't have photos of the other artists' pieces, but do visit these websites to see their work:
It is an honor to be in the company of these artists!
I had a good time in the opening meeting new people who like this kind of art that has a connection to art history.
After working on the paintings alone for a long time, it's so nice to hear what others see in them and tell about the creation process that started early this year.
My paintings were mostly from this year, but there were some from the last year. I think it is a cohesive collection and as a whole, maybe best what I have presented so far.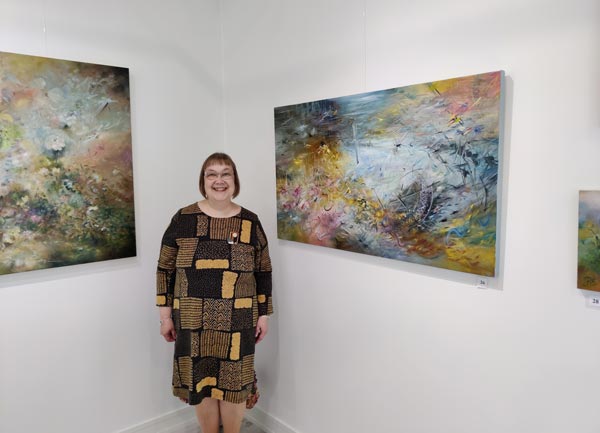 The exhibition continues until October 1st, so if you are in Finland this fall, do visit the Albert Edelfelt Studio Museum Villa Albert!
P.S. See the previous posts to see the paintings more closely. I still have a couple of pieces to show you, and now I feel the urge to draw, so more art to come in the next weeks as well!