This week, we dive deep into the soul of tassels and get the most out of our creativity.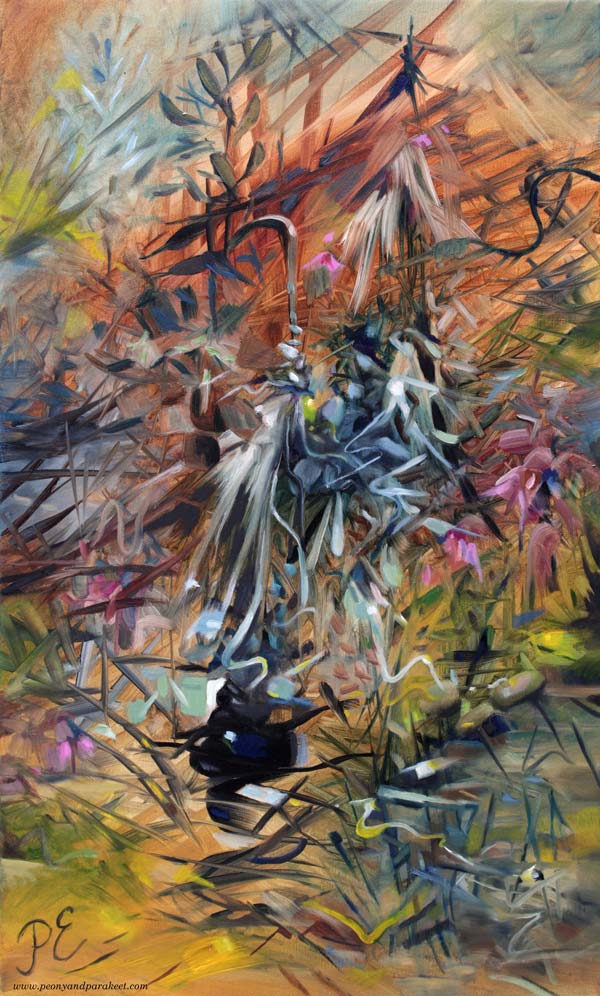 Here's one of my newest paintings called Church of Saturn. This oil painting is a part of my series Linnunrata – Milky Way, where I explore planets and outer space. (See previous work: Jupiter here, Uranus here, the Moon here, Mercury here, Neptune here, Pluto here, the Earth here, Venus here, and the Sun here!) When I painted it, I thought about the rings of Saturn, the god of agriculture, branches and twigs, an old wooden church from my childhood, wabi-sabi, and the beauty of – tassels!
Tassel Dolls
When I was living in Eastern Karelia in the 1970s, the simplest doll we could make was a tassel doll. I painted it in watercolors so that you can check if it's something that you had too!
The doll was made of wool yarn and so simple that even a 5-year-old could make it. It's a good example of a thing that is not valued by our adult self, but that brings up our inner child: "Hey, Miss Tassel, where do you want to go?"
Tassels as Extra Decorations
I rediscovered my love for tassels in 2018 when I participated in the Inktober challenge. Back then, I thought of tassels being a fun accessory and I have enjoyed using them as extra decorations in my drawings.
This week, I drew a new tassel for my boxes of joy and had a lot of fun making it.
First I drew some circles and lines with a black drawing pen, then added textures and shadows in the style I each in the classes Animal Inkdom and Magical Inkdom.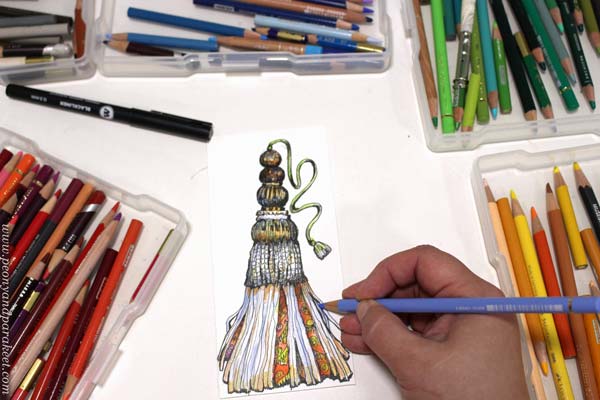 After colored pencils, I picked some other hand-drawn pieces from my boxes and admired the luxurious collection.
Who needs shopping when you can have your own personal store and draw all the good stuff for it!
Blowing Life to a Tassel
A tassel drawing can be more than a decoration only. You can have more fun by playing with it so that it will get a personality. Imagine a tassel as a person or an animal – a living thing. Here I see two tassel ladies on a stroll!
Now, the tassel has a mind of its own. An artist can see any simple object as an element of expression.
In the painting "Church of Saturn," the tassels have a spirit that makes them an integral part of nature.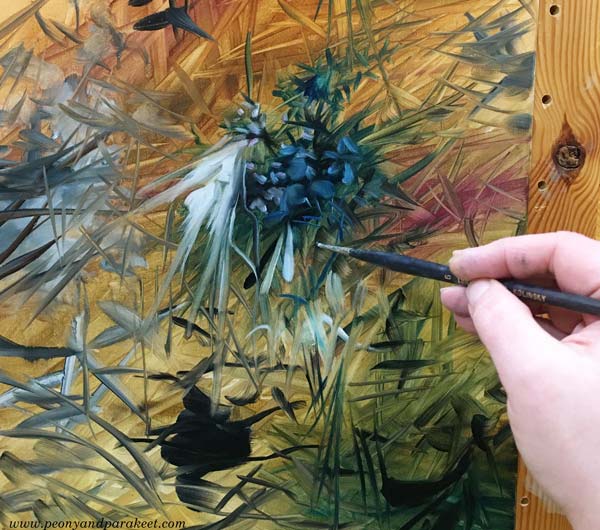 These tassels are organic, and the style is abstract rather than illustrative.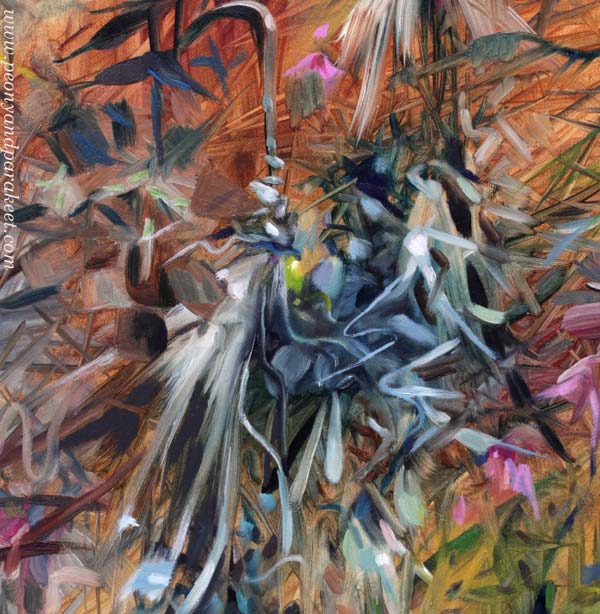 As artists we need to do this – go beyond what's expected and commonly seen.
Ornamental Figure with Tassels
In the class Magical Inkdom, I draw a funny bunny with a tassel on her head and now I got the idea of making an ornamental figure so that the tassels form the body.
To make a symmetrical ornament, I traced the tassel three times on the right side marker paper. Marker paper is thin so it's easy to see through it.
Then I taped the paper to the window and traced the three tassels on the left side of the paper. I added additional elements to the center and some facial features too. My tassel doll!
But when I continued the drawing, I got a crazy idea of a knitting hamster. Tens of years ago, I was a hamster breeder, attending shows and everything. I know those little animals well! Knitting is one of my favorite hobbies and the thought of a hamster collecting all the yarn and trying to knit it made me smile.
Then the word "Knitwork Orange" came to my mind, and I included the orange as well!
Here's me, in the middle of the night, knitting away!
Tassel Dolls on Mars
Last spring, I had a small canvas that was first just a mess. I like to start my paintings in this intuitive way and without a plan. I had some leftover paint so nothing was wasted.
The first ideas are terribly traditional and mine was to make a vase with flowers.
But after this, I was taken to another planet, to Mars! There, tassel dolls met art deco, and I had a lot of fun finishing the painting with all the decorative details.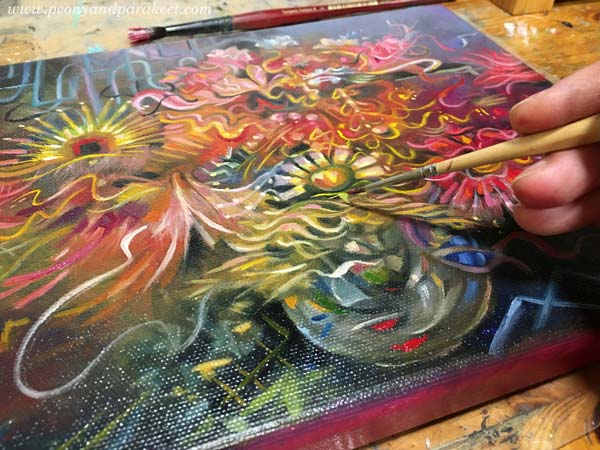 I love the Great Gatsby movie from 2013. It has the best party scenes and good music. I had a lot of fun creating a tassel doll party that took place on another planet.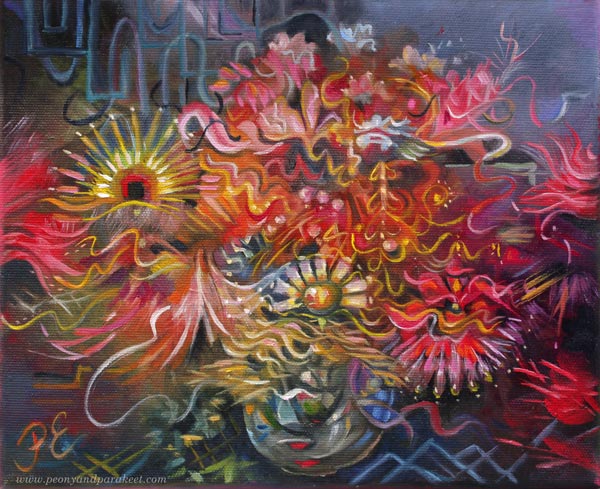 This small piece ends the Milky Way series – 11 oil paintings from March to May. I have taken a break from creating art, but feel like I am recovering now. Thanks to making the tassel drawings for this post! I hope they work for you too!