This week is about getting inspiration from familiar things like songs and the sounds of the surroundings.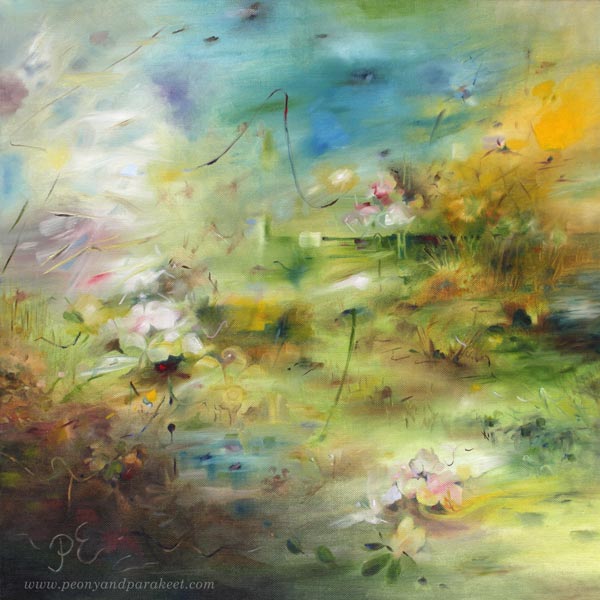 I live in an area built in the 1960s. I love the mid-century modern tile houses and their old-fashioned gardens with apple trees and bush hydrangeas. One year, at the end of May, apple trees were blooming like crazy, and when I took the dogs for a walk on a sunny afternoon, I heard a family having a graduation celebration, singing beautifully in a choir. I felt I could touch the air and see the melody traveling on it, flying like a swallow, carelessly yet skillfully.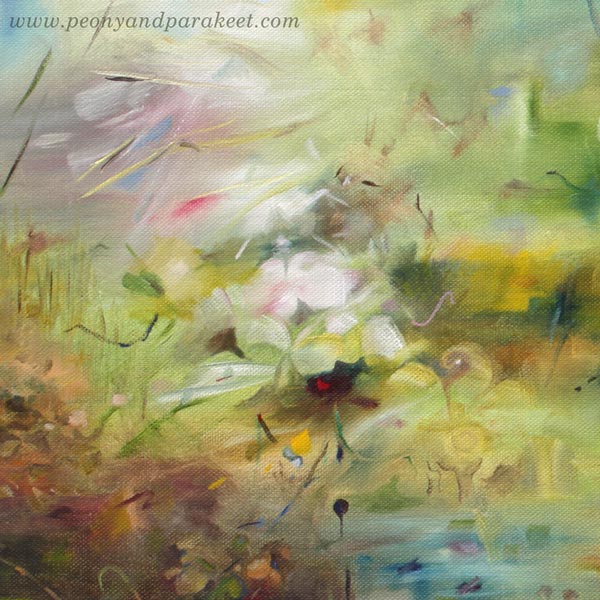 Visualizing Familiar Sounds and Songs
A similar kind of inspiring sight happens when I hear Aretha Franklin singing "Say a Little Prayer." In the chorus, the choir sings the melody, and Aretha just throws in some sounds. It's like she is the background singer there, except she's not. The timing of the single notes is perfect, and their sound is powerful. I see her singing as lines that are effortless without being worthless, ornamental without being traditional.
See this post from 2014 for tips for using music as inspiration: 5 Ways Music Can Improve Your Art
When an old house is demolished, and that happens too much nowadays, they destroy the garden too. I see this constantly happening in our area, and it's heartbreaking. I don't look at the surroundings like a property developer but as an artist who seeks visual music. I want to see the old-fashioned songs: lines that are born when birds fly over the scenery, curves that butterflies make on the flowery fields, shadows that scream, and sunspots that quietly fade away. All that sound and movement creates music that inspires me to paint!
Northern Splendor – Seeing Familiar Things as a Fantasy
Usually, I have gone on an adventure to faraway unknown regions when painting, but in this series that I am working on, I'm in Finland, where gardens and nature alternate. I paint the light of northern summers and connect that with architectural ornaments.
In this painting, I imagined how a French couple from the 19th century visited Finland.
They then saw how the palaces and churches of Central Europe do exist in Finland too, but all this splendor is in nature instead of buildings.
My dream is to paint like Aretha sang – like it would all be careless strokes, yet so intentional and so creatively put that they break the surface of what's ordinary and familiar.
Read That, Watched That, But Can It be Renewed?
I am currently working on a painting for a group exhibition. My theme is Alice in Wonderland!
It's a tale that has been heard so many times. How to break through it? Exciting!
What familiar things inspire you?