This week, we explore watercolor sceneries. Landscapes have always been an uncomfortable theme for me, but despite that, I consider myself to be some kind of landscape painter. Even this digital watercolor painting is a landscape.
Here I mixed the memories of the sunny days of the last fall with the eager wait for the upcoming blooming season.
What Do Landscapes Mean to You?
I think that landscapes are relevant to any growing artist. It is important to look at your relationship with basic themes such as:
human or animal – portrait
inanimate object – still-life
nature – landscape
Of these, I have the closest relationship with the landscape, and through that, I also have a special relationship with places.
Even if I take photos of interesting sceneries, I am not at all enthusiastic about copying the landscape as it is. I'm a romantic who sees even the ugliest grass field as an exciting jungle. I often crouch down to explore the world from the perspective of a modest plant, where everything looks big and grand.
The landscape can also be a stage for an event. When I looked out the window of my room as a child, I was saddened by the fact that nothing was happening in the small area of ​​detached houses. However, I paid attention to the house visible on the hill and how its roof seemed to change color in different lighting and in different seasons.
This kind of slow dynamics characteristic of the landscape is fascinating because when we paint we are not prisoners of time. We can fill the view with all kinds of activity. Various colors and states of one object can be gathered and everything can be lifted into flight and movement.
By thinking about what a landscape means to me, I have built a bridge to my childhood and enabled creative play.
From Traditional Landscapes to Expanded Sceneries
Even if I now see playfulness in landscapes, it took me a long time to realize that traditional landscape painting can be expanded. You can choose to express a real place, but make a completely own interpretation of it.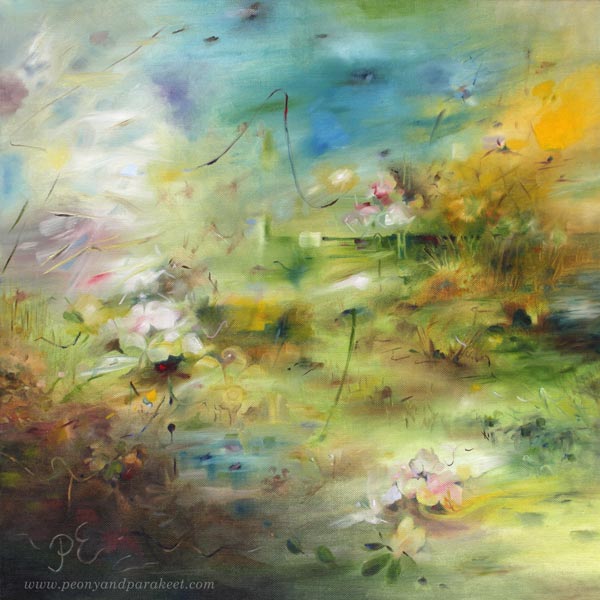 For me, watercolors have played a key role in this realization. In 2018, I started making small panorama paintings, in which I painted holiday travel memories, picking up details here and there from the photos as if reconstructing the place.
See this post to read more about these watercolor panoramas!
I also had a small sketchbook where I made watercolor sceneries, some realistic, some fantasy. See this post to watch a video about keeping a watercolor diary!
And of course, I also made the course Watercolor Journey from my insights.
In this course, you travel between imagination, memories, and reality. >> Buy here!
The Journey Continues
At the moment I am painting a small ditch, from which I have grown a beautiful landscape on a large canvas.
In the painting, a lot is happening and nothing is static or insignificant.
In art, the only limit is our imagination. It doesn't matter where we live, in our paintings we can make it the place we want to travel to next!