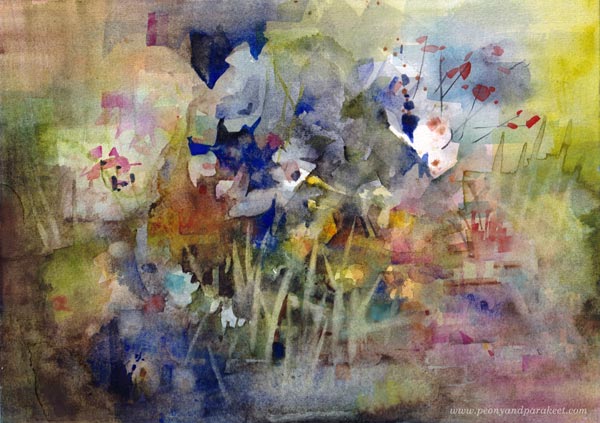 This week, I want to share something I don't always do publicly: experimenting! The exploration and experimentation also have an important role in my upcoming class Magical Forest, so it's a perfect time for some play!
Why Experiment?
Experiments are great, especially when:
– you want to try out new art supplies
– you are working on a bigger piece and need time to think between layers
– you have a very limited time to create
– you want to practice new techniques
– the process feels more important than the outcome: you need just to relax
This time, I could tick all the boxes! I had bought some new pans last week. A bigger painting was in progress. It was a late evening when I started painting. I wanted to use mostly angular, not so many organic shapes than usually, and I had lots of cheap watercolor paper for fun.
Cobalt Blue Spectral – Using Color as an Inspiration
I like to start an experiment by deciding a color or a couple of colors that I particularly enjoy. This time, I had a special treat – Cobalt Blue Spectral.
I have a small local art supply store in Helsinki, Finland, called Diverse. There are bigger stores in Helsinki too, but the service is never as good. The owner always has time to talk, and he knows what he sells. I happened to mention that I loved Cobalt Blue Spectral and that it's so sad that St. Petersburg doesn't produce it anymore. It was just one little sentence, among many. However, the sentence was heard, and I was astonished when the owner suddenly handed me a blue pan saying: "This is the last one that I have, and it's from my personal collection." So now, I have this amazing color again: Cobalt Blue Spectral. It's much brighter than the usual cobalt and quite extraordinary indeed!
I also bought a few pans manufactured by Roman Szmal. The brand name is Aquarius, and I like all the Aquarius pans I have. Here I am testing a wonderful yellow Quinacridone Gold. I can't get enough of warm yellows, and this is the most beautiful I have had so far. It's golden orange when it's thick, and lovely warm yellow when thinned.
Multi-tasking
I like to paint many small studies at the same time so that when I wait one to dry, I can continue another one.
Looking for the Blank Spots
A big part of the play for me is to notice all the small little accidents, especially the blank spots, and figure out how to save and highlight them as the painting progresses.
Including Experimentation for More Serious Pieces
I like to start bigger projects with an experimental mindset too. I use a lot of water so that I can later decide which accidents to enhance and which to hide. A spraying bottle is my trusted assistant.
The size of this painting in progress is a half sheet (approximately 38 x 56 cm / 15 x 22 inches). It has 100 % cotton paper, and Cobalt Blue Spectral shows there too. Compared to the experiments, my painting pace is much slower.
My little art room has been a watercolor studio during the last weeks. I also bought a cheap interchangeable frame from Ikea and ordered a Passepartout from a local framer. Now I can easily display half-sheet paintings!
Magical Forest – Come to Paint and Experiment with me!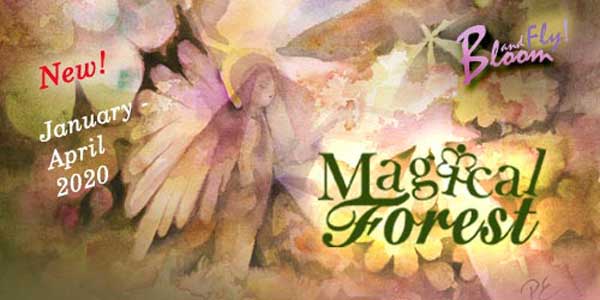 Start the new year with the new class Magical Forest!
The early-bird sale ends on Cyber Monday, Dec 2 midnight PST.
>> Sign up Now!