This week's post is dedicated to collaged fashionistas – fun paper dolls. It's for all of us who love to get art inspiration from the world of textiles and fashion.
I have been practicing surface pattern design daily this month and got quite a lot of patterns already. Of course, all of them are not so great and need more work, but I have really enjoyed challenging myself. I have experimented with all kinds of media – watercolor painting, line drawing, collage, and digital tools too.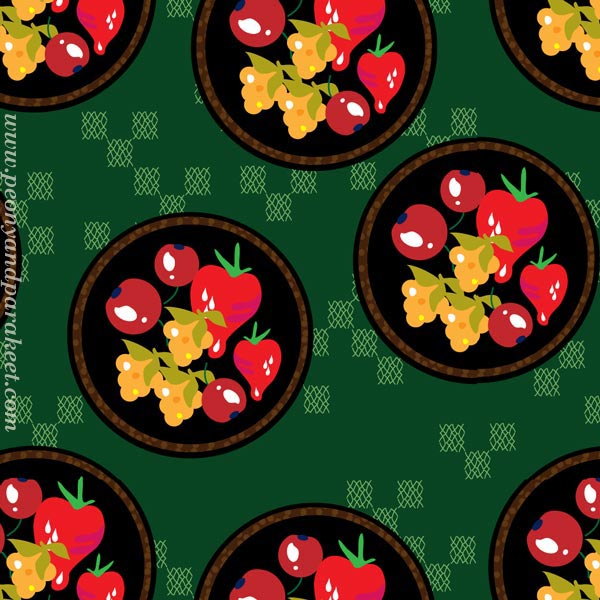 The more my computer gets filled with these designs, the more I want to see how they look when used. After all, a surface pattern is nothing without a surface to put it on!
So I printed some on paper and wrapped a couple of books. I also gathered some handmade stuff just to see how well digital designs fit with my handmade world.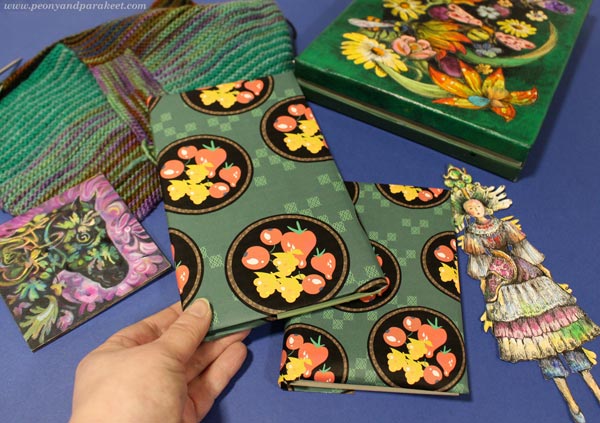 But I wasn't satisfied at all. Books felt too flat. I needed a figure – a model to dress!
Collaged Fashionistas in Paper
After taking the photo of the books, I remembered someone who would be perfect for it. I created her – or should I say cut her – in 2014. Back then, I used to run art journaling classes in a local scrapbooking store, and I had an idea about a class where we would draw fashion items like clothing, jewelry, and such. But the class was scheduled for May which is a busy month for Finnish women, and it never took place. However, I made an online class called Collageland four years after this idea, and it was also one of the seeds for the class Magical Inkdom. So never underestimate those preliminary ideas that don't seem to fly off right away!
And now I wanted to hire that fashion-obsessed fashionista to showcase my patterns! I wondered if she would still return my calls but phoned her anyway.
"Hi Myriad, are you still modeling?"
"Oh, hi, yes – if it's for real this time," she said. "And I want shorter hair!"
"I'll make you bald," I promised.
So I cut a new Myriad and I really like what those seven years have done to her!
A Living Doll Gets Back to Fashion
"I like the boots," she said. "But the skirt feels so heavy!" But she wore it without further complaints because that's what models do. They get all kinds of silly wraps around them and just keep posing no matter what.
"These boots make me want to go for a walk!" she said joyfully. And so she stepped into one of my paintings like she would own the view.
"This is fine art," I said to her. "Models like you don't belong in these kinds of paintings."
"Oh nonsense," she responded. "This is a windy Siberian meadow, and it's just perfect for the shoot. What kind of clothes do you have?"
I had a lot to show her but here's one project that may interest you especially. Last year, I made a surface pattern in watercolor.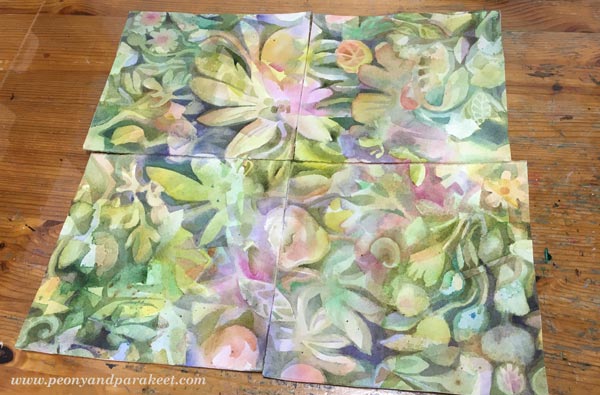 I wasn't fully pleased with it but I had stored it anyway. This week, I made some leaf motifs in illustrator and mixed them with the pattern, and it looks like batik now. I wanted Myriad to wear this!
From Paper to a Digital Fashion Model
To get the pattern on Myriad, I made a new version of her in Adobe Illustrator. I marked different parts in different colors and layers so that I could dress her in Adobe Photoshop.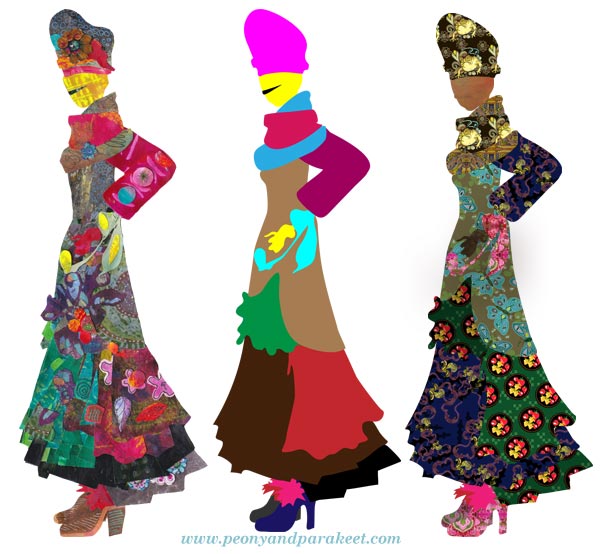 I added some shadows and additional effects and put the painting that I made last year in the background with some blurry effects so that the clothes would stand out.
Here's a closeup of the watercolor design. Her cheerful scarf has hand-drawn motifs.
And here's a closeup of the skirt and shoes that have a pattern too.
My planner for 2021 has a quote from Kandinsky: "There's no must in art because art is free." To me, it means challenging myself. That after all that I have learned in the last seven years, I can still feel the same freedom as a beginner. And that if we push ourselves creatively, our world keeps expanding and we accept more than one technique, or one style, or one truth. Art is never about absolute rights or wrongs because art is free. As a teacher, I find this reminder especially important.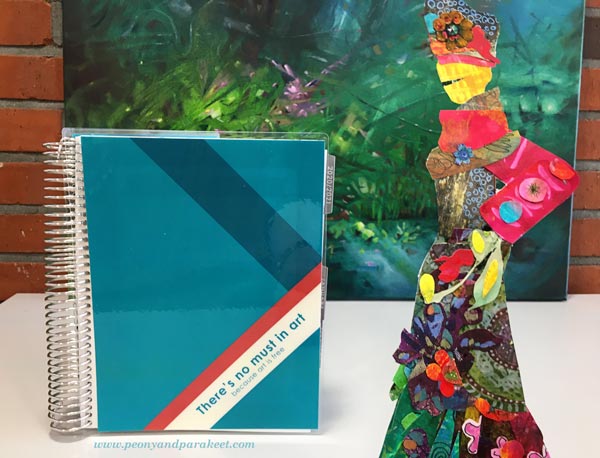 Making collaged fashionistas have brought many more ideas of how I can display my designs! More of them in the future posts.