Fall in love with colored pencils and make the most of your paper stash!  I also recommend these classes:
1) Collageland – save time and effort by creating textile-inspiration with pens and paper
2) Inspirational Drawing – for you who wants to say: "I can draw!"
The Fun Process of Colored Pencil Collages

Here's is an art journal page that started as a sad one. First, it only had some carelessly drawn lines. Months went by before it got some paint to accompany the doodles. After another long wait, it got some depth with colored pencils. It still looked unhappy, so I glued a piece of hand-decorated paper to cheer it up. Today, I found it again and was surprised how finished it looked.
This is often the way I make art journal pages: little by little, random lines, using up extra paint on the palette, saving a piece of paper from my stash. It's a very unintentional process but after those finishing touches are added, it's all good.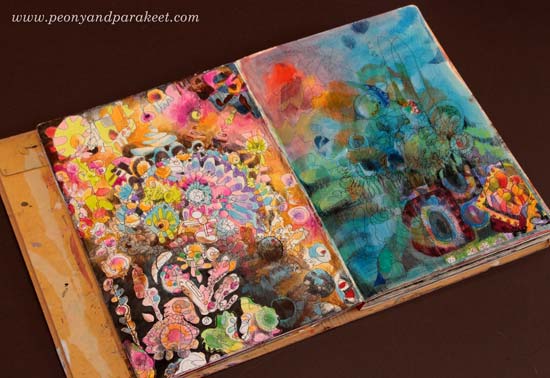 My Hand-Decorated Paper Stash
I have been doing this for a long time: making my collage papers and also saving the tiniest pieces. No matter what my main art projects are, there seems to always have time some scrap paper fun even if it's sometimes just picking a small piece and gluing it on an art journal without analyzing what and why.
Colored pencils are one of my favorite supplies and I also have papers decorated with them. When I go through my paper stash, I often add some colored pencils on painted ones just to make them more valuable in my eyes. Then I also have some true treasures – papers that only have colored pencils on them. They take more time to make, and to me, they are like silk and others are more like cotton, the basic stuff.
Using Imagination with Colored Pencil Collages
When I am playing, odd is good. Paper pieces sometimes have a mind of their own, and strange results may appear! Here's an art journal page called "Three Sisters". It started with paper scraps but really came to life when I added colors to the background with colored pencils. See how I used many colors for the background so that it completed the composition and made the piece more cheerful.
This collage started with a quite traditional idea. I wanted to make a doll. But when the doll got more heads, I followed the imagination instead of trying to stick with the original thought.
Start with the Expressive Background!
Create Step by Step!
Try this process if you often ponder these questions:
a) what to put in the background?
b) how to express with color?
In this process, you will start with the background so that it creates a structure for the rest of the work. A grey paper enables you to use color for expression rather than trying to tone down a screaming scene when using only "beautiful" tones.
Supplies: Grey Paper, Colored Pencils, Paper Scraps
You will also need gel medium or paper glue for attaching the collage pieces, and a black drawing pen for finishing touches.
Step 1 – Coloring Freely
With white and dark grey (or black) colored pencils doodle random shapes. Fill some shapes by drawing, add shading, and have fun by playing with color values. Change the orientation once in a while so that your imagination keeps on going.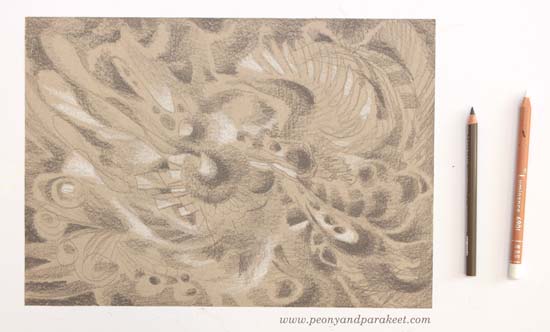 Step 2 – Cut Tiny Collage Pieces
The pieces for this step can be really small ones, and you can cut them even smaller. Here's one piece from my stash and I cut a smaller shape out of it!
Don't worry about the composition yet, just cut so many small pieces that you have a collection to choose from.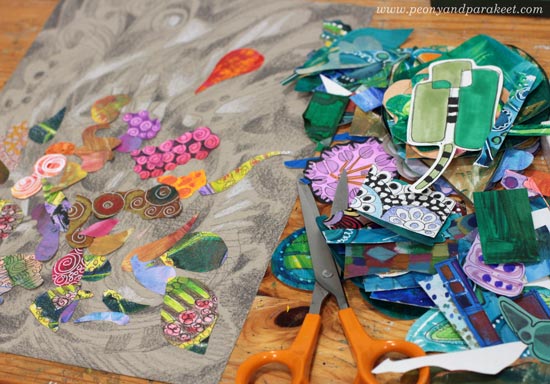 Step 3 – Add Some Light and Shadows to Collage Pieces
With the white and dark grey (or black) pencils, add some shadowing around the edges and some highlights with white. All the pieces don't necessarily need this but it makes solid-colored pieces look much more interesting.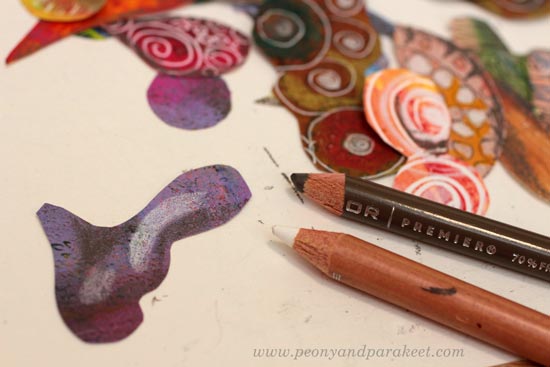 Step 4 – Glue the Collage Pieces
Use the background as a support structure and an inspiration source for your collage! If you have problems with composition, go through my free mini-course Loosen Up and follow the tips there!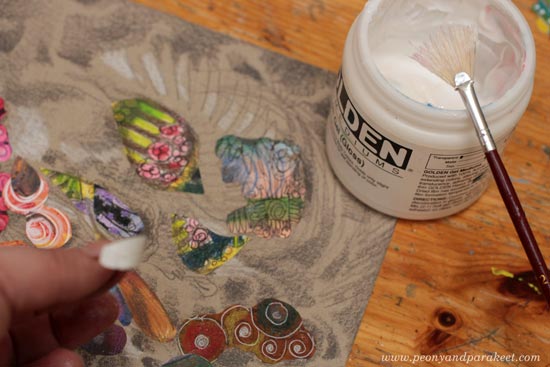 Step 5 – Add More Color with Colored Pencils
This step integrates your collage pieces with the background.
Step 6 – Draw Final Details with a Drawing Pen
Add some loose lines and dark details with a black drawing pen.
Here's my finished piece, a fantasy creature!
Some Papers Last Longer than Others
I intended to cut some motifs out of this paper but maybe next time. Too precious for now! It's inspired by Collageland.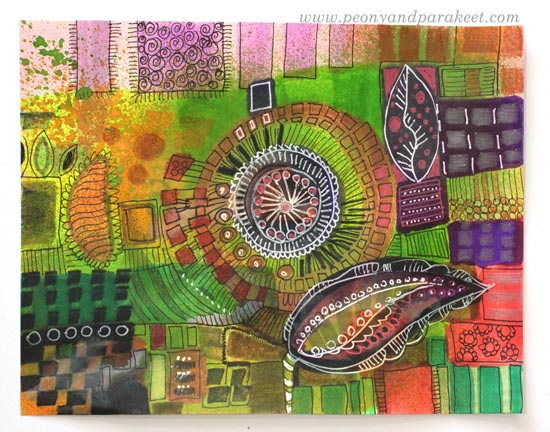 Create Handmade Collage Art to Build Your Visual Dreamland – Buy Collageland!