Last Friday I saw impressive paintings. When I see something that appeals to me, I try to analyze that in pieces. It is fascinating to find out little things that make a painting so memorable. I created this collage called "The Odd Nature" by using those factors. The whole subject – abstract botanical art – is mind-blowing.
Inspired by Hilma af Klint
Starting from the beginning: I was at Hilma af Klint's exhibition at Kunsthalle Helsinki. I had seen a few of her works before, but never this many at the same time. Hilma af Klint (1862-1944) painted botanical art and landscapes but then moved to create abstract art. She was a female artist and one of the pioneers of abstract art. When that is combined with her interest in spiritual ideas, no wonder she did not make her work public. In fact, she ordered that her work should be shown not earlier than 20 years after her death! Look at some of Hilma af Klint's paintings on the Swedish Moderna Museet's website.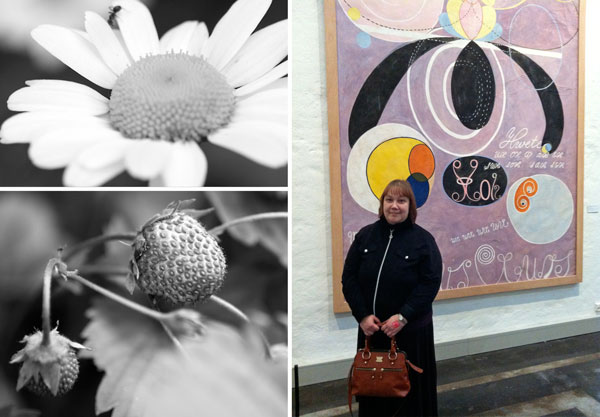 Here's what inspired me with Hilma af Klint's art:
1) Odd compositions that were skillfully balanced.
2) Graphic, often decorative shapes which reminded me of plants and biology.
3) The combination of bright and muted colors with great contrasts.
Zoom in on Nature!
After the exhibition, I began to think about how far we often look at the world around us. To me, it felt like Hilma af Klint had divided living objects like plants into small components and then constructed new pieces out of them. So I began to zoom in on the photos I had taken from my garden this year.
When thinking about the structure of apple blossom, I remembered something which is small too: the little box where I save the tiniest scraps of my hand-decorated papers.
Creating abstract botanicals from the paper scraps would be the thing to do!
Color Inspiration
The idea for the color scheme and the atmosphere came from this photo, taken just a while ago. I painted the background blue purple by adding several layers with watercolors.
Collage Shapes
After the background had been finished, I began to create the abstract shapes.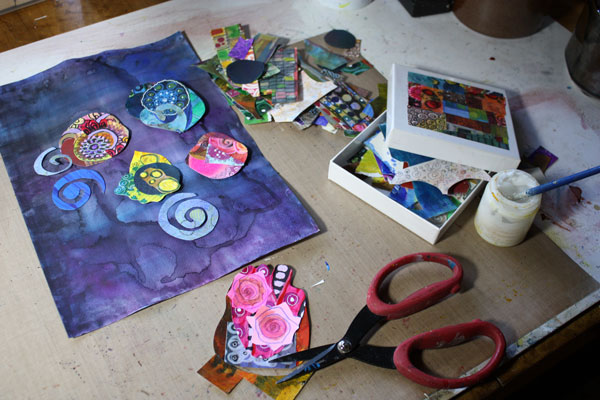 You can easily create intriguing collage pieces by combining small scraps together. Your cut shape does not need to be perfect before gluing it on the background. You can think of the shape as the beginning of the final shape. You can add more details with paint and pen around the shape later.
Composition
When gluing the shapes before they are finished, you need to make bold moves in the composition. I advise not to think of the composition more than this: make sure that the shapes are not evenly spread in the background. After the preliminary shapes are glued, you can then continue working with them by expanding them with painting and drawing. At the same time combine some of the shapes together and create new, smaller shapes to balance the work.
In my work, the center of the work is left almost empty. There I created a tiny detail that adds dimension to the work: a blue horizontal line near the two small circles.
So why not pick up your scraps and honor Hilma by creating surrealistic botanical art!
Read also
Fun Designs from Decorative Papers – An easy technique to create collage elements.
How to Draw a Rose – A simple rose seen in the collage above. You might want to use it as a decorative element too.