This week, I created wild botanical art. I drew plants with delicate details like in botanical illustrations, but with a few differences. My plants are not any real species, and the jungle where they grow is more like my inner world at its best, not a real location on the planet.
Watercolors First!
Before putting colored pencils into work, I made some backgrounds with watercolors. I had very smooth watercolor paper – hot press quality. My friend Eeva Nikunen recommended Arches Hot Press paper that she has used for detailed graphite drawings. It's a bit pricey but so smooth and lovely for colored pencils too. However, any smooth watercolor paper would work with this technique.
I used a lot of water for the first layer and made random splotches with a spraying bottle. This kind of wild watercolor painting is fun, but when I tried to pick one of the four experiments for colored pencils, I found the results uninspiring. So I asked myself what kinds of nature's shapes or colors would I want to see more, and answered: "All kinds of hays inspire me a lot!"
Love for Sharp-Shaped Botanicals
We have lots of house plants that have sharp leaves.
And when I walk in nature, I always look for hays and how light hits them.
So, then after some drying time, I made thin lines that went wildly here and there.
After the lines, I found the green one on the bottom left very inviting, so I chose that for coloring.
Coloring Freely and Wildly
Colored pencils work well on the watercolor background and smooth paper. It was enjoyable to color freely. I didn't follow the shapes or lines painted in watercolor but created new layers.
I have started to store my colored pencils in shallow plastic boxes grouped in color families. This way, every pencil gets seen, and the differences between tones are easy to identify.
Should Plant People Draw Plants?
My husband and I are plant people. Our home is filled with house plants and we have all kinds of plants in our garden. It has been quite a job to save the plants from our new puppy Saima!
Plants have also always been present in my paintings. But recently, I have thought that maybe I could focus more on them with colored pencils too. It often feels that I come home when I am inspired by plants and travel abroad when I am creating something else. I want to challenge myself out of my comfort zone, but if there's a strong resonation, like a secret companionship, should I listen to it?
More Wild Botanical Art – Playing Mode On!
It was so much fun to work on this project that I wanted to do more. So, I colored these small scraps – a fruit and a leaf!
And then it was playing time. How wild can this go?
Create Wild Botanical Art – Five Tips!
Start by creating a wilderness that calls you.
Color layers of random shapes and lines. When you see something that could be a plant, turn it into one!
Don't worry about identifying the plants – treat them as rarities that only you can find!
Make detailed a little more detailed – botanical art goes crazy with details!
Revamp – Add some plants from your box of joy!
Bonus tip: Nature is full of curves, so make sure you also have some.
Botanical Art by Ernst Haeckel
Many years ago, a blog reader mentioned Ernst Haeckel's botanical art. Since then, I have admired his work. Here's a part of his illustration from 1904. Lots of greens spiced with warm colors and so many details!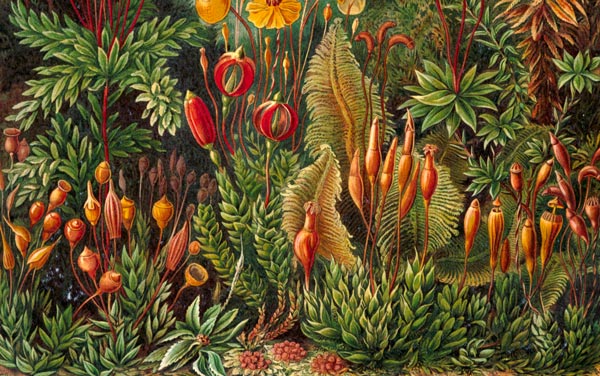 Mine is not nearly as sharp and detailed as Haeckel's, but I approve it anyway. Plants have different personalities, and so do their interpretations!
Tell me, do you like drawing plants? What kinds of plants especially?