This hand-drawn collage is one of the projects that I have made for the upcoming floral art class Floral Fantasies in Three Styles. It begins on Monday, 16th October and lasts for five weeks. Because developing a new class is a big thing and requires a lot of thoughts, I wanted to share some in this blog too. Now it's also the best time to sign up because I close the registration once the class begins!
Do You Do Flowers?

The idea for the class came to my mind last spring and honestly, I have been processing it almost every day ever since. I wanted to create an event where we learn from flowers and express our love for flowers.
Some artists declare: "I don't do flowers!" But I think that in art, flowers are never just colorful plants. When you draw and paint florals, it's your imagination that's blooming there. It's your emotion that grows and fills the blank space. Flowers are perfect ambassadors for the messages that you want to deliver through art.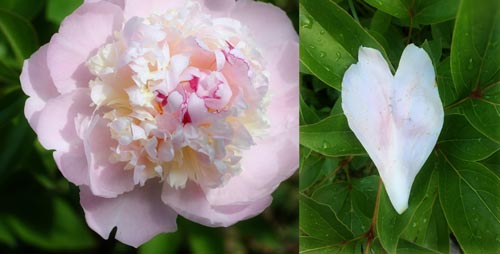 Are You Still Moving Towards Your Kind of Art?
Yesterday, I read about a famous female composer Unsuk Chin from the local newspaper "Helsingin Sanomat." She had just won the Wihuri Sibelius Prize of 150 000 EUR.
The journalist asked her:
"When did you find out what you want to express through art and how?"
She answered: "There's no such moment. I am still moving towards my kind of music, and it's a continuous struggle."
I could relate with the reply so well. Aren't we all there – continuously working towards something that feels more us, that's more our kind of art!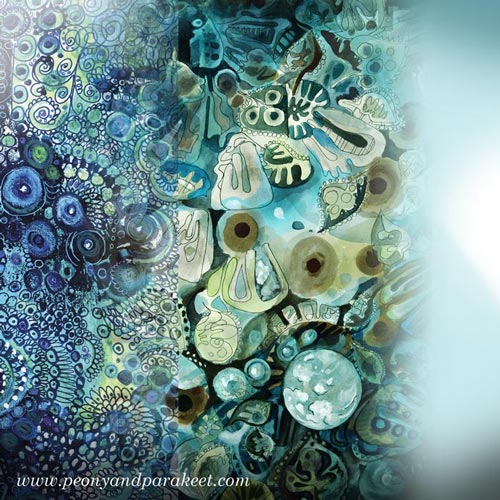 That's why when building classes, I aim for delivering methods that connect with the imagination. It's challenging, but when succeeding, the results that I see in the participants, are heart-warming. I believe that we all want to learn new perspectives, but they also have to be designed so that everyone can make unique art out of them. In the end, you don't create to copy but to express, and that's always a personal thing.
Let Flowers Make You an Imaginative Artist!
So when developing Floral Fantasies in Three Styles, I wanted to find ways that connect us to the beauty and diversity of flowers. I wanted flowers to be food for the imagination, and I wanted you to feel and work as a floral artist in this art class.
Floral Illustrator
Some of you feel the Week 1 most inspiring as it's about creating floral designs and illustrative work. If you love any of the 20th century's styles or have been working with textiles or other crafts for some time, it will be inspiring.
Intuitive Watercolorist
Some of you make the most of Week 2 when we get looser and play with watercolors. If you see or feel stiffness in your art, this will be valuable.
Renaissance Painter
I think that for the most of you, the technique that I teach in Weeks 3 and 4 is a new one. It's a really old painting technique, but I show how you can use it for today's art. I have built the class so that the everything you learn from Weeks 1 and 2, set the foundation for the technique. We dive deeper into old art and learn to look at the paintings of the old masters in a new way. These two weeks will be especially enjoyable for you who want to find gentleness towards yourself and soft luxury to your expression.
Giving the Attention to Your Art
In Week 5, we will gather together for a live session and look at the art created during the first four weeks. We will share tips and encouragement, and enjoy your beautiful floral art. For all the five weeks, we will also have a Facebook group dedicated to sharing and discussions. This connecting part is one of the main reasons why I love teaching art so much. I love to see your work and also, dig a bit deeper – see the potential for moving to new directions or fine-tuning what's already there.
So, I hope to see you in Floral Fantasies – Reserve your spot before the class begins!
Floral Fantasies in Three Styles – Reserve Your Spot Now!