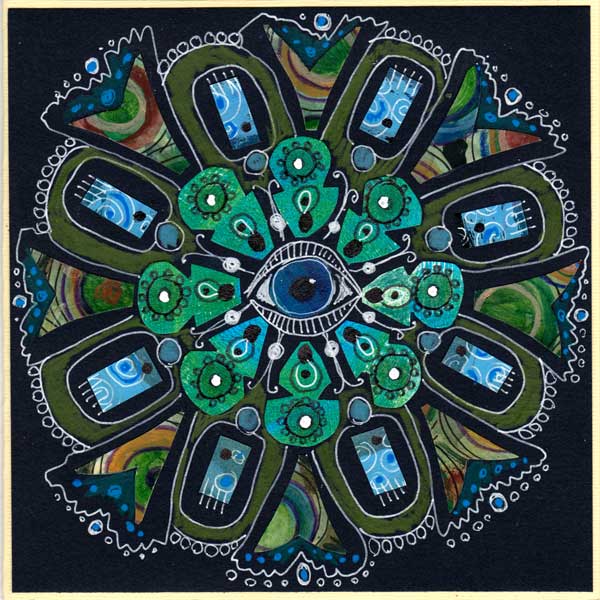 If you like cutting papers with scissors, create collage mandalas! And if you need more inspiration for cutting, read this post first: 5 Reasons to Enjoy Cutting Paper with Scissors)
Circles Are Everywhere
For some people, mandalas have spiritual meaning. They usually represent universe or unity. As the word "mandala" means "circle" they can be almost anything and seen almost anywhere. I am often inspired by the circular shapes that I see in nature. Mandalas are usually symmetric, so they are surprisingly fast to make. The mandalas that I made are very straight-forward, yet eye-catching.
Basic Instructions for Creating Collage Mandalas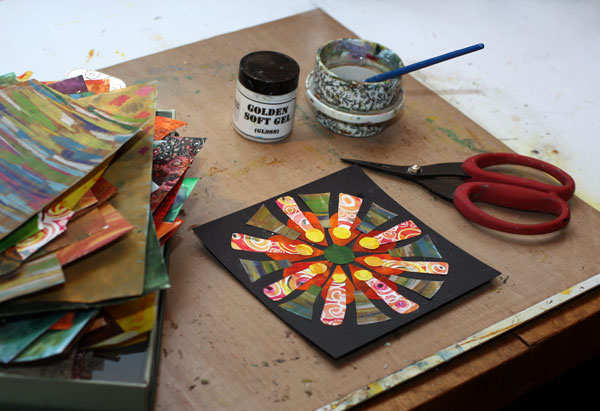 1) Cut a centerpiece and other pieces (3 to 5 different shapes, 6 to 12 pieces each) from decorated papers. I cut the pieces freely with scissors not worrying too much about their similarity.
2) Glue the pieces on the solid background paper. I used Golden Soft Gel Gloss gel medium, but you can use almost any glue. Measure the middle point of the background paper and start attaching the pieces from there.
3) Draw some more shapes with color pencils.
4) Doodle the finest decorations with a white gel pen and a thin black marker.
If you study my mandalas carefully, you'll see how carelessly I have cut the shapes. They are not identical or perfect. I think that the result is more human when using scissors instead of cutting machines or shape cutters. Look at that photo of the daisy flower again, doesn't the flower look more like hand-cut than machine-cut?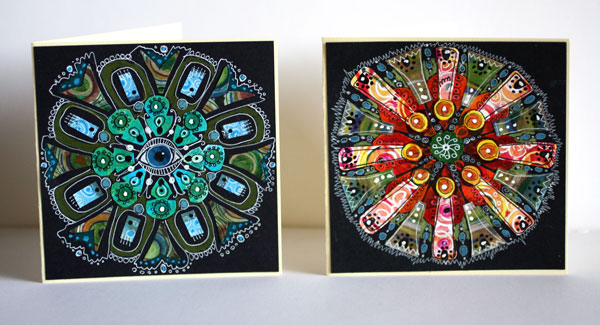 I made my mandalas as greeting cards. I think they would make great gifts!
Create more luxurious collage art: Buy Doodled Luxury!