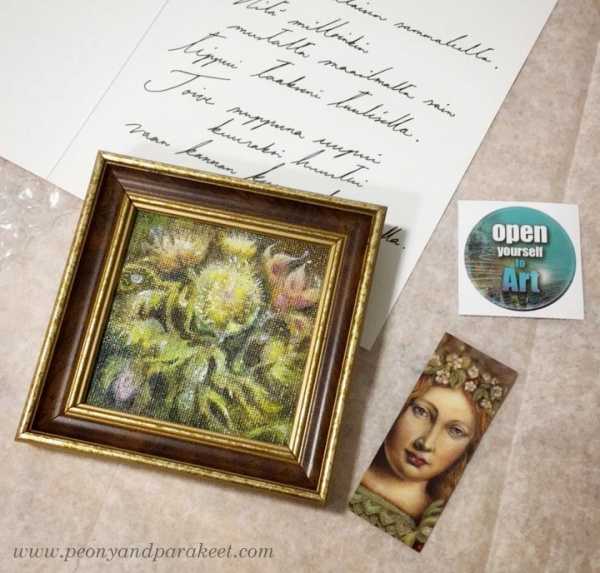 This week I want to blog about the impact that art can have on our dreams. It connects all of us who love art. No matter if you are a hobbyist or a professional or something in between, you can use art as a tool for connecting with yourself. When images evoke words or vice versa, it's especially powerful. Often when I create, I feel the need to write my thoughts during the process, or after the session. Many of the images don't have journaling on them, but I write my thoughts in notebooks. In art journals, I often have one page for journaling and another one for words.
Express Your Daydreams with Images and Words!
I have always loved knitting and how the steady flow of stitches makes me calm down. When I started creating art again over ten years ago, my mentality for it was pretty similar. I wanted to create with my hands, and my short art sessions were my playtime.
But soon I realized that art has other dimensions than following a pattern has. Instead of calming down, art increased my restlessness. This restlessness was energy that opened up new perspectives. In 2012, I wrote (a loose translation from Finnish):
"Needles are my brushes.
A pen is my hook.
Moments are stitches.
Have you seen any ornaments?
– Yes, up in the sky!
The world is my canvas.
Colors are my heart.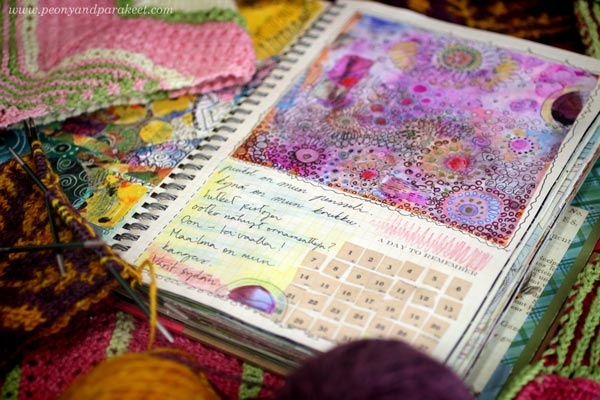 Simple doodles made me re-think my approach to crafts, revealing new possibilities:
– Could I bring more art into my knitting?
– Is there something in my knitting that I could bring into my art?
– And then, is there something in all that that I could share with the world?
What could You bring to your art to get new inspiration and possibilities?
Art is Never Just About Art
I started running local workshops on making art journal pages. I knitted and sold unique drawstring pouches that were like canvases to me (later, I wrote a pattern book of these folk bags). I also attended some craft shows selling fabrics and cards that I had my doodles.
Here's what I learned: Art is never just about art. Art embraces fields that have nothing to do with art. Art is inclusive rather than exclusive. It ties together rather than separates. When you are painting a portrait but suddenly come up with new ideas, incorporate the ideas into your portrait. When you feel totally out of focus, the answer is not to add more control, but to add more connections between all the things and every person that inspire you.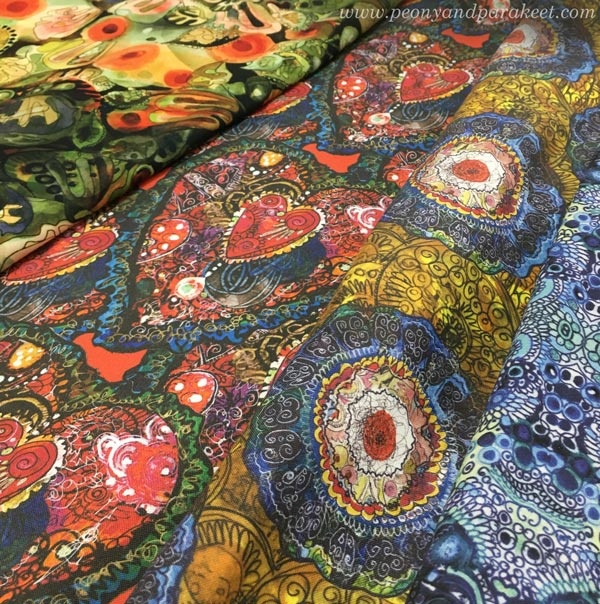 Art is never about someone else's passion, but about digging deeper into your own. No matter how much you admire someone else's work, it won't ever be as satisfying than what you can discover by following your passion. That's why my artist coaching program The Exploring Artist begins with finding your passion and then moves forward to growing your ideas and putting your dreams into action. >> Sign up here!

There are a limited number of seats, and the early-bird sale ends on Aug 19 midnight PST, so sign up soon!
Dreams into Action by Discovering Your Passion
In 2014, I wrote a blog post titled "I Dream to Create…" There I revealed my dreams about creating big pieces for the big audiences. I remember how silly, even a bit awkward, it felt to write all that out and then make images with Photoshop to visualize it all. "Go for it," said many but I had no idea how.
However, there's wisdom in our daydreams that we don't often quite comprehend. Here's how I see it:
– When your dream is just in your mind, the thoughts give you a momentary pleasure and relief.
– When your dream is visualized, the images give you a testbed: "Is this what I want?"
– When you accompany your vision with words, the words make you ponder: "How could I make this dream true?"
– When you find the passion behind the words and images, it feeds you to put the dreams into action.
The progress may first seem slow and often non-existent, but when you start creating in-line with your passion, the results will come. They are often something else than what you first dreamed but often better than what you could imagine back then.
My Story as a Passionate Artist
The carrying theme in my dreams was to have a big audience. Art had become something that I no longer wanted to create just for myself. Here's what happened after the blog post:
a) I started working as a full-time artist creating art classes. In 2014, I visualized a room full of colors and patterns. Now I create and run online classes full of similar inspiration.
b) I started selling and licensing my art. I made the big quilt that I dreamed about just a year after, as a commission in 2015.
c) When the technology evolved, I started broadcasting live. I love running live broadcasts, and more feel closer to my dream than ever before because of it. I can spread the love for art to big audiences without leaving my home. I get the similar vibe than if my art would be presented in a big event. I could have never known that in 2014, and I had no other way to connect my art with an audience than to imagine the concert and seeing my art on a big screen.
Nowadays I run live sessions in my classes, and I also have free public webinars now and then. Sometimes the live sessions are for hundreds of people, and sometimes they are more private. My coaching program The Exploring Artist is geared for a small group, and the sessions are both personal and intimate. Then it's about You as an artist and how You can make dreams come true. >> Sign up here!
Take Your Art to a Passionate Level – Free Webinar on August 16!
My next free live webinar is on Thursday, Aug 16th, 6 PM BST / 10 AM PDT.
You will get ideas about how to become more passionate and impactful as an artist, and this webinar works as a self-exploration too.
>> Reserve your spot here!