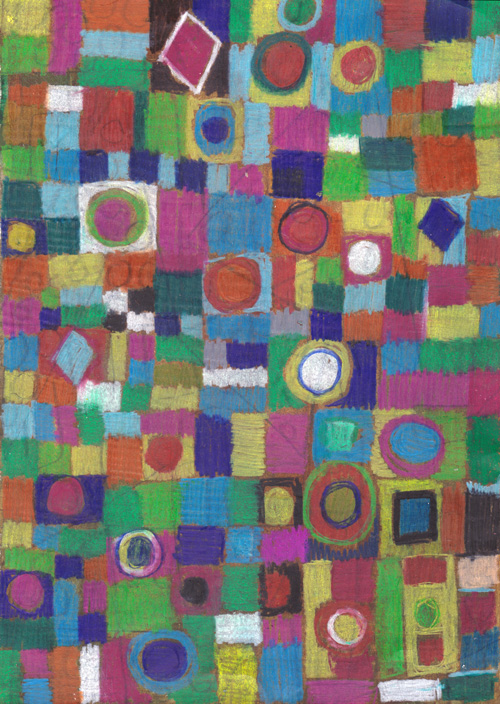 I often get drawing ideas from crafting. I made this decorated paper by mimicking the way I knit with many colors.
Stranded knitting (or fair isle knitting as some call the technique) can feel tedious at first. Constantly changing the colors can be tiresome. But if you do that long enough, your brain will get used to it. I think it is a way of thinking: constanty interrupting what you are currently making. If you do that, you will also prevent yourself thinking too far ahead and too logically.
I began with an odd paper that had been watercolored throughout. That way I created depth instead of showing white paper between the colored areas. Color pencils work great on watercolored surfaces a long as the paper is fairly smooth. I created the paper just by adding basic shapes so that they formed some kind of fairly free grid. Changing colors and plans all the time kept the interest at the work and prevented too monotone visual appearance.
After making that paper I began to think about handdyed fiber. I love this photo of my bobbins! It's mind-blowing when I think about spinning handdyed wool and how the color changes so seamlessly.
I also often knit socks from handdyed yarn. Like these ones I just made recently.
As a result I decided that the irregular stripes deserve to get on paper too!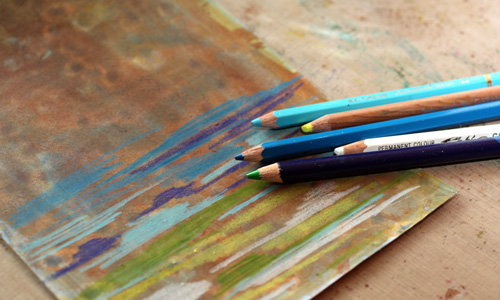 I began with few colors first, again on watercolored paper.
Then I added colors. I worked pretty fast here. Even if I like my papers to be super detailed the sharp and regular stripes often look too static.
Most of my papers have round shapes. These knitting inspired ones are edgier in style. They will look great when combined with the circles. When you are building the stash of hand decorated papers for collage art, take care that you have a variety of papers.
In these papers the motif size can also be maintained fairly small. So these will look absolutely gorgeous even when cut in tiny pieces!
P.S. I you are more of a quilter than knitter, read what you can bring to art from quilting.
Let me be your art teacher: Subscribe to my weekly emails!