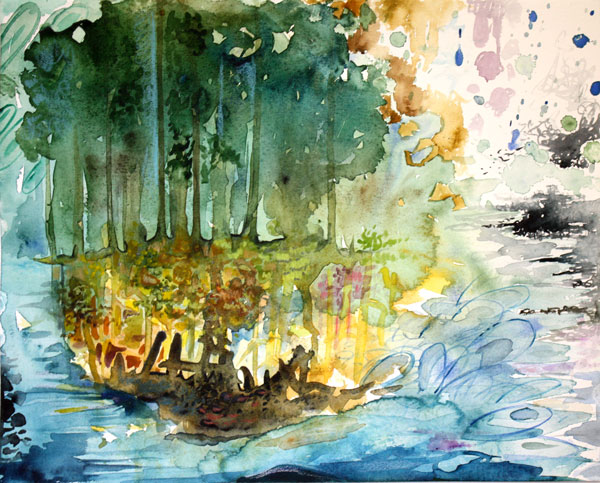 My recent watercolor painting is called "The Forest Speaks". I painted it using the intuitive painting method which I show on the video "Watercolor 101 for Intuitive Painting". The initiative for this painting came from a dream, almost a nightmare that I had a few days ago.
Before I quitted my day job, I developed e-services for the Finnish forestry sector. I had planned my resignation for a long time. It was a tough waiting period. A couple of months ago I finally entered the full-time creative entrepreneurship. After resignation, I felt free and happy and practically stopped thinking about my old job.
But just recently I began to see these dreams – some kind of nightmares. The setting was always the same: my last day at the old job. There was so much to do that I was never able to leave. I woke up sweaty and distressed. Then, in the latest of those dreams, I was given one final job: to paint a painting for the hall of The Forest Centre. I knew exactly how it should look like but somehow did not get it right. Again, I woke up with anxiety.
In the morning I began to think that maybe there's something that needs to be handled and documented – painted that is! So I took my watercolors and began to paint the image visioned in my dream.
The painting is finished now and the last nights have gone smoothly. I became convinced that our minds can be slower than we think. Our subconscious may have a lot to deal with. By nurturing our creativity we can become more aware of all what's going on inside us. They might not be any bad or weird things, they are just stories that need to get told. For many people that I used to work with, the forests and forestry were very important. The forests spoke to them. For me, it is art that speaks and that's why I had to leave.
After this experience, I want to interact more with my dreams. Is that relevant to you too? Have you ever painted anything related to your dreams?
Subscribe to my weekly emails – Get a free mini-course!