Doll World – Draw Paper Dolls in Adorable Dresses!
Techniques for illustrating human figures and their clothing.
Doll World is an online art class for drawing and coloring dressed-up human figures.
The class begins on January 1st and ends on May 31st, 2023.
Doll World is especially for you who want to …
… grow drawing skills step by step – the class is suitable for beginners too!
… get creative and play between fantasy and realism
… draw poses freely without reference photos
… design dresses by transforming inspiration into frills, pleats, and flowery decorations
… find joy in drawing and coloring human figures
Create Your Doll World in Five Parts!
This is a slow-paced course so that you can have some life beyond Doll World! Every lesson begins with a small warm-up project before we move on to drawing the doll. The world you are creating starts small but expands lesson by lesson.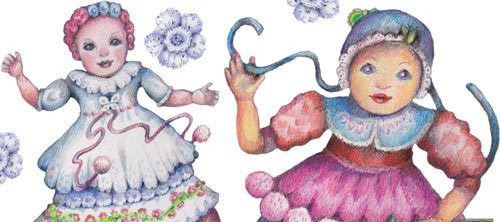 January – Lesson 1 – Frilly Babies
We will draw babies in long frilly gowns and practice hands and faces.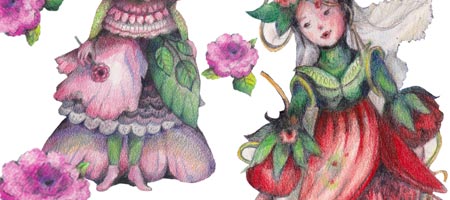 February – Lesson 2 – Flower Girls
We will draw girls in flower dresses and practice standing positions.
March – Lesson 3 – Faberge Angels
We will draw sweet spirits on decorative stands and practice sitting positions.
April – Lesson 4 – Butterfly Fairies
We will draw fairies with wings and practice jumping and flying positions.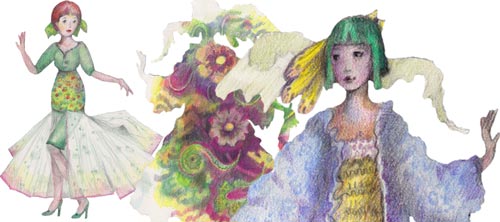 May – Lesson 5 – Fashion Models
We will draw fashionable women who elegantly present our wildest creations.
Inspired by Vintage Gentleness
The teacher Päivi Eerola from Finland, spreads her enthusiasm for drawing and imagining. You will learn simple tips and techniques on how to make the poses look natural and how to design fantastic dresses.
"I love old illustrations where the human figures and poses are not always anatomically perfect but still tenderly beautiful. In this course, I invite you to build a world that may start as a secret but has the potential to grow into full bloom when you just keep drawing."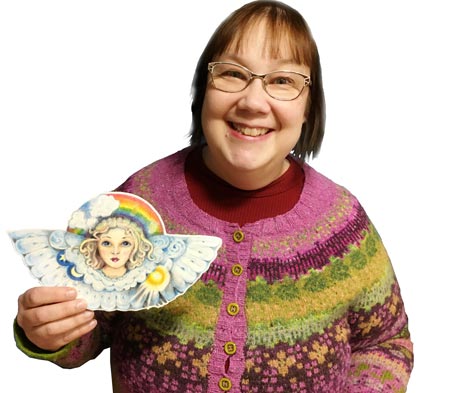 Bonus: Membership for Art Community Bloom and Fly
With the class, you will also get a basic membership for the Bloom and Fly Facebook group, where you can share your work and have conversations with Päivi and fellow artists. This membership is for 2023, so you can continue drawing and sharing your art for the rest of the year.
Sketch, Color, Cut Out!
You only need basic art supplies: smooth paper, pencil, eraser, colored pencils, sharpener, and scissors.
The teacher uses Arches Hot Press watercolor paper with a thickness of 300 g/m2, about 140 lb, and regular colored pencils. But you can also use watercolor pencils or watercolors for coloring the dolls. If you want to use the dolls for collage art, choose thinner paper. Glitter glue is an optional but fun addition to decorations.
Even if the core of the course is about drawing paper dolls, you can apply the methods and results to almost any art project. The dolls of the course are drawn on A4-size (about US letter size) paper, and it's recommended to start this big because it's easier first. But once you have got the hang of drawing, you can change the size of the figures and get creative.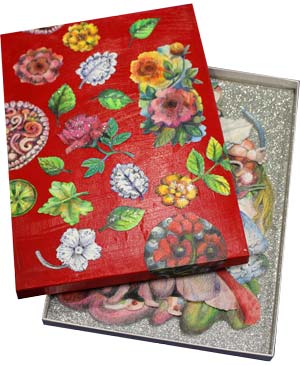 Sign Up Here!
You will get the published lessons right away!
Price: 79 EUR (about 86 USD)
Pay with a credit card or Paypal.
Technology Needed + Refund Policy
All the information and services are provided in electronic format. You will need Internet access and a personal email account. The documents are in PDF format, and the videos are offered as a streaming service. You can access the material as long as you want if you download them to your device before the end of 2023. If you choose to download the videos, you will need an application to view MP4 videos. You have to be over 18 to join the Bloom and Fly community. All sales are final.