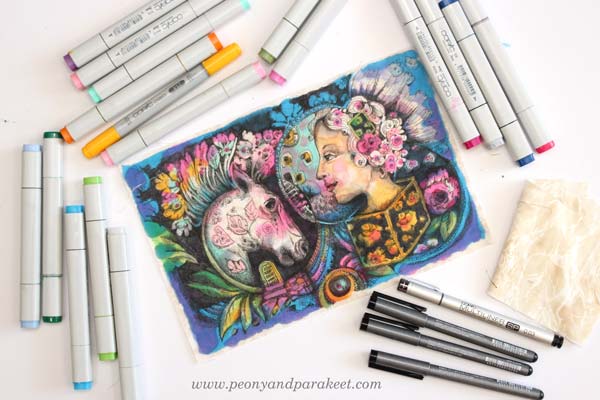 This week's blog post is for all who love fabric! I have started building a new class, a magical sequel to Animal Inkdom! I want these "Inkdom classes" to be as versatile as possible so that you can use your illustrations in gifts, everyday items, and whatever you like to create. This goal perhaps brings out the designer from me – always seeking for ways to get the most of the beautiful pictures.
Brainstorming when Making a Quilt
My best ideas come, when I am taking a break. Last week, I had to stop the class development for a few days, because my beagle Stella had been waiting for her quilt far too long. The old ones were so worn out that she could barely carry and wrap herself in them. I had almost finished the top of the new quilt but there was still quite a lot of work in quilting and binding it.
So I put the art supplies away, bought pink fabric for the back, and started stitching. The blocks had printed photos, crocheted doilies, ugly leftover prints, experiments that had piled up … I had just sewn them all together! But the more I worked on it, the more unique the blanket felt, and the improvisational way of working kept me energized. Just like when drawing!
So it hit me, that it would be wonderful to build bridges with this kind of fabric play and drawing.
See how full of "doodles", improvised quilt patterns, the top has!
I doodled a bit with the embroidery floss too. But that's a lot of work, and it doesn't feel the same as holding a pen in hand. I missed my markers!
Drawing on Fabric with Copic Markers
Once Stella's quilt was finished, I went to my Copic markers. I ironed a piece of natural white cotton fabric that had some print patterns. To make the patterns even more subtle, I drew on the wrong side of the fabric. So I had a lively background that wasn't too busy. First, I made a line drawing with thin-tipped black pens. They were Copic brand too.
Then I started coloring and making the drawing more detailed.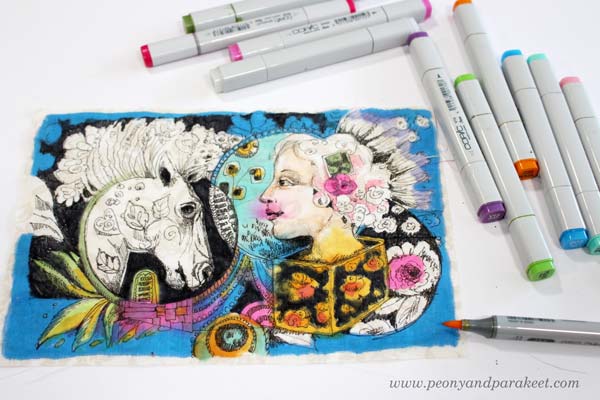 Here's the finished piece. I loved the easiness, the softness of the lines, and that I now have a unique quilt block. I will certainly draw some more!
Here you can see how the lines, fabric and color blending go well together.
When I look at my fabric stash, this hand-made piece is definitely what I love the most.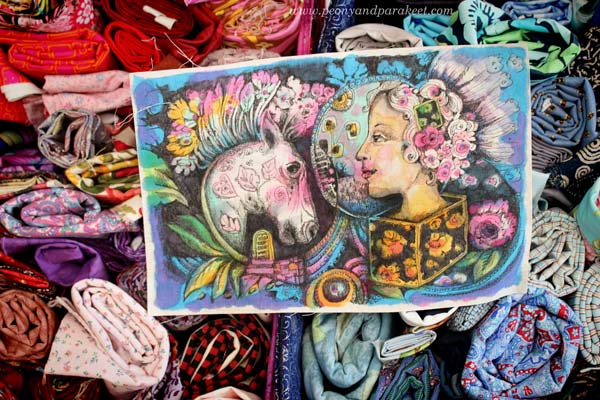 My art studio looks so happy now! The best thing is when many things that I love to create come together.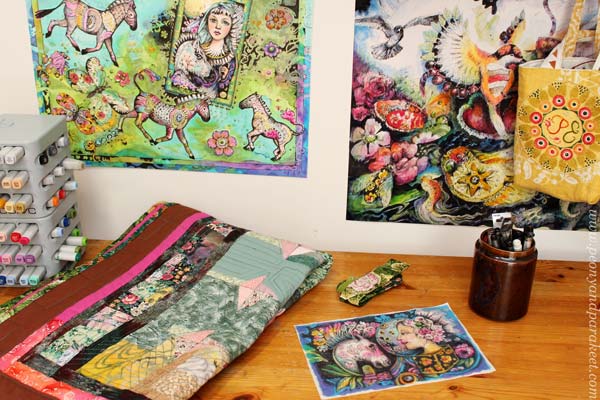 While I am preparing the new class, tell me, what kind of ideas and instructions have you been waiting for building bridges between your arts and crafts!