This week, I share a fantasy horse illustration from my colored pencil journal and show how the new puppy has started her job as a studio dog.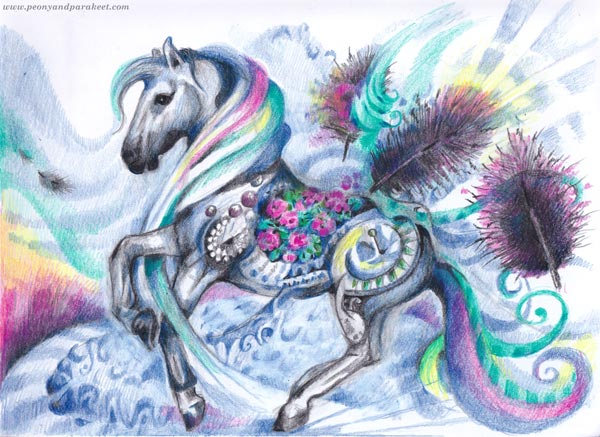 "Hey Paivi," I said to myself, "Now when we have a new puppy, it would be cool to have some illustrations of it on the blog."
"But pencils are my escape!" I heard myself shouting. "I want to use them for dreaming, not for everyday things. I want to draw a horse instead!"
Dreaming with Colored Pencils – and Horses!
For me, the figure of a horse is like a hanger for all the things I love. My horses are not realistic, but play horses that connect me with the world of fantasy and everything pretty. Many like to draw faces for the same reason, but for me, horses work better.
Saima and Stella were in the studio resting while I drew. Saima doesn't like sleeping alone, and she prefers my lap to Stella's, so she was not fully happy.
I think the dark feathers were inspired by her. I love soft puppy fur, tassels, pompoms, and feathers, but also metal watches and all kinds of decorative swirls.
I used to have a black ink pen for this kind of detailed illustrations (see the classes Animal Inkdom and Magical Inkdom), but recently, it's been colored pencils from start to finish. The upcoming class, Intuitive Coloring, has inspired me to draw and color more – or should I say as much as I can, because taking care of Saima has often been a full-time job for my husband and me!
Our house and my little studio have changed to serve Saima's needs. We count days when she's older, and we can decorate again, but at the same time, we are aware of how fast time flies and that we must take most of Saima's curiosity and cuteness.
Dreamy Look with Six Pencils Only
Here's a closeup of the feathers. Instead of coloring them black only, I used pink, blue, yellow and green, to make the dark color shine.
I only used six pencils for this project – pink, two greens, yellow, blue, and black. However, by layering colors, I was able to get a wide variety of tones.
Here's a closeup of the horse. The long mane was so much fun to color!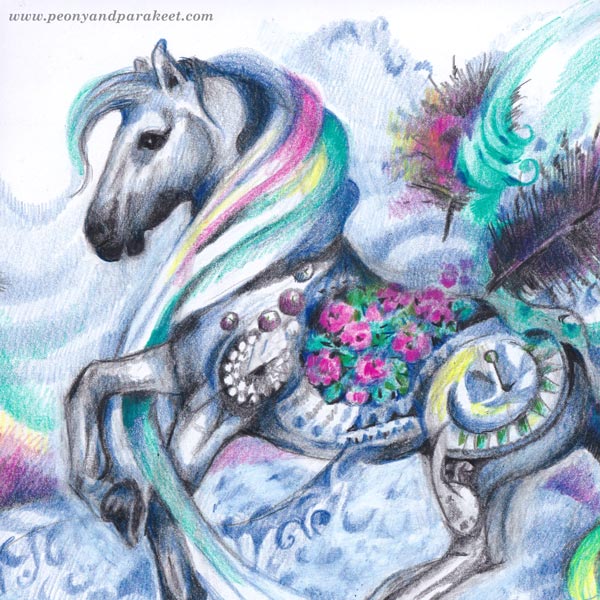 I hope to see you in my next class, Intuitive Coloring. Thank you all who have signed up already! The early-bird sale ends on August 23rd, so sign up now! I am looking forward to dreaming with colored pencils together in September!