I've been down with bad flu and haven't been able to blog for the past week. But now I have recovered and continue the spring blog post series, where I go through techniques and themes that have been important in my artistic development. This week the topic is watercolors, flowers, and expressing dreaminess.
Flower is a popular subject in art and I also like painting flowers very much. I don't use models, I paint abstract shapes that look like flowers.
What Makes a Flower Dreamy?
In 2019, I painted a lot of flower-themed watercolors and then I thought about what flowers are all about for me.
The species of flower is not important to me. I often paint flowers that have no real equivalent. For me, the interesting thing about flowers is their relationship with light.
Without light, there are no flowers. The light continues the flower and makes it bigger and more beautiful.
When you paint light, dreamy watercolor flowers grow into the picture as if by themselves.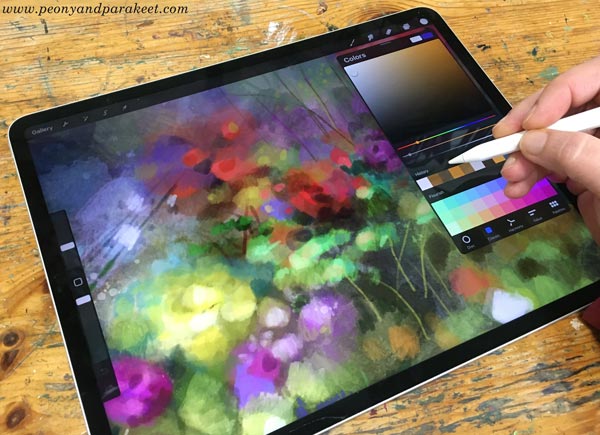 In ProCreate, it's easy to zoom in and out, pick colors, and change brushes. Apple Pencil is also surprisingly pleasant to work with.
In real watercolors, splashing water more fun, but maintaining lightness is more challenging, especially when you only use the whiteness of the paper.
Then you start with light layers and gradually add color. It's surprising how much you can fix and fine-tune the details when working this way.
Dreamy Flowers by the Water
Another important element is water. That's why flowers and watercolors go well together. Light, water, and flowers are a refreshing combination. I try to bring the element of water into the picture in one way or another.
I used to paint a lot of vases, but nowadays flowers grow more freely near water.
I think that when a plant blooms, it dreams – just like we do when we make art!
Floral Fantasies – Paint Dreamy Watercolor Flowers!
For all flower lovers, I have a flower painting course Floral Fantasies, from which the watercolor part can also be purchased separately.
Floral Fantasies – Intuitive and loose approach to flowers – Buy here!