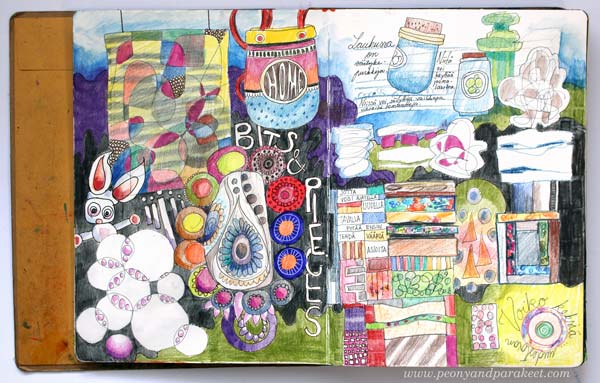 Don't miss a flip-through video in the end of this blog post!
Four years ago, I purchased a new art journal – a big one. It was Dylusions Creative Journal, the largest size. In the beginning, I wanted to do everything "right." I wanted my journal to have pages that are well-thought and carefully executed. The first couple of spreads went ok, but then, ugly pages started to appear. They were pages that I had just started but got tired on the way. Or pages which began so ugly that I didn't feel like finishing them. But the longer I used my journal, the more I realized that I could have fun with those ugly pages. I could add more simple motifs and then color them all. I could add black paint and leave only some of the background visible. I could add more ugliness, and once it hit the saturation point, it became – something else.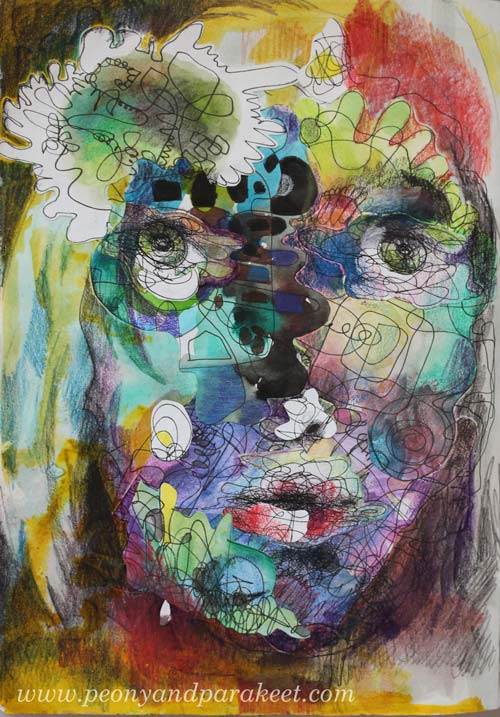 I am interested in learning all kinds of visual styles. Art journaling has supported it. One day I played a fashion designer and made a quick line illustration with poodles and all. It didn't look inspiring back then, but a long time later, I had a lot of fun coloring it.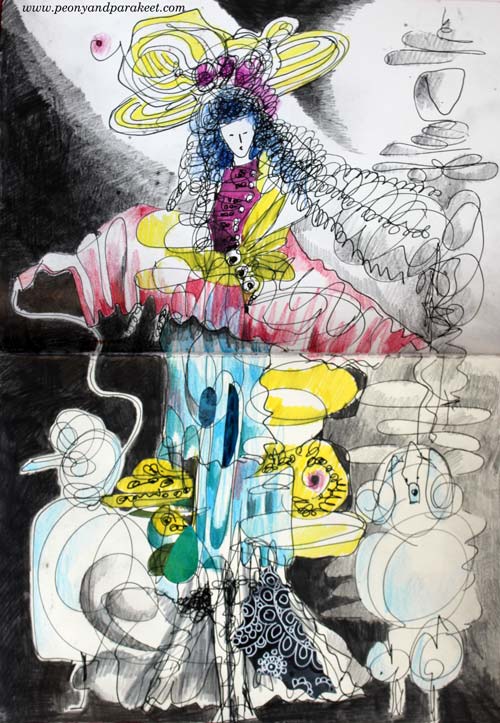 That's what I love with art journals. The pages don't get lost, and the ideas don't get forgotten. Sometimes the ideas are abstract and timeless …
… and sometimes they are illustrations about what's happening around the world.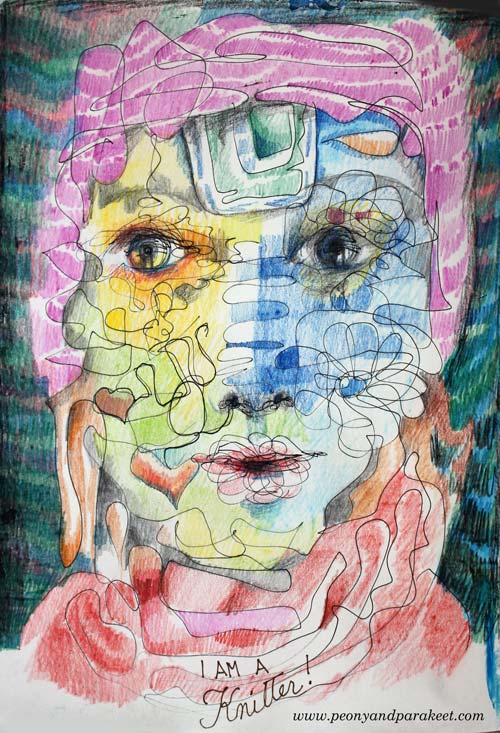 Filling the pages in a random order adds its flavor to the journal. A grid-like paper patchwork felt innovative once, but not anymore. It feels pretty stiff, especially when there are freely doodled elements on the opposite page.
But I don't want to rip off the pages that don't seem to fit. I accept them all. They are all explorations on the land of Art and Imagination. Sometimes I didn't get very far, but I believe that all the trips benefited each other. I also believe that when painting on canvases, I feel more confident because I have played freely in my art journals.
Dylusions Creative Journal – Watch the Flip-Through Video!
See all the pages of my large Dylusions Creative Journal!
Enjoy drawing by starting from stick figures! – Buy Drawing Factory!
SaveSave