In February, I went to see an art exhibition with my husband. The destination was one of my favorite art galleries in Helsinki. Helsinki Contemporary has interesting artists, and I also like the gallery space and how it's located in the center, near many art supply stores. This time I was to see watercolor paintings by
This time I was to see watercolor paintings by Kati Immonen. She is a master in watercolor techniques, but I also became fascinated by the theme. The exhibition called Flora included many still lifes that were like miniature worlds. My husband is fond of bonsai trees so he liked the theme too.
Easter Still Lifes with a Wet Brush
Yesterday when I picked up my watercolor set to paint something seasonal for you, I remembered the exhibition. I became inspired by the simple idea of painting a pot or a vase and then adding some spring flowers using a lot of water. By painting with a wet brush, the flowers could appear naturally along with any other unintentional decorative elements.
After painting with oils and acrylics recently, my skills were a bit rusty so I made three paintings. Here's the first one.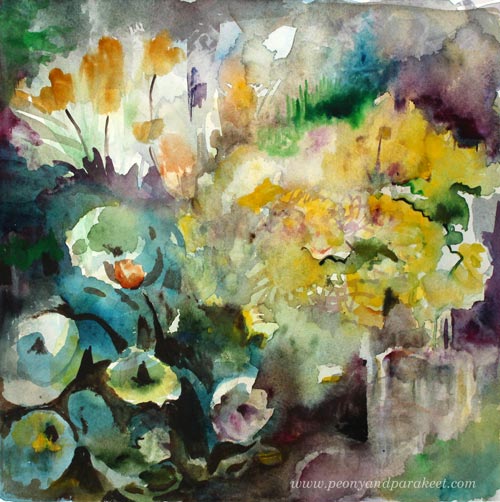 Here's the second one.
Easter Still Life on a Video
After the second painting, I turned on the camera and recorded a video of making the third one. It is a mixture of the two previous ones, a bit simpler than the first one yet somewhat complicated and refined than the second one. After creating these, I applaud Kati Immonen! I have a long way to go to challenge her, but it doesn't prevent me from enjoying the watercolors from time to time. Watch the video with some tips to create your own spring painting!
Acrylics or Watercolors – You Choose!
I enjoyed painting with the watercolors so much that I made an extra video for my next online workshop Planet Color. Whether you want to use acrylics or watercolors (or both) in the class, I will help you! Sign up now!