This post about catharsis and spirituality in art is enabled by the grant that I got from Arts Promotion Centre Finland. This is the fifth blog post of the project, see the first one here, the second one here, the third one here, and the fourth one here!
Recently I have thought about Wassily Kandinsky so much that he has become an imaginary character in my mind. He seems to enjoy this life after death, and I like him hanging around when I paint. This time it led to emotional catharsis – a very powerful experience. Here's the story!
Let's Go to The Dark Side!
One morning, before starting the painting, I read one of my recent blog posts to Wassily:
"Because expressing light is impossible without painting the darkness, I have decided to explore spirituality's ultimate opposites as well. Like insolence, materialism, and money."
"Let's do it!" Wassily immediately exclaimed with his Russian accent. "Let's paint what money looks like! Do you like money, Paivi?"
The question alone was vulgar and intrusive, and the whole subject made me shiver. "What's the problem? Haven't you ever painted the dark side?" Wassily asked and looked confused and a bit more gentle too.
Well, I hadn't. Not in this scale, anyway. The idea of spending the next few weeks with blacks and bloody reds felt heavy. In my life, there have been times when I had liked money too much, for example, when I sold IT solutions to big organizations. Secretly, it felt almost as good as making art. Back then, I bought lots of art supplies, but the time for using them was much more limited. Too limited.
"Wassily," I said, "money almost took me away from creating, so how can I create a painting about it?" But Wassily is a funny guy. He doesn't answer questions that he wants me to answer through creating. Then he just stares at me silently like a watchdog, preventing the escape from the studio.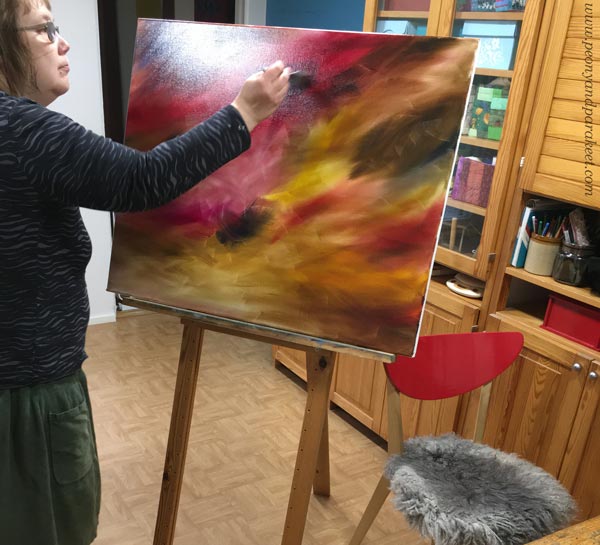 So I can do nothing but start.
From a Pet to a Beast
While filling the blank canvas, I tried to comfort myself by thinking about how money can be a good thing too, enabling grand and beautiful things.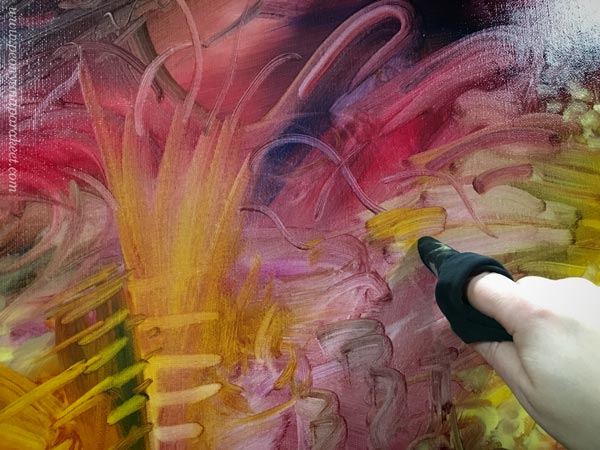 "I will paint all the luxury," I said to Wassily and picked Indian Yellow, the color of gold.
It all went fine for a long time. The painting was like a lion cub, cute and pretty at a young age, a true pet.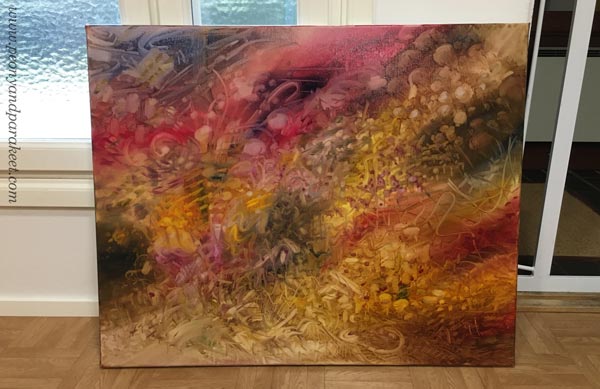 But then slowly, the colors got stronger, and shapes began to stretch in all directions.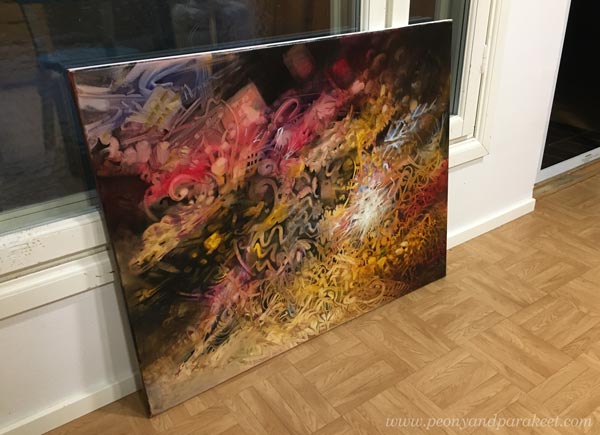 The pet had become a beast, and I couldn't control it anymore.
Emotional Catharsis – Letting Go of Control
Just before I was about to give up the fight, Wassily stepped towards and said: "What was it like as a teenager before you chose money" He was pointing me with a brush that had Ultramarine Blue and Cadmium Red. The colors that I used so often back then.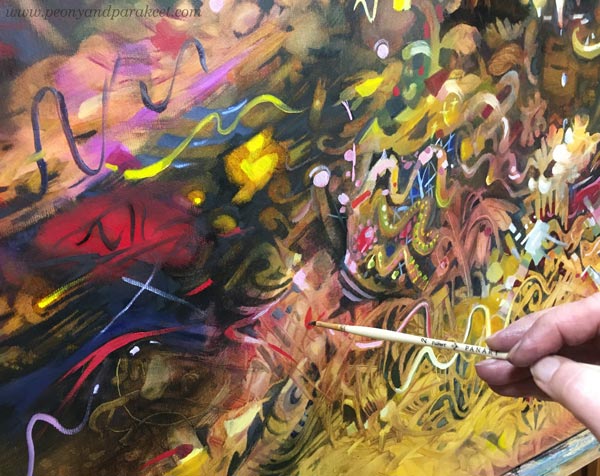 "Not now, Wassily, I can't be weak now. I have this beast to handle", I gulped, pointing towards the painting. But he grabbed my hand and, unlike his usual self, brutally fed it to the growing lion. The pain took over, the colors splashed uncontrollably, and for a short time, moments of my life ran through me when the lion ate me bit by bit. I was a teenager trying to find her painting style and become an artist. A young adult losing her parents and, as a result, counting pennies.
But then, just before the last ray of light burned out, I heard Wassily's demanding voice: "You are not dead yet. Open your eyes and finish the painting."
Days went by, and I visited the painting now and then like it would be a rare animal in a cage. Something had happened, but what? Wassily got frustrated: "Can't you see it? It's vanitas!"
Vanitas – Emotional Catharsis Explained
Vanitas paintings are still lives that express the inevitability of death in symbols. They were in fashion in the Netherlands in the early 17th century, but they have inspired artists later too.
Suddenly, my lion shrank to only a skull, and there were bubbles, smoke, candles, musical instruments, playing cards, flowers, a bowl … all kinds of historical symbols for the futility of pleasure and certainty of death. Now finishing was easy. I just made the objects a little more distinct.
Here's the closeup of the lion skull.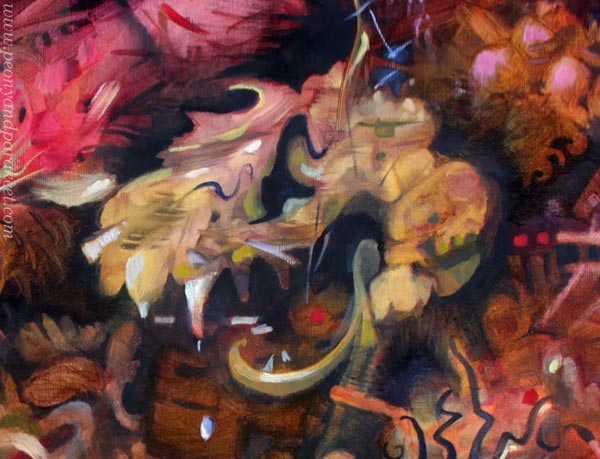 Playing cards are flying in the air.
Here's the crown, thrown in the mud.
If you look carefully, you can also find lots of other symbols too. For example, a red bowl in the middle broken by icy water. And the yellow bottom expresses musical instruments and their sounds.
My favorite part is what the imaginary Wassily painted:
"This is how money looks like," said Wassily in his teaching voice. "Don't feel pity or fear about it anymore. Now you are free to paint whatever you want."
– "I want to paint a couple of big floral still lives inspired by the 17th-century Dutch masters!" The relief and enthusiasm filled my mind.
– "Whatever," yawned Wassily. Clearly, it would not have been his choice, but I hope he'll keep sticking around anyway.
Have you ever experienced emotional catharsis through art-making? So, feeling purified after going through the climax of negative emotions? Do you always create for beauty or do you like to step to the other side too?