Simple art supplies fascinate me. Colored pencils have been my favorites recently. They are so easy! There are no worries about making the pages too thick even if there's a lot of layers.
Colored pencils seem to be used for traditional artwork mostly. I think they are as suitable for improvising as any other media, like watercolors. In this post, I will show you few easy techniques for expressing yourself with colored pencils.
1) Color by Doodling
Starting with a blank page or paper, draw circulating and continuous lines to color a small area. Then change the color and continue. Create layers and let the colors intersect. You can get a wide range of colors with layering. Think your pencils as doodling tools!
2) Rotate the Page while Coloring
You will get more variety and interest to the page if you rotate it while working. Work one area at a time, changing the orientation once in a while. The areas can be fairly large as in my page, or smaller.
Here's the page before I used the eraser …
3) Use Eraser to Create Lighter Areas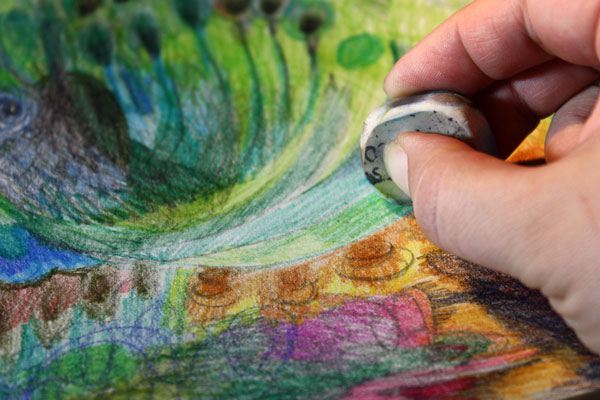 Erased areas bring light to the work. In an art journal page, use the eraser for the areas where you want to write the journaling.
4) Add More Clarity
I am a big believer of finishing. When you improvise, the result may be self-explanatory for you without the finishing touches. But if you want to communicate with others too, then sharpening some areas and adding some layers here and there for more intensive color is a minimum. I realized that my page had some animals in it so I made them easier to see. Like the photos include sharp and unsharp areas, you do not need to work through the page. Picking the focal points and working with them is often enough.
Coloring with Pencils is Like Painting by Drawing
By discovering these easy techniques, I have learned to love colored pencils. It is like mixing painting with drawing. With colored pencils, you can have a gorgeous art journal or a unique greeting card collection! Show your free expression with colored pencils!
Express yourself with colored pencils! >> Buy Coloring Freely!