This week, we look under ice and talk about expressing happiness!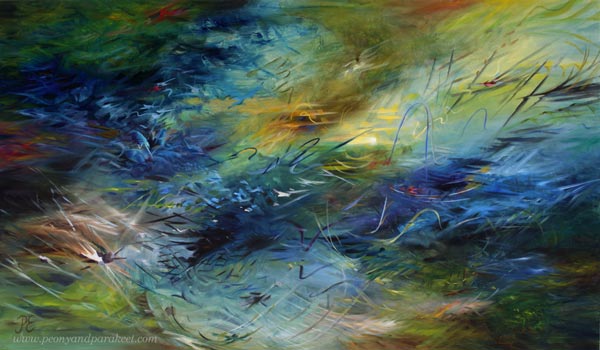 What's in the Name?
Here's one of my latest paintings called Onnellisten maa. Like so many times before, I had difficulties translating it, but I came to a conclusion that the English name can be a bit different "Happy Earth" instead of "The Land of Happy Ones." Maa is both earth and land in Finnish.
This painting is a part of my series Linnunrata – Milky Way, where I explore planets and outer space. The painting represents the planet Earth and Finland, my home country. (See previous paintings: Venus here and the Sun here!)
The name Linnunrata also has a double meaning in Finnish. It's not only the name of our galaxy but also means bird's route or track. My paintings often have bird-like shapes and flying objects, so it's a perfect name for the series and for the upcoming exhibition that will also have some older pieces.
Inspired by Ice
Here's how the painting started – lots of wild strokes in icy greens.
These greens are composed of Titanium White, Raw Umber, and Nicosia Green Earth. The green is a new color that I purchased recently. It's earthy, not bright at all, but wonderfully suitable for an intuitive painting inspired by our globe.
I also wanted to throw in some blue. At the beginning of April, thin ice covered all the puddles and reflected the sky.
Here's how the painting looked after adding some Prussian Blue over the greens.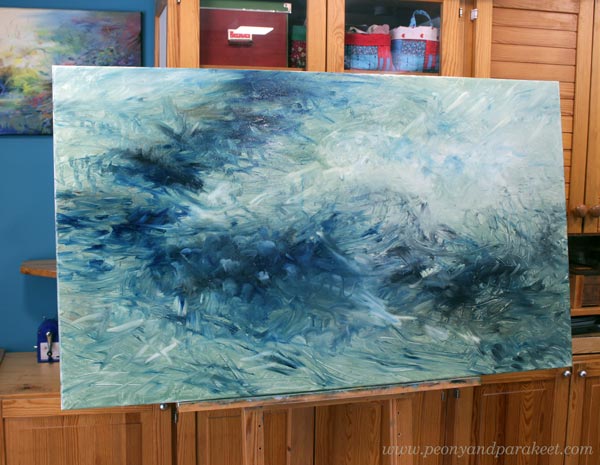 My puppy Saima found ice interesting too!
We in Finland are known for icy surfaces, not only in nature but in people too. Our most known celebrity must be a winning formula driver Kimi Räikkönen, also known as The Iceman. "Shut up, let me drive" was his regular message to the team when he was in the middle of the race.
But ice is never only ice. It makes us think about what's under it. How does Räikkönen feel when he turns the wheel and pushes the pedals – pressure, joy, passion? What is the storm inside an icy person?
Expressing Happiness
Despite all the ice, Finland has been selected as the happiest country in the world again. It's the fifth time in a row! With the painting, I wanted to tell what makes Finland the happiest. At the same time, I wanted to express what makes the planet Earth so special.
So, it was time to break the ice and bring in more colors.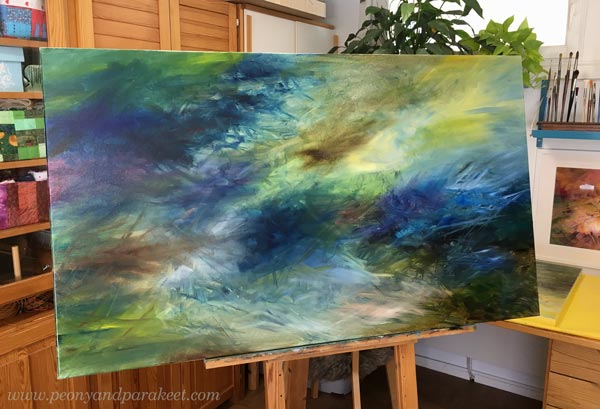 The best feeling when creating art is freedom. We are free to express and discover.
When expressing happiness, seek signs of life. For example:
Could that spot move if I poke it with a line?
Could those two lines be connected and thus get wings?
And when a creature is born, let him live in peace! Don't force him to look like a certain species, but let him be unique in his world. I often aim for the impression of an uncharted area where a human, the viewer, enters for the first time.
I also try to express impact so that the painting makes sense. So, make the movement in one corner cause something else to change. And when you introduce a new color, do it gradually so that it doesn't only flourish. There should be a beginning and an end to its path.
These two needs are not only what a painting or a drawing hopes to have. They are also important for humans. We want to feel independent and free and still impactful and connected so that life moves forward. I think Finland has been successful in both.
Now, most ice has melted, and our spring has started. Some say that Finnish people change when the summer comes. They see us stop to look at the sun and even smile sometimes!
Painting and teaching are my ways to express happiness.
How have you spread happiness through art?