These past weeks have been black. Social distancing, pandemic, the news … However, I want to share some things that have brought consolation, hoping that they do the same for you.
This first image is a watercolor painting created as an exercise for my newest class Magical Forest. It's painted quickly and systematically, and it's less romantic than many of my paintings, but I really like it. I put a lot of effort and thought into all of the class exercises, but I am especially fond of the last lesson where realistic nature themes meet abstract art in unconventional ways.
Expressing Hope – Art is Needed!
One of the carrying themes in Magical Forest is spirituality, and I feel that the connection between art and spirit is more timely now than ever. The need for art that soothes will grow. It's important that we artists create images that illustrate the inner world when there are chaos and uncertainty in the outer world. This way, we don't only take care of our sanity but spread hope for other people as well.
Moss, Stones, Clouds – The Comforting Side of Nature
We haven't got much snow this winter in Southern Finland, so I have had lots of opportunities to observe stones, both in our garden, and in nature. When the world is in a storm, it's comforting to watch their stillness, and how the moss is like a warm blanket over them.
Last weekend, my husband and I took the dogs for a walk in the forest. When the sun shined through the trees, the view was like a sacred chapel.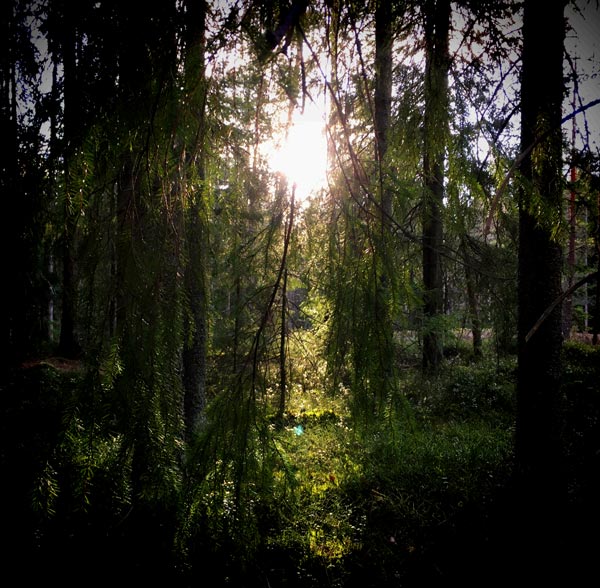 Last year, I got a wish to include clouds in the class, and I was able to fit that in. Clouds are surprisingly fun to paint! When the bad news came, little paintings like this became even more important. I want to look at my clouds now and then. The softness of the sky draws in and refreshes my soul.
My beagle Stella also likes sunny skies. She has her chapel on the porch of the old shed that we have in our back garden.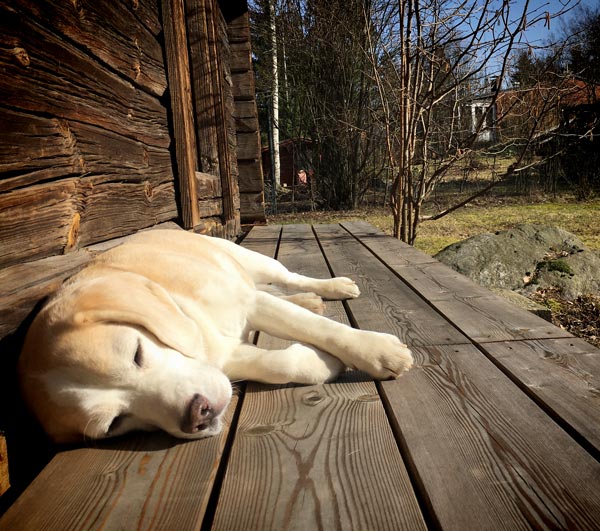 I painted this floral bouquet last spring, and with it, I want to wish hopeful news and hopeful weekend. Let's take some time to create comforting art!
Nature is definitely expressing hope here in Finland. Let's keep creating towards brighter days!
P.S. Weekend Sale! There's a new presentation video about Magical Forest, and to brighten the weekend, I have reduced the price too. The sale ends on April 5 (PDT), so be quick! >> Buy here!