The idea for this card came from the pile of fabric scraps that I have. I began to wonder: could I use these instead of papers to create fabric collages?
Fabric Collages – A School Project from the Past
I also remembered one happy moment from the childhood. I was about 10 years old. A teacher asked us to bring fabric scraps to school. We were asked to cut the fabric into pieces and create a collage from them. My schoolmates were not excited but I was thrilled. I cut the fabrics into tiny pieces and began to glue them on a paper.
When I had finished the collage, I was very pleased with it. I had also had such a good time. Little did I know that I would be cutting tiny pieces whole my life – that the moment I picked the scissors was to follow me many times afterwards!
1) Cut and Glue the Fabric Pieces
The supplies for fabric collages are simple: scissors, glue, paper, fabrics.
2) Add a Layer of Gel Medium
Because my collage was small, I wanted to add some fine details and extra layering. To be able to do that, I covered the first layer with the gel medium.  When dried, I would be able to doodle with markers and create dimensions by adding more layers.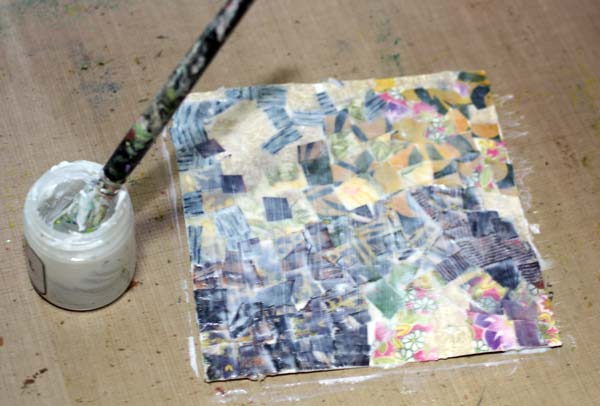 My favorite is Golden Soft Gel Gloss but any gel medium will do. Even if I am not a big fan of buying more stuff, purchasing this is a good investment. You can use gel medium not only to create surfaces but also glueing paper pieces when making paper collages.
3) Add Doodling
When gel medium dries it becomes transparent and you can doodle with thin markers or gel pens on it. Make sure to dry it first throughly!
4) Add More Details From Fabric Pieces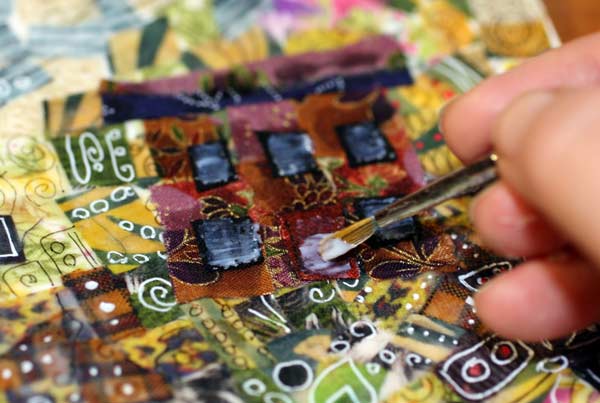 After doodling on the first layer, I wanted to add details like the house in the middle. After constructing the house with fabric pieces and glue, I added gel medium to the details to add some doodling on them.
The photo below shows how the fabric is layered. A part of the card is covered with gel medium and feels like plastic. There are also fabric pieces without any coverage on the top and they feel soft.
You do not need a sewing machine to enjoy working with fabrics!
Let me be your art teacher: Subscribe to my weekly emails!