Paint Dreamy Florals to Free Your Spirit!
Uplift Both Homes and Minds with Loose Floral Paintings!
Floral Freedom is an online art class where we apply Paul Klee's and Wassily Kandinsky's ingenious techniques to floral art. Instead of photos, we use abstract techniques to paint flowers of the soul. In Floral Freedom, flowers are not just passive decorations, but they fly, sing, and dream!
"Art does not reproduce what we see; rather, it makes us see."

Paul Klee
"Every phenomenon can be experienced in two ways: Externally or inwardly."

Wassily Kandinsky: Point and Line to Plane
Four Months of Floral Freedom – Two Floral Fridays in a Month
In Floral Freedom, we create four different abstract floral paintings between Dec 4, 2020 to March 31, 2021. Every lesson includes both videos and written instructions.
On the first Friday of the month, you get the first part of the lesson. It guides you to make a simple abstract foundation.
On the second Friday of the month, you get the second part to change the abstract to a loose floral painting.
Even if the class has begun, no worries, you can still hop in! You will get the published lessons right after signing up!
Dec 2020 – Flying Bouquet
Loose flowers take off from the ground.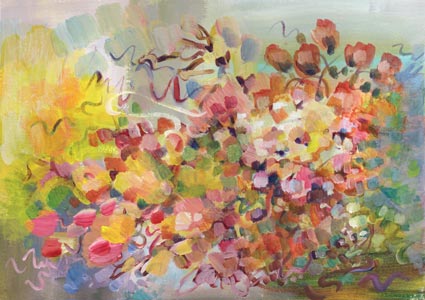 Dec 4 – Abstract Start
How to explore color and rhythm with divisional structures.
We start easy and paint blocks of color.
Dec 11 – Floral Finish
How to express emotion with active, medial, and passive shapes.
We add flowers so that they express different states of being.
Jan 2021 – Impressionistic Stillife
Nostalgic flowers bring light to darkness.
Jan 1 – Abstract Start
How to use a simple structure to get an intense sense of space.
We paint a space and decorate it with geometric shapes.
Jan 8 – Floral Finish
How to express emotion with bold contrasts.
We alter the shapes so that they become flowers exposed to light.
Feb 2021 – Meadows and Beyond
Flowers of the soul in their natural habitat.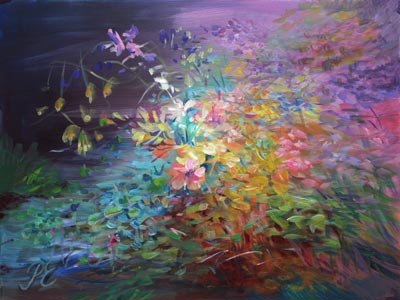 Feb 5 – Abstract Start
How to create transitional regions that affect shapes and colors.
We paint an abstract landscape.
Feb 12 – Floral Finish
How to express emotion with quantity.
We add flowers so that they conquer the view.
March 2021 – Free Spirit
Dreamy flowers as you want them.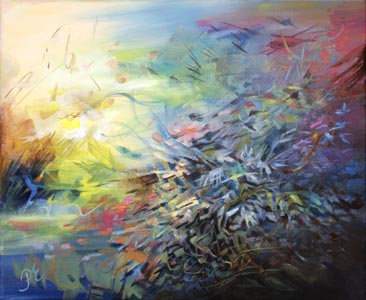 March 5 – Abstract Start
How to paint freely and keep the inspiration going.
If you haven't created on canvas, now it's your time to level up!
March 12 – Floral Finish
Finishing: How far to go, how long to paint?
Find what fits your goals and way of working.
Gradual Learning – Floral Freedom is Friendly to Many Styles
If you are a beginner or a minimalist, you can do just the first part of the lesson or proceed to the beginning of the second one.
The projects are designed so that you can leave it whenever your taste or skills require so.
Floral Freedom has a slow pace so that you have time to practice, ask for feedback, ponder about the teachings, and catch up if needed. You will also get a basic membership for the Bloom and Fly Facebook group where you can ask for help, share your work, and have conversations with fellow artists. This membership is for 2021, so you can continue painting and sharing for the whole year.
Teacher Paivi Eerola: "I didn't want to waste time reinventing the wheel"
Painting is often seen as either a purely intuitive or technical thing – either you wildly splash color or follow a photo. As a former engineer, neither has made sense to me. Fortunately, modern masters Paul Klee and Wassily Kandinsky have explained how lines, shapes, and colors can be used so that art is a work of expression rather than a thoughtless mess or a tedious replication.
Klee's and Kandinsky's books are like the ones from engineering studies. They have black and white diagrams and complex definitions. In Floral Freedom, you will get Klee's and Kandinsky's wisdom in practice, mixed with what I have learned about flowers and their soul.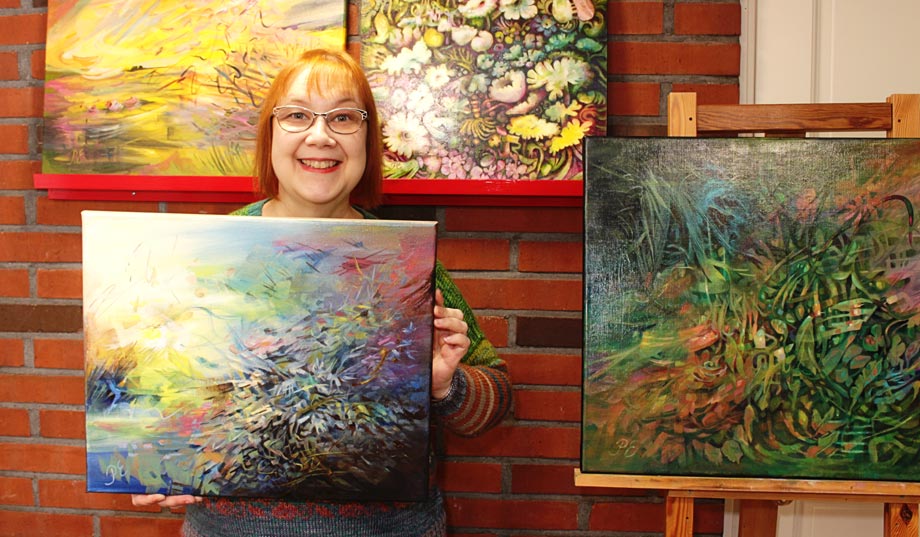 Klee didn't paint like Kandinsky and many could say that my style is closer to Monet than Klee. But as a late bloomer artist, I didn't want to waste time reinventing the wheel. Especially, when Klee's and Kandinsky's wisdom is not tied to a style but explains how we humans interpret colors and shapes.
"The father of the arrow is the thought: How do I expand my reach?"

Paul Klee: Pedagogical Sketchbook
In Floral Freedom, we bring thinking to our art – and art to our thinking! Simple techniques open up many possibilities, and your artistic expression will grow month by month.

Supplies – Acrylic Paints on Any Surface
The techniques of Floral Freedom can be used for any media, but the class is designed for acrylic paints.
Acrylic paints. You can use any acrylic paints, but heavy-body (not fluid) artist-quality acrylic paints are recommended. Make sure that you have Titanium White (opaque white) and Ultramarine Blue (dark blue), and in addition, at least one blue, red and yellow of your choice. We'll create color mixes to get a variety of tones from a narrow selection.
Brushes. To make effortless strokes, you will need at least three brushes: one big flat brush for painting large areas, one medium round brush for basic shapes, and one small round brush for details.
Something to paint on. You can choose the surface and its size freely. Paivi uses a different surface for each painting so that we get to talk about their differences. She uses thick mixed media paper for the first painting, a cardboard painting board for the second, an Ampersand Gessobord for the third, and a stretched canvas for the fourth.
Optional stuff. Paivi mostly uses water to thin the paint, but if you have gel or glazing medium, they can be useful too. In the last lesson, we'll also cover the varnishing of the painting. For varnishing, you will need gel medium and polymer varnish. Varnishing is optional, but it makes both you and the painting feel special!
When you purchase the class you will get a link to a pre-questionnaire. It will help you to set personal goals for the class and the teacher to get to know you.
Even if the class has begun, no worries, you can still hop in! You will get the published lessons right after signing up!
Floral Freedom – Buy Now!
Price: 119 EUR
Pay with Paypal or use a credit card.
119 EUR is about
143 USD, 185 CAD, 194 AUD, 107 GBP
Technology Needed + Refund Policy
All the information and services are provided in electronic format. You will need Internet access and a personal email account. The documents are in PDF format, and the videos are offered as a streaming service. You can access the material as long as you want if you download them to your computer within 6 months after the class ends. If you download videos, you will also need an application to view and download MP4 videos. You have to be over 18 to join the Bloom and Fly community. All sales are final.