Paint Abstract Florals to Free Your Spirit!
Create Loose Floral Paintings with the techniques from Klee and Kandinsky!
Floral Freedom is an online art class where we apply Paul Klee's and Wassily Kandinsky's ingenious techniques to floral art. Instead of photos, we use abstract techniques to paint flowers of the soul. In Floral Freedom, flowers are not just passive decorations, but they fly, sing, and dream!
"Art does not reproduce what we see; rather, it makes us see."

Paul Klee
"Every phenomenon can be experienced in two ways: Externally or inwardly."

Wassily Kandinsky: Point and Line to Plane
Four Paintings – Start from Abstract to Floral
In Floral Freedom, you create four abstract floral paintings. Each lesson is divided into two parts.
In the first part, you make a simple abstract foundation based on Paul Klee's and Wassily Kandinsky's theories.
In the second part, you bring in more inspiration and grow a loose floral painting from the abstract foundation.
Lesson 1 – Flying Bouquet
Loose flowers take off from the ground.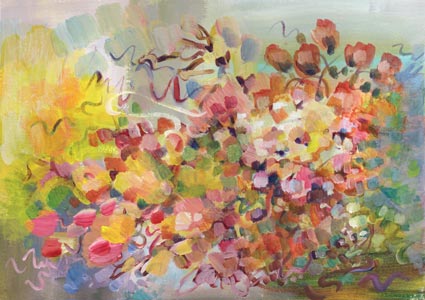 Lesson 1A – Abstract Start
How to explore color and rhythm with divisional structures.
We start easy and paint blocks of color.
Lesson 1B – Floral Finish
How to express emotion with active, medial, and passive shapes.
We add flowers so that they express different states of being.
Lesson 2 – Impressionistic Stillife
Nostalgic flowers bring light to darkness.
Lesson 2A – Abstract Start
How to use a simple structure to get an intense sense of space.
We paint a space and decorate it with geometric shapes.
Lesson 2B – Floral Finish
How to express emotion with bold contrasts.
We alter the shapes so that they become flowers exposed to light.
Lesson 3 – Meadows and Beyond
Flowers of the soul in their natural habitat.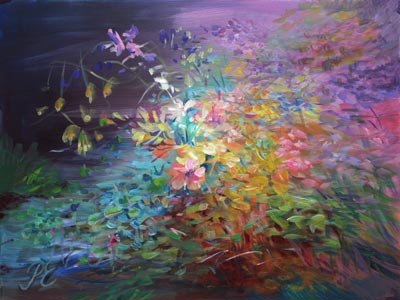 Lesson 3A – Abstract Start
How to create transitional regions that affect shapes and colors.
We paint an abstract landscape.
Lesson 3B – Floral Finish
How to express emotion with quantity.
We add flowers so that they conquer the view.
Lesson 4 – Free Spirit
Dreamy flowers as you want them.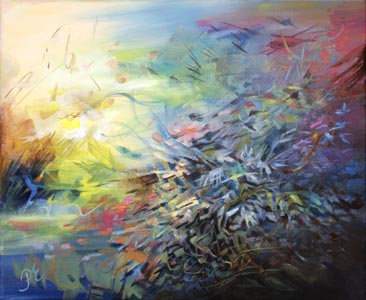 Lesson 4A – Abstract Start
How to paint freely and keep the inspiration going.
If you haven't created on canvas, now it's your time to level up!
Lesson 4B – Floral Finish
Finishing: How far to go, how long to paint?
Find what fits your goals and way of working.
Gradual Learning – Floral Freedom is Friendly to Many Styles
If you are a beginner or a minimalist, you can do just the first part of the lesson.
The projects are designed so that you can call them finished whenever your taste or skills require so.
The class has 18 videos (over 5 hours of inspiring content) and a 38-page document. We don't only paint but also dive deeper into visual expression – how to express the spirit of the object, not only the object itself.
Lesson 1A Techniques and Inspiration of This Class | The Possibilities of Blocks | Play! – Divide Paper into Parts | Surface Pattern – Play with Repeats | Pigments and Palettes | List Your Paints! | After Painting – All Your Senses Lesson 1B Doodle Three Different States | Observe Paul Klee with All Your Senses | Experiment with Textured Lines | Checklist for Finished Look | After Painting – What Do You Love? Lesson 2A Three Dimensions – Empty Room | Silent Room | Imagine a Soundscape! | The Sound of a Design | Design and Art | Abstract Decorations – Bringing Life to the Room | Playing with Scale and Warmth Klee's Version – A Room Outside Wonky Sceneries in Klee's Cubistic Style From Two to Three Dimensions Lesson 2B Contrast and Drama | Guest Teacher for The Lesson – Claude Monet | Before and After | Paul Klee and Thin Lines | Paivi 's Three States about Discovering Your Style | Visual Language | Simple Formula for Depth | Symbolic vs. Poetic Lesson 3A Earth, Water, and Air – Setting Up an Eco-System | Walking, Swimming, Jumping, Flying | Getting More Spiritual | The System Begins to Function | Strange Weather – The World of Contrasts | Form in Motion Lesson 3B Flowering Earth – Inspiration from a Poem | Poet of The Lesson – Katri Vala | Diving Deeper into a Poem | Three Steps from Abstract to Floral Painting | Self-Appreciation Makes You Creative | Enjoy the Abstract Strokes | Opened to the Utmost Lesson 4A Painting on Canvas | How to Paint More Often | Style, Rhythm, and Music | Jazzy Improvisations and Heavy Metal Monsters Lesson 4B About Finishing – Details and Colors | Varnishing
There were many things I appreciated in this excellent course, but the most enjoyable aspect for me was learning how to apply the teachings of Klee and Kandinsky. I particularly appreciated discovering what they were talking about (!) and what it could mean for me in the 21st century You wear your learning lightly Päivi and you're an exemplary teacher.

Emma-Sophia Roberts, UK
Teacher Paivi Eerola: "I didn't want to waste time reinventing the wheel"
Painting is often seen as either a purely intuitive or technical thing – either you wildly splash color or follow a photo. As a former engineer, neither has made sense to me. Fortunately, modern masters Paul Klee and Wassily Kandinsky have explained how lines, shapes, and colors can be used so that art is a work of expression rather than a thoughtless mess or a tedious replication.
Klee's and Kandinsky's books are like the ones from engineering studies. They have black-and-white diagrams and complex definitions. In Floral Freedom, you will get Klee's and Kandinsky's wisdom in practice, mixed with what I have learned about flowers and their soul.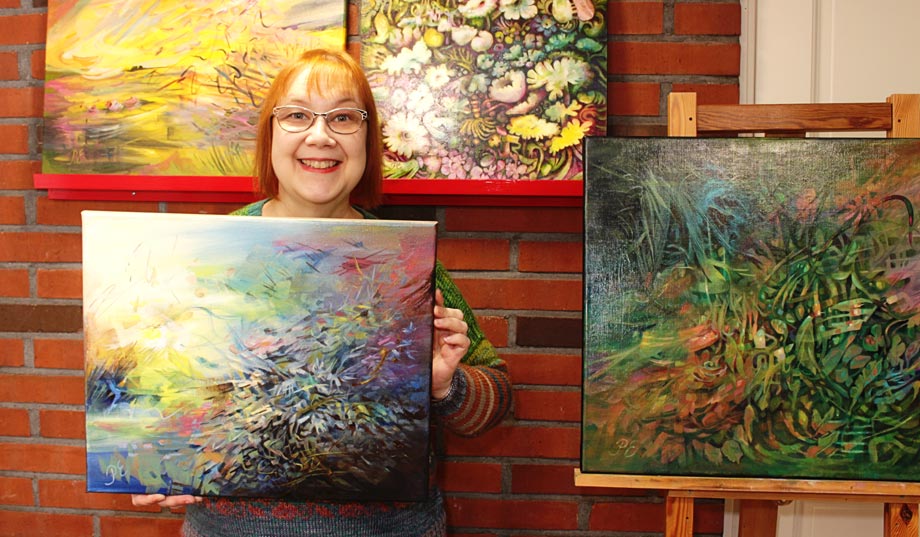 Klee didn't paint like Kandinsky, and many could say that my style is closer to Monet's than Klee's. But as a late-bloomer artist, I didn't want to waste time reinventing the wheel. Especially when Klee's and Kandinsky's wisdom is not tied to a style but explains how we humans interpret colors and shapes.
"The father of the arrow is the thought: How do I expand my reach?"

Paul Klee: Pedagogical Sketchbook
In Floral Freedom, we bring thinking to our art – and art to our thinking! Simple techniques open up many possibilities, and your artistic expression will grow painting by painting.

Floral Freedom has helped me reconsider how to express the spirit of Nature and not just imitate its various forms. Unexpectedly, this has spilled over into my main pursuits, poetry writing and fibre art. Päivi is an unusually gifted teacher, and she's freed me to reformulate my creative goals and develop a unique style.

Cathy Murray, Scotland
As always, her content and delivery is wonderful! I have been taking Paivi's classes for over five years now, and every one has been exceptional! I can't recommend her enough!

Sally Johnson, USA
Supplies – Acrylic Paints on Any Surface
The techniques of Floral Freedom can be used for any media, but the class is designed for acrylic paints.
Acrylic paints. You can use any acrylic paints, but heavy-body (not fluid) artist-quality acrylic paints are recommended. Make sure that you have Titanium White (opaque white) and Ultramarine Blue (dark blue), and in addition, at least one blue, red and yellow of your choice. We'll create color mixes to get a variety of tones from a narrow selection.
Brushes. To make effortless strokes, you will need at least three brushes: one big flat brush for painting large areas, one medium round brush for basic shapes, and one small round brush for details.
Something to paint on. You can choose the surface and its size freely. Paivi uses a different surface for each painting so that we get to talk about their differences. She uses thick mixed media paper for the first painting, a cardboard painting board for the second, an Ampersand Gessobord for the third, and a stretched canvas for the fourth.
Optional stuff. Paivi mostly uses water to thin the paint, but if you have gel or glazing medium, they can be useful too. In the last lesson, we'll also cover the varnishing of the painting. For varnishing, you will need gel medium and polymer varnish. Varnishing is optional, but it makes both you and the painting feel special!
The class has helped me to see the world in shapes and dimensions more easily.

Karen Schweitzer, USA
I used to feel like I had to know what I wanted to paint before I started and then I'd be faced with a blank canvas and wondering what I need to do first. I now feel that I can pick up a canvas or a piece of paper and start without any fear. Using the simple techniques I learned has enabled me to paint more freely.

Debbie Curwen, Portugal
Floral Freedom – Buy Now!
You will get the published lessons right after the purchase! You will also get a basic membership for the Bloom and Fly Facebook group, where you can ask for help, share your work, and have conversations with fellow artists. This membership is for 2023, so you can continue painting and sharing for the whole year.
Price: 119 EUR
Pay with a credit card or Paypal.
119 EUR is about
130 USD, 173 CAD, 182 AUD, 105 GBP
Technology Needed + Refund Policy
All the information and services are provided in electronic format. You will need Internet access and a personal email account. The documents are in PDF format, and the videos are offered as a streaming service. You can access the material as long as you want if you download them to your computer within 6 months after the purchase. If you download videos, you will also need an application to view and download MP4 videos. You have to be over 18 to join the Bloom and Fly community. All sales are final.