I have created this journal spread for the class Inspirational Drawing 2.0 where I teach freehand drawing that goes beyond just drawing circles. Don't get me wrong; I don't have anything against circles. I think that I, if anyone, have had a real love affair with circles. In fact, it was all I drew for a long time.
Circle Love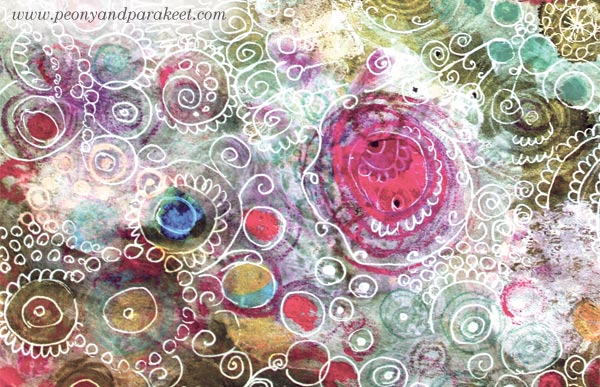 In 2010-2012, I spent most of my free time drawing circles.
I even went to a few craft fairs to sell – hand-drawn circles!
I firmly believed that if I create enough circles, I will find something new behind them. And yes, I slowly started to realize that there's more than just making repeated circles that are more like backgrounds and patterns than expressive images. Now years later, I wish someone would have shown me how to move on – how to combine those repeating graphic shapes with lines that express more.
Do You Make Abstracts but Still Feel the Stiffness?
Circles and other geometric shapes are fun to create. But no matter how good I became in that, I never felt the same satisfaction that I felt when I was able to go beyond that. So when I meet people who say that they "make abstracts" and "want to get away from stiffness," I totally get it. "I don't really know what my abstracts represent," says many who come to my classes. Drawing circles and playing with layers feels free first, but the more you want to express yourself, you need to explore more.
"More" doesn't mean that you have to throw away what you have already learned. If you look at my two pieces, you can still see similarities. The first one made in 2011 called "Romance," and the second in 2015 is called "Withering Peonies." I called the first one "Romance" because I thought it's all so romantic. But in the second one, I was able to express my love for peonies with much more expression without just drawing stiff flower-like shapes.
The satisfaction that came from being able to deliver a message, instead of just an atmosphere, was ground-breaking to me. My art became more powerful, impactful, it spoke not only to me but others as well.
That's why I now teach
– how to open up and liberate the line
– how to communicate visually: create illustrations instead of backgrounds
– how to express inspiration and explore imagination in its full potential.
And that's why my class Inspirational Drawing 2.0 exists.
Freehand Drawing Video – Create with me!
I have made a video where we start with geometric shapes and then move on to liberate the line. To create with me, you will only need a black thin-tipped drawing pen and colored pencils (or any coloring supplies).
Here's the little drawing that we will create together.
And here's the video!

is now available as a self-study class! Buy here! (Update: August 17)
Let me be your mentor in art: Subscribe to my weekly emails!