Last Friday, I traveled two hours by train to a yarn shop at Tampere. Not just to purchase new yarn, but to meet a famous knitting pattern designer Stephen West who had been invited to Finland. While I was attending his workshop, I was excited by the knits he showed and the stories he told. There were silent moments. We, Finnish women, counted stitches and pondered about what we heard. We Finnish can look very serious, quiet and occupied, even if we are about to burst with excitement. Stephen put it kindly: "Finnish carry themselves well." That introvert attitude is also visible in this recent mixed media artwork, "Self-Portrait as a Knitter". The person's focus is so much on details that the inspiration, the yellow spot in the back of the head, doesn't have room to show up.
From Over-Decorative to Expressive-Decorative
Sometimes similar kind of thing happens when we create art: the inspiration does not show in the result. There can be so much decoration going on, that not much room is left for the expression. We cover the background with little motifs and surface patterns, instead of enhancing what's already there.
I admit it's fun and fulfilling to work with thin brushes, pens, and pencils. Making a circle after a circle is like knitting a shawl, stitch by stitch.
However, it's good to add a little more variety and contrasts so that the expression comes through. It's like changing the yarn or needle size once in a while!
And like in handknits, just when you think your work is ruined, you need to calm down and do the finishing.
When knitting, you sew the seams, iron everything carefully and add the final balancing details.
When creating art, you bring up the most important details and connect the dots so that everything falls into its place.
You Can Create Both Expressive and Decorative Art
Sometimes there are debates whether decorative art can be expressive as well.  But you can be both decorative and expressive. You can give meaning to your motifs. You can let motifs be pieces of a puzzle instead of covering everything evenly.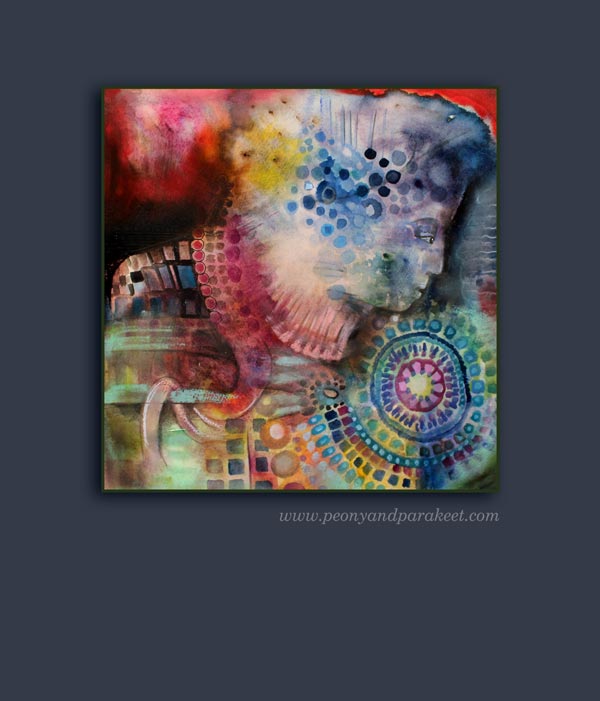 More decorative-expressive art with watercolors: Watercolor 101 for Intuitive Painting
If you are a knitter, check this out too: Folk Bag Workbook