Welcome to Fun Botanicum – an online class for us who love plants!
Fun Botanicum is inspired by botanical art. We draw fantasy plants with colored pencils.
Learn how to:
grow ideas by scribbling and doodling with colored pencils – "no pressure" approach
use color differently so that the plants look fresh and alive – "against the sensible" approach!
create a delightful variety of images but still maintain a consistent style – "from the desire to practice" approach!
This class is suitable for all adults who want to draw plants freely, without references.
Make a Fun Chapter with a Title Page And All!
You only need colored pencils, an eraser, a sharpener, and 9 blank spreads in a journal. Your journal will have a chapter of botanical pages.

You will first skip some pages and start with the spreads dedicated to different types of plants. After that, you'll make a spread that illustrates a lifecycle of a fantasy plant. Then you will draw the back cover, which is the final page of the chapter. After finishing the pages, you will go back to the beginning and make the front cover with the title and, finally, the inside cover with a decorative design that is like a piece of botanical wallpaper.
Fun Botanicum Has 9 Creative Projects
You will get 9 videos full of inspiration and techniques (over 4 hours total) and a 29-page document with more ideas. Project by project, you will grow your skills and see more possibilities in expressing yourself through plants.
Part 1 – Mystical Algae
Part 2 – Juicy Fruits and Berries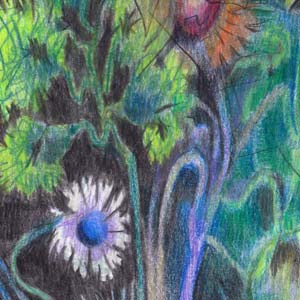 Part 3 – Hidden Meadow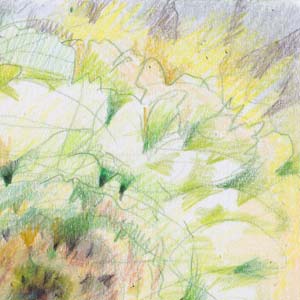 Part 4 – Eye-Catcher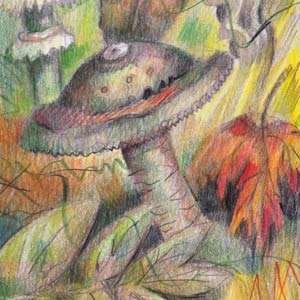 Part 5 – Mushroom Forest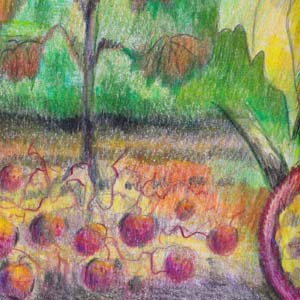 Part 6 – Lifecycle of a Plant
Part 7 – Bottle Garden (back cover)
Part 8 – Tropical Title (front cover)
Part 9 – Botanical Wallpaper (first spread)
With the class, you will also get a membership to the Bloom and Fly Facebook group to share your work and join discussions. The membership is for 2023, so you can continue coloring and sharing your pages for the whole year.
"Let's Create a Colorful Jungle!"
I am Paivi Eerola, a working artist and the teacher of Fun Botanicum. My home is full of houseplants, and I have quite a garden as well. And every day on my walks, I observe how the light hits the meadow in my surroundings.
I like to think that even the most modest hay dreams about being able to do more – to bloom a bit more colorfully, to spread a bit wider, to meet a bit more soul mates. The nature of art is to express and expand, and I see a similar desire in plants as well.
So, when we draw plants, their dreams can take over. They can lean to each other, whisper in lively lines, and grow into a colored jungle that refreshes both the journal and the mind.
The videos are full of tips both for the hand and the mind – practical skills and imagination walk side by side in this class.
Yes, I want to start drawing and coloring!
Price: 59 EUR (about 65 USD)
Pay with a credit card or Paypal.
Technology Needed + Refund Policy
All the information and services are provided in electronic format. You will need Internet access and a personal email account. The documents are in PDF format, and the videos are offered as a streaming service. You can access the material as long as you want if you download them to your computer within 6 months of the purchase. If you download the videos, you will also need an application to view and download MP4 videos. You have to be over 18 to join the Bloom and Fly community. All sales are final.