The world of fine arts is bursting with ideas that you can use in art journaling or any crafts. On the left, there is Emile Vernon's painting Elegant Lady with a Bouquet of Roses. On the right, you can see my interpretation.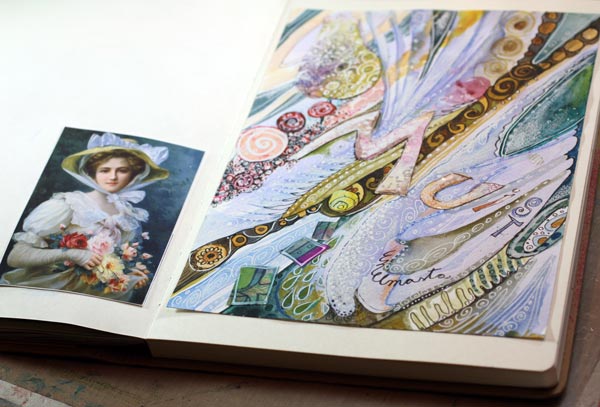 The secret is not to copy but find the concept of the painting and transfer it to your personal style. I began with the dominant factor of the painting which was the beautiful dress. Then I added the various details of the painting in my style. Almost weightless objects and angular lines combined with soft shapes create the atmosphere for both of the work. Because I love surface patterns I wanted to study the painting as a pattern too. I must admit I love the result. It represents the kind of nostalgia that I find very appealing.
Another painting to go. I chose Claude Monet's Impression Sunrise.
Here I kept the theme of the painting but used torn paper pieces to represent the thick brush strokes. The sun was the most interesting detail, so I made many of them. A horizontal composition combined with vertical lines was also repeated. I copied many of the concepts but not the exact painting.
How to Do It?
1) Take your favorite painting and analyze it to pieces. What is the composition, the colors and their relations, the eye-catching details?
2) Reconstruct the pieces and add some of the things that reflect your personal style.
After this exercise, you'll never complain about the lack of ideas! The whole world of fine art is waiting for you.
Get Inspired and Express Your Inspiration!
More inspiration from fine arts – Buy Art Journal Class Bundle
Learn the process of using images as inspiration sources: Sign up for Inspirational Drawing 2.0!