With this overly doodled number, I wish you happy new year!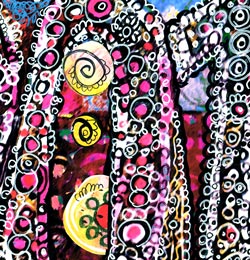 Doodling Idea
I made this image by making a roughly doodled collage that I scanned to the computer. Then I adjusted the colors and printed the photo. I made the size bigger than in the original.
Then I began doodling again. After doodling I adjusted some areas by coloring them with color pencils. I also added some collage pieces.
Finally, I scanned the collage again and adjusted colors in some areas.
This way I was able to add detail after another. I could have continued these steps over and over! Crazy – I know!
Let me be your mentor in art: Subscribe to my weekly emails!