I was challenged by Anu-Riikka for the blogging challenge "A Blog hop with a difference". There are six questions to be answered so let's begin!
1. What am I working on right now?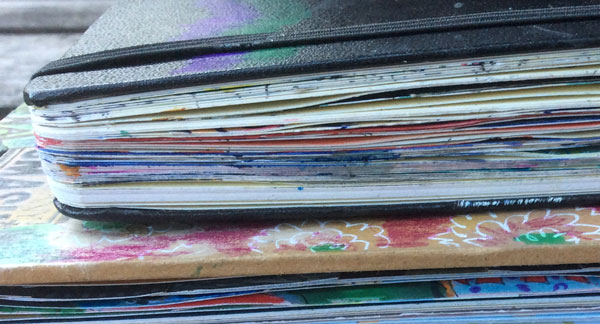 More than a single project I'd like to think about what's new in my process. I always try to learn new things and expand my skills to keep creating interesting and exciting. At the moment I practice writing poems in English! I want to improve journaling in my art journal pages and use writing to enforce imagination. I used to write poems until young adulthood and have always loved literature. Writing in English provides an additional challenge because my mother tongue is Finnish. The world is so much bigger and better if you are not limited to the language. I can also write in Swedish, and I used to study German at school, but Spanish or Portugal would be great to master too!
2. How long does it take to create a project?
A small art project for the blog usually takes at least two days to create. I do not like to finish anything at one go because the quality gets better if I have time to ponder. I often work with projects in phases so that decorated papers or sketches are created a long time before I execute the final project. I also use a lot of time to think about techniques and ideas before I start. Sometimes when I start creating, I realize that my thoughts have gone wrong. Luckily it is easy to turn a new page from my art journal and start it over!
3. What are my fave things I love to create with at the moment?
I have tried a wide variety of art and craft supplies but enjoy basic supplies the most. You do not need much to start creating. My favorite supplies are colored pencils, markers, watercolors, acrylic paints, blank paper, and scissors. It has become more and more difficult to enjoy creating projects that use ready-made products. I get a lot of satisfaction of not buying and creating things myself. Even if I enjoy seeing art in general, I do not get much out of following projects that use heavily ready-made products like paper flowers or stickers. I wish more and more people could give a chance for their imagination and experience how satisfying it is to create something from start to finish.
4. How does my writing/creating process work?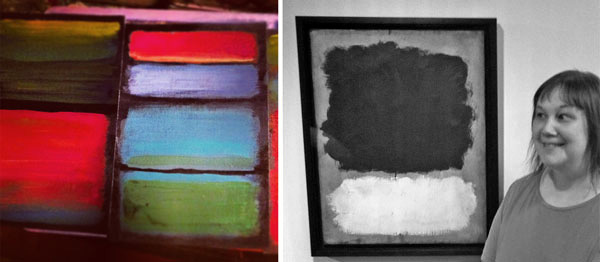 I believe that we should act creatively but ensure that it's made thoughtfully. That's why it is good for anybody to clarify the reasons why they create.  I make art for two main reasons: 1) to be able to communicate with other people 2) to show my admiration for the great masters of art and design.
My creative process is very formal because I love organization. During my designer studies, I learned the basics of the design process. It includes background study, collecting, combining and testing ideas, executing in phases and getting feedback in appropriate stages.  Even if it sounds controlled and complicated, it doesn't feel like that. Each phase is adjustable: it can take very short or long time, and it can be repeated when needed. Working systematically gives full power to my creativity. I also like to work towards a pre-planned schedule. When I have set a limited time for creating I feel freer than constantly questioning whether the process has taken too much time or not.
5. How do I become inspired and stay inspired?
I love art, design, and architecture. Show me any picture of the history of art and design, and I get inspired! I become very easily inspired, and that can sometimes be distracting. On the other hand, I think that inspiration is overrated and regularity in creating underrated. I hope that I can help people create more regularly so that they get to know themselves and love their own work. I also hope that my regular practice will improve my skills to communicate visually and verbally.
6. What is my signature style?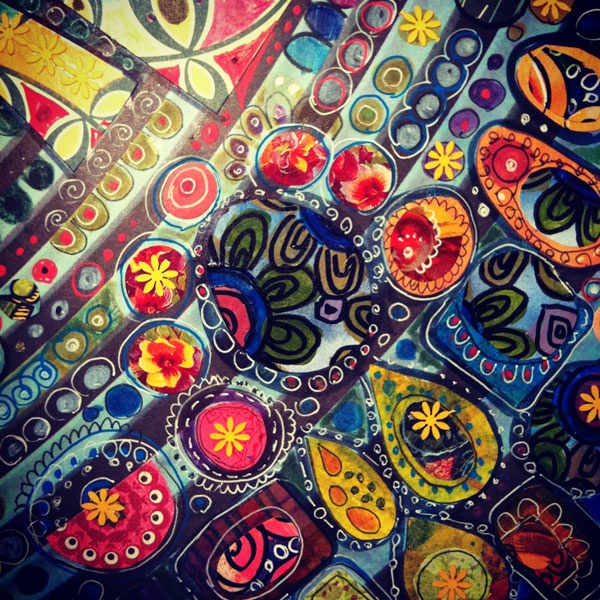 My work has a lot to do with colors. I think that colors can communicate feelings most effectively. In composition, I often aim for dynamicity. I also try to achieve the balance between relaxed and free-flowing line and accuracy, almost engineer-like look. My style is some mixture of folk style and art nouveau with a twist of the 1970s. However, I have begun to hope that I would have no signature style at all! The more I create, the more I have become to value diversity. I want to learn to understand as many styles and artists as possible and help others find them too.
How would you answer these questions? Share it by commenting this post or if you have a blog, linking a post to the comment!
Subscribe to my weekly emails – Get a free mini-course!