This week is about the sun! Let's dive deeper into how to express sunshine when you want to create freely without reference photos. My example is an oil painting, but you can apply the tips to any supplies.
Here's my newest painting that begins the new series where I explore the stars and planets of the Milky Way. The subject of the first one is, of course, the sun! I named the painting "Runaway Sun" – "Karannut aurinko" in Finnish because I wanted to express sunshine in a dynamic way.
Closed or Open?
Often we paint or draw the sun as a static yellow spot in the blue sky, but I feel that the sun is different. It's not a closed circle but a very open one. It's radiating and moving, making things appear and disappear.
The painting was only a green mess when I took the picture above. "Oh no, the photo of Stella failed badly!" I thought when looking at it. But then, bad photos are the best. They challenge us to see what the world really looks like. Here, the sun has swallowed Stella and entered the room like a giant animal, so it's not a little closed spot at all.
Isolated or Impactful?
The sun is the star, and the earth belongs to its solar system. The earth could be seen as a toy and the sun as the one who plays the game.
But in our art, the sun often has very little effect on its surroundings. We isolate the sun and keep it far away. For example like this:
But the sun impacts everything. It travels in the scenery like a runaway that goes here and there, but it's impossible to catch as a single being.
When my painting progressed, it got strong differences between light and darkness. The sunny look requires shadows too!
Is the Sun a Thing or a Person?
Art is only a technical skill as long as you think about drawing or painting things. But if you treat the elements as living beings of some kind, the game changes. When your paper or canvas is filled with people or animals, not just shapes or flowers, everything gets more exciting and it's easier to express sunshine too.
So, ask: Who is this person called Sun? How does she impact everybody in this piece?
Some will love it, and some will escape from it.
Yellow or White Sunshine?
Some people get any yellow for the sun, and some select their yellow carefully. But I think that one yellow is never enough, and without white, the sun doesn't shine.
I usually work with a limited set of colors, but I change the tubes every session. So, if I use Indian Yellow in one session, for example, I switch to Lemon Yellow in the next. I do the same for other colors as well. When I create new color mixes from different base colors, my paintings will get a huge variety of tones and look more natural.
I try to always mix some color to most whites so that the variety of pastel tones is present too.
I also add color to blacks or make my own blacks. Browns and blues make wonderful darks!
Does It Express Sunshine? Test!
I like to do a test for all my paintings where I lay them on the table, walk away from the room, and then get back.
I wrote about the test in this blog post too.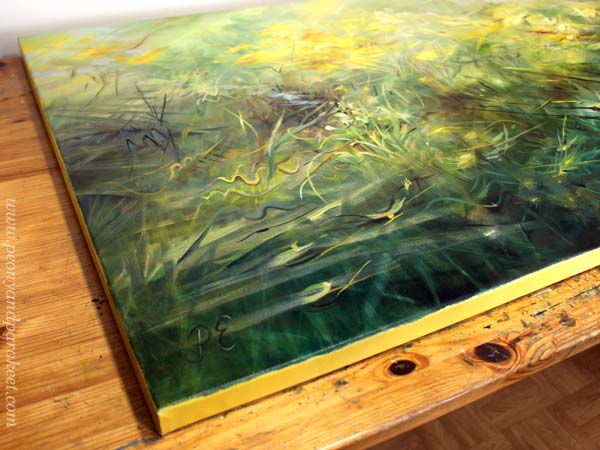 By resetting my mind, I try to get an immediate impact of how the painting affects the surroundings and whether it's captivating enough. The sunny painting should draw attention and warm the room.
Here's my little studio one night with other paintings that are still in progress.
The paintings are too big for my little studio, but I have decided to manage!
Sunshine to Your Weekend!
I hope this post inspired you to bring more sunshine to your art!
Happy Easter!